Two Marines injured after parked Humvee is rear-ended on Okinawa Expressway
By
Aya Ichihashi Carlos M. Vazquez II
June 14, 2019
---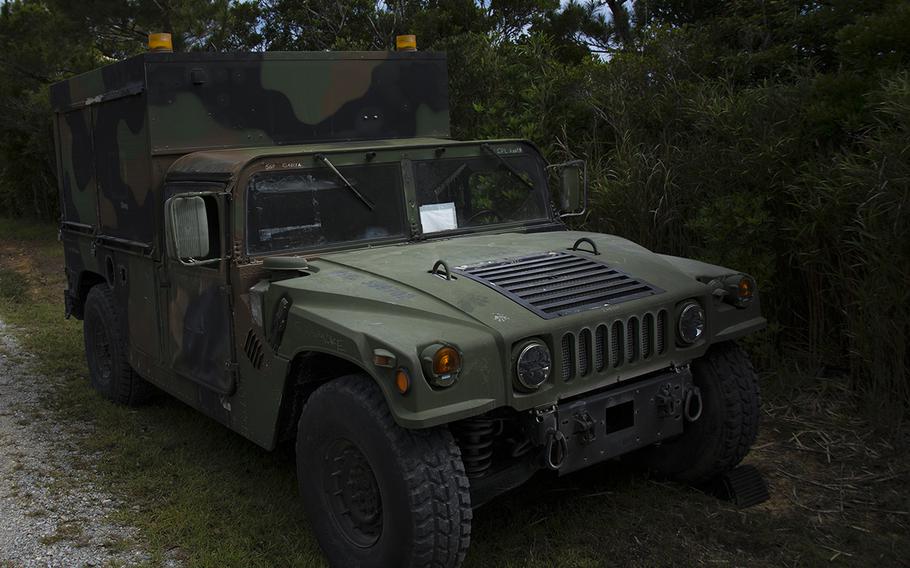 CAMP FOSTER, Okinawa — Two U.S. Marines were injured Thursday when their Humvee was rear-ended by a 2-ton truck that went on to hit another vehicle on the Okinawa Expressway, an Okinawa police spokesman said.
The unidentified Marines, both in their 20s, were seated in their parked vehicle alongside the two-lane expressway between the Ishikawa Interchange and the Okinawa-Kita Interchange exits when the truck struck the Humvee from behind at about 4 p.m., the spokesman said. The requirements of his job do not allow him to be identified by name.
"The cause of the accident is currently under investigation," he said. "The Marines said they were driving from Camp Hansen to [Camp] Kinser."
They were treated for minor injuries at the Navy hospital at Camp Foster, the spokesman added.
The truck's driver also suffered minor injuries and was treated at a local hospital, he said. No injuries were reported from the other vehicle that was struck.
It's unclear why the Humvee was parked, and the extent of damage to the vehicle is unknown. Marine officials had not responded to a request for further information by Friday afternoon.
vazquez.carlos@stripes.com Twitter: @StripesCarlosichihashi.aya@stripes.com
---
---
---
---