Two Koreas, United Nations Command hold talks on disarming border area
by
Kim Gamel
October 16, 2018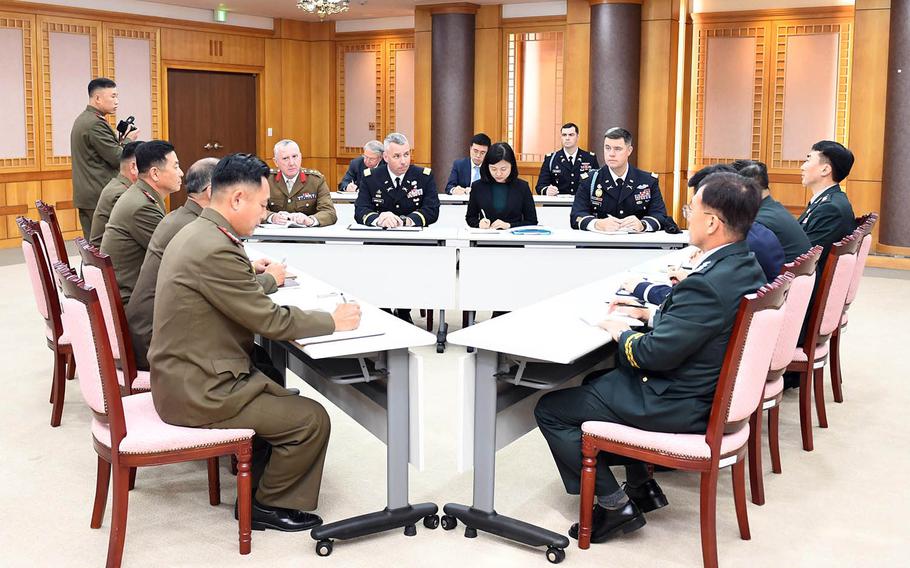 SEOUL, South Korea — The two Koreas and the U.S.-led United Nations Command held their first meeting Tuesday to discuss disarming the heavily fortified border, as the neighboring nations press for peace despite slow progress in parallel nuclear talks.
North and South Korea have agreed to turn the Joint Security Area in the truce village of Panmunjom into a weapons-free zone and to begin removing land mines and guard posts from the so-called Demilitarized Zone as part of a wide-ranging military pact last month.
But the southern side of the JSA is administered by the UNC, which oversees the 1953 armistice that ended the three-year Korean War in lieu of a peace treaty.
Gen. Vincent Brooks, the commander of the UNC as well as U.S. Forces Korea, said the meeting focused on joining existing armistice mechanisms with the recent inter-Korean initiatives.
"I am encouraged by this productive, trilateral dialogue," he said in a statement.
The three sides agreed to hold more trilateral military meetings "in the near future," according to the UNC. It said topics will likely include implementing matters such as removing guard posts, reducing security personnel and adjusting surveillance equipment.
Military officials from the three sides met for about three hours on the South Korean side of Panmunjom, according to South Korea's Defense Ministry.
It said the delegations were led by Army Col. Burke Hamilton, the secretary of the UNC's military armistice committee, South Korean Col. Cho Yong-geun and North Korean Col. Om Chang Nam.
The two Koreas already have begun a land mine clearance operation in the DMZ, a 2.5 mile-wide, 155-mile long buffer zone that includes the JSA. The main goal of that effort is to allow for the recovery of the remains of war dead believed to be in the no man's land.
The inter-Korean military agreement has raised concern that South Korea is moving too fast in embracing the North despite a lack of progress in parallel talks aimed at ridding the communist state of its nuclear weapons.
The ambitious pact, which also called for the cessation of military exercises and a no-fly zone near the border, was signed last month during the summit between South Korean President Moon Jae-in and North Korean leader Kim Jong Un in Pyongyang.
Seoul and Pyongyang also agreed in separate talks Monday to begin reconnecting rail and road links despite concerns that may undermine the U.S.-led international pressure campaign that includes punishing economic sanctions to try to force the North to show concrete progress in its vow to denuclearize.
Gen. Robert Abrams, who has been approved by the Senate to replace Brooks, noted during his confirmation hearing that efforts to demilitarize the frontier would need UNC approval.
"All of that would have to be brokered, adjudicated, observed and enforced by the UN Command," he said.
Stars and Stripes correspondent Yoo Kyong Chang contributed to this report.
gamel.kim@stripes.com Twitter: @kimgamel