Trump hints that he knows how North Korean leader is doing but won't say
---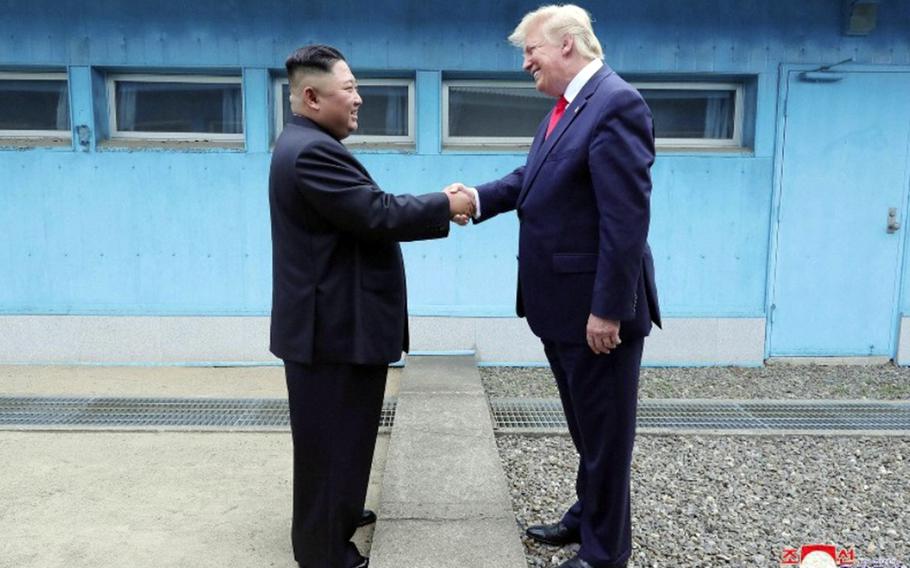 SEOUL, South Korea — President Donald Trump hinted that he knows how Kim Jong Un is doing amid speculation fueled by the North Korean leader's absence from the public eye, but he wouldn't elaborate.
Trump was asked if he had any update on Kim's health during a press conference Monday at the White House.
"Yes, I do have a very good idea, but I can't talk about it now. I just wish him well," he said.
Trump and Kim have held three summits as the United States tries to persuade the North to give up its nuclear weapons program. Talks have been stalled for more than a year, but the two leaders have said they maintain a good relationship.
"I've had a very good relationship with Kim Jong Un. If I weren't president, you'd be in war," Trump said Monday. "I hope he's fine. I do know how he's doing, relatively speaking. We will see. You'll probably be hearing in the not too distant future."
Satellite images published by the monitoring website 38 North showed that Kim's train was parked near his coastal compound in the eastern area of Wonsan last week.
Concern over Kim Jong Un's whereabouts has mounted since April 15, when he missed celebrations of his late grandfather and the country's founder Kim Il Sung - a major holiday.
Several unconfirmed media reports and rumors circulating on social media have suggested that he may be "gravely ill" after heart surgery or isolated because of the coronavirus pandemic.
Trump said last week that he believed those reports were incorrect. South Korean government officials also have insisted that intelligence shows no unusual movements to indicate any problems with Kim's health.
Kim's last known public appearances were around April 11 when he was shown in photos presiding over a meeting of the ruling Workers' Party's political bureau and inspecting an air defense unit in a western part of the country.
North Korea's state-run media also have reported that Kim has conducted recent activities including expressing gratitude to construction workers at a new tourist zone, but no details or photos were published.
Experts have urged caution because it's virtually impossible to confirm information about the North Korean leader's health, which has long been a topic of concern because of his weight, a heavy smoking habit and a family history of heart disease.
The world did not learn Kim's father, Kim Jong Il, had died of a heart attack in 2011 until it was announced publicly two days later.
Kim Jong Un, who assumed power after his father died, also disappeared in 2014 but reappeared with a cane after about six weeks. South Korea's intelligence agency said he had a cyst removed from his ankle.
gamel.kim@stripes.com Twitter: @kimgamel
---
---
---
---