Trami batters Okinawa, turns its attention north to Kanto
by
Dave Ornauer
September 30, 2018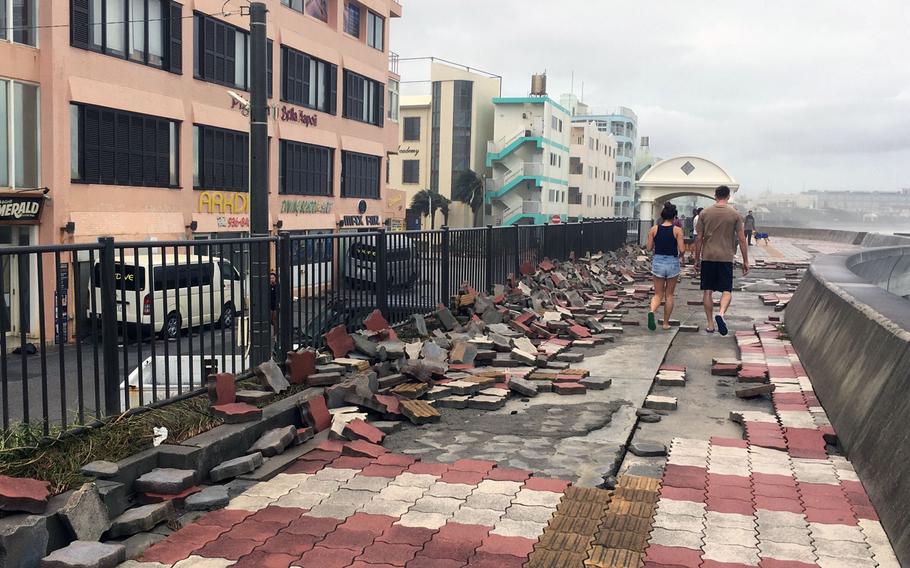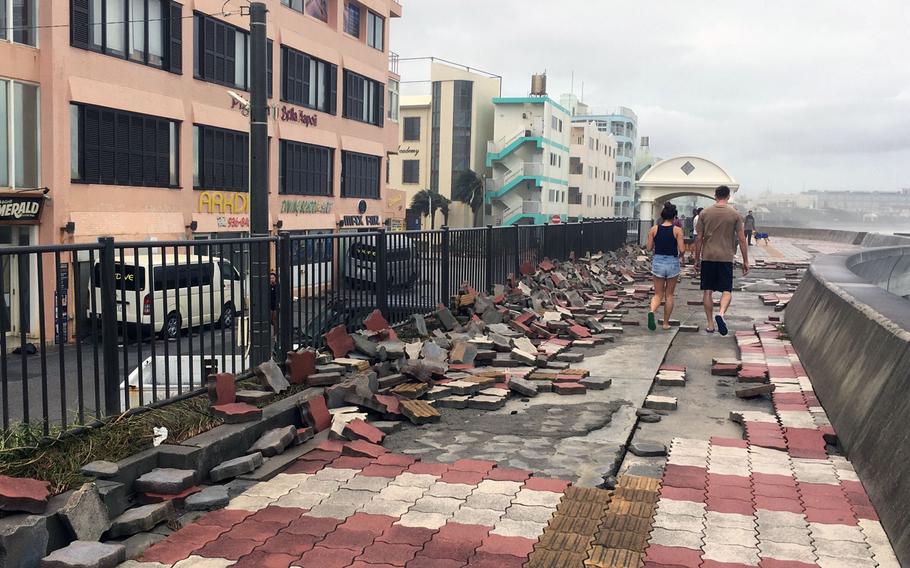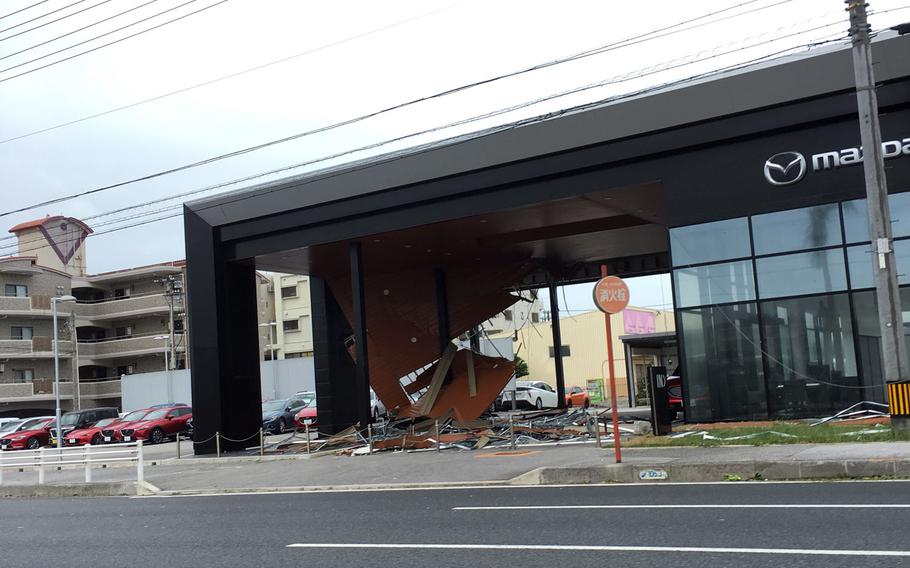 YOKOTA AIR BASE, Japan — The worst typhoon to hit Okinawa in six years left thousands without power, canceled hundreds of flights and stranded tens of thousands of passengers over the weekend and now turns its attention to the Kanto Plain, where it's forecast to hit Sunday night.
Typhoon Trami, the 28th numbered storm and fifth super typhoon of the season, battered Okinawa with 103-mph sustained winds and 132-mph gusts overnight Saturday into Sunday morning.
Images received by Stars and Stripes from around the island revealed devastation of all sorts: Flooding caused by storm surge along the coastline, damaged vessels, overturned vehicles, trees, power lines and branches blown down and buildings damaged and collapsed.
The Okinawa Times reported Saturday that at least 261 flights serving Naha International Airport were canceled, affecting more than 31,500 passengers. ChannelNewsAsia.com upped that figure Sunday morning to 386, including airports in western Japan.
No deaths were reported, but at least 52 people were injured as the storm passed. Okinawa's electric authority said power had been lost to more than 250,000 homes and more than 200,000 were still without electricity and water as of 10:46 a.m. Sunday.
At mid-morning Sunday, Trami was accelerating northeast, skimming the south coasts of Kyushu and Shikoku Islands.
The Joint Typhoon Warning Center reported Trami was 263 miles south-southwest of Marine Corps Air Station Iwakuni, headed northeast at 22 mph, still packing 104-mph sustained winds and 127-mph gusts at center.
Accelerated levels of tropical cyclone readiness were issued at Iwakuni and Sasebo Naval Base, where Trami was due to pass at mid-day. U.S. bases in the Kanto Plain were also on high alert, with the storm forecast to roar by overnight Sunday into Monday.
Scores of flights serving major airports on Japan's main islands had already been canceled. ChannelNewsAsia.com reported that Kansai Airport, serving the Osaka-Kyoto-Kobe metroplex, would shut down its two runways at mid-morning as a precaution.
West Japan Railway said it would suspend all service in the Osaka region and shut down service on the Tokaido and Sanyo branches of the high-speed Shinkansen at noon Sunday.
All this comes on the heels of a country still reeling from one of the hottest summers on record, deadly rains that inundated central and western Japan, the strongest typhoon to hit the region in 25 years in Typhoon Jebi and a magnitude-6.6 earthquake on Hokkaido that killed 40.
This story will be updated.
Stars and Stripes correspondent Aya Ichihashi contributed to this report.ornauer.dave@stripes.com