Tour gives Japanese families a rare, up-close look at MCAS Iwakuni
by
James Bolinger
January 16, 2019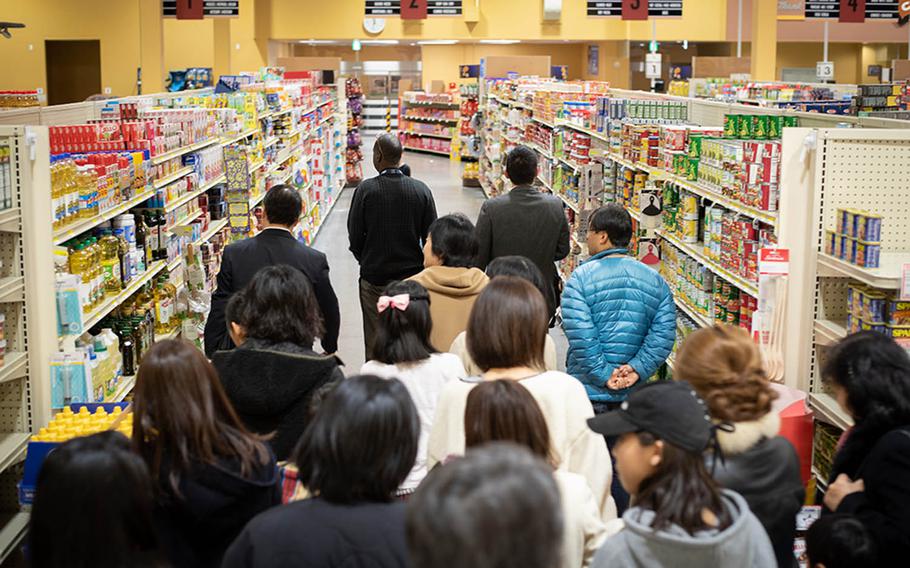 MARINE CORPS AIR STATION IWAKUNI, Japan — Marines and sailors aboard MCAS Iwakuni have for the first-time hosted Japanese schoolchildren and their parents during a community relations tour of the air station in southwestern Japan.
The base has undergone massive reconstruction in the past decade that's included an expanded footprint, heavy-lift runway, hangars, barracks, base housing, a commissary and Marine Corps Exchange and headquarters buildings for Marine Aircraft Group 12 and the Navy's Carrier Air Wing 5. In total, more than 70 percent of the base was rebuilt — a process that is ongoing.
Carrier Air Wing 5, which supports the aircraft carrier USS Ronald Reagan, finished moving its fixed-wing operations to Iwakuni from Naval Air Station Atsugi last year. The move has tripled the size of the base to nearly 15,000 servicemembers, dependents and civilian workers.
All that construction has given the base, which pre-dates World War II, a shiny new look that many locals rarely get to see. Even during the popular, annual Friendship Day air show — one of the largest in the Pacific — most of the installation is off limits.
Yuki Kawaguchi, a shy 10-year-old, said his favorite part of the tour was getting to see the fighter jets, which locals can hear taking off and landing but rarely get to see up close.
"I was excited to be able to come on base," Yuki's father, Yasuo, said through an interpreter. "Regular citizens cannot usually come on the base."
He added that the base looked brand new except for the Japanese Maritime Self-Defense Force buildings, which, along with the base headquarters, are among the oldest on the installation.
"This tour was intended to show a bit of everything on base. We showed the kids and their parents some things that we do on the operations side, what our family housing looks like, as well as a tour inside the commissary so they can see what a typical American grocery store looks like," John Zambrano, the director of Government and External Affairs and tour organizer, told Stars and Stripes in an email Wednesday.
The Marine Corps also sees benefits from such events, Zambrano said.
"Tours like these show the base for what it is: a place where both Japanese and American professionals partner in direct support of the alliance," he said. "This tour highlights what we do — focusing on military readiness as well as our efforts to be good, respectful neighbors."
bolinger.james@stripes.com Twitter: @bolingerj2004