Top Marine in Japan relaxes driving restrictions for young Marines, sailors
by
Matthew M. Burke
March 8, 2019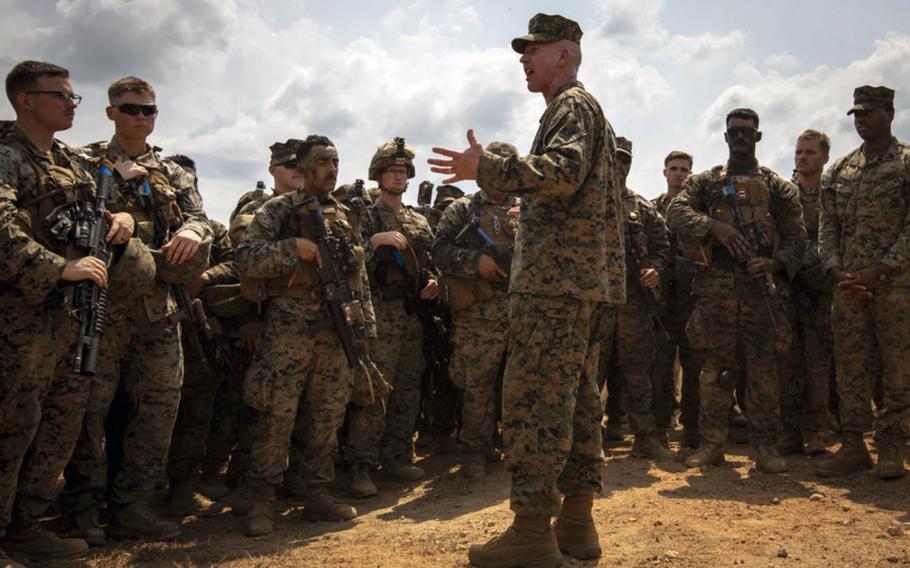 CAMP FOSTER, Okinawa — The top U.S. Marine in Japan has lifted driving restrictions for young Marines and sailors attached to the III Marine Expeditionary Force just three months after giving them an extra hour of off-base liberty.
Lt. Gen. Eric Smith, III Marine Expeditionary Force commander, signed the policy Feb. 26 and announced it to the fleet in a video message March 1.
Although individual commanders can continue to impose the driving restriction, Smith's announcement is certain to mean more young Marines in Japan behind the wheel.
"If you have a license, you wish to drive, you have a good record, you're a mature individual — Marine or sailor, you should be allowed to drive," Smith said in the video message. "You take your test, you get your insurance, you go through all of the training that is required by the government of Japan and you should have a license."
He instructed unit commanders to ensure Marines get their licenses expeditiously, in no more than a month's time.
Officials with III MEF declined to publicize the details of its liberty policy.
The new order also solidified guidance in November that gave Marines an added hour of liberty. Sergeants and below now have a 1 a.m. curfew. Officers and staff non-commissioned officers do not have a curfew.
Late night/early morning drinking in bars and other public places for all III MEF Marines and sailors is prohibited after midnight.
"There is no one who can consume alcohol publicly between midnight and [5 a.m.]," Smith said in his video message.
Smith said that the rules were changed to give Marines and sailors more time to enjoy their surroundings.
"I want you to enjoy the island," Smith said. "I want you to enjoy mainland Japan, but you have to conduct yourselves well."
Liberty restrictions have typically followed in the wake of high-profile crimes committed by U.S. servicemembers in Okinawa. The restrictions are unpopular with servicemembers and are often one of the first complaints made by Marines and sailors about being stationed in the III MEF area of operations.
However, Americans stationed on the tiny island prefecture typically commit crimes at a lower rate than the civilian population commits them.
Okinawa has a civilian population of about 1.4 million, including approximately 50,000 U.S. military and civilian personnel and their families.
U.S. servicemembers committed about 2.75 crimes per 1,000 people on Okinawa between 1972 and 2016, according to a Stars and Stripes analysis of arrest record data in December 2016.
By comparison, local civilians committed seven crimes per 1,000 people, the same analysis showed.
However, a comparison of drunken-driving arrests is more problematic for U.S. forces.
From approximately July 2014 to July 2016, Okinawa police made 3,811 drunken-driving arrests, police told Stars and Stripes. Of those, 136 were U.S. citizens in Japan under the status of forces agreement. A SOFA defines the legal status of the U.S. armed forces stationed in host countries.
Those numbers work out to approximately 2.9 drunken-driving arrests per 1,000 people locally, and about 2.7 per 1,000 for SOFA members.
The number of drunken-driving crashes causing injury or death on Okinawa in that same period was approximately 4.2 per 10,000 people for U.S. SOFA personnel, compared with 2.2 per 10,000 locally.
Okinawa police said one of the biggest problems involving U.S. personnel is day-after driving, when a driver who drank heavily the night before may still exceed the legal maximum blood-alcohol content of 0.03 percent the next day.
Japan has a zero-tolerance policy for drunken driving. Exceeding 0.03 percent could bring a driving under the influence charge with a penalty of up to three years in prison or a $4,400 fine.
"The goal of this update is to better allow Marines, Sailors, and their families more opportunity to enjoy the unique cultures of the Pacific region," III MEF spokesman Marine 1st Lt. David Mancilla wrote in a statement to Stars and Stripes regarding the new policy.
"Some of the changes affected curfew hours, driving privileges, liberty boundaries, and the need for liberty buddies in certain situations. With these changes we continue to understand that any questionable conduct weakens our alliance and detracts from our ability to conduct our mission."
Smith's policy also abolished any curfew or driving restrictions for III MEF Marines and sailors living in Hawaii.
Furthermore, it stated that sergeants and below in III MEF only need a liberty buddy if they intend to drink alcohol. No one else needs one, though Smith recommended their continued use.
Sergeants and below who are on Okinawa for 179 days or less need a liberty buddy regardless of circumstance after 10 p.m.