Tokyo sees uptick in coronavirus cases as US Forces Japan extends public health emergency
by
Joseph Ditzler
August 12, 2020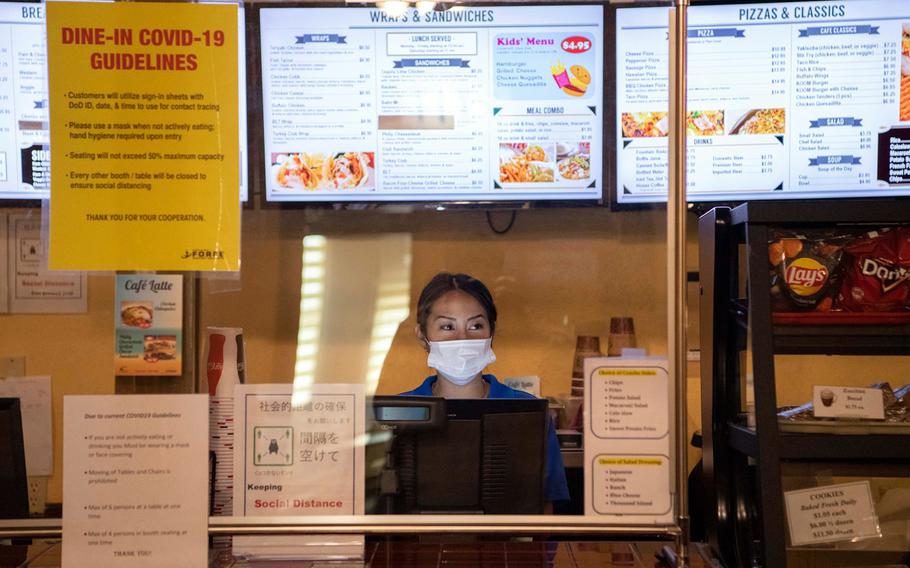 Stars and Stripes is making stories on the coronavirus pandemic available free of charge. See other free reports here. Sign up for our daily coronavirus newsletter here. Please support our journalism with a subscription.
TOKYO — Japan's capital city reported 222 new coronavirus cases Wednesday, breaking 200 again for the first time in three days as the country heads into another long holiday weekend, according to public broadcaster NHK.
Also Wednesday, the commander of U.S. Forces Japan extended for another month a public health emergency for U.S. military personnel, a signal to commanders across the country to continue or tighten restrictions on their personnel to curb the virus' spread.
U.S. bases Wednesday reported eight new cases, three at the Marines' Camp Courtney and one at Kadena Air Base, and four since Saturday at Yokosuka Naval Base, according to posts on official base Facebook pages.
The emergency declaration, first issued by Lt. Gen. Kevin Schneider in April and extended monthly since then, was due to expire Thursday.
Schneider renewed the declaration as Japan copes with a resurgent virus and starts the Obon observation Thursday. Obon is typically a traveling holiday, and civil authorities attribute travel as one cause of the surging virus.
Coming off the Mountain Day holiday weekend, the number of new cases across Japan slackened somewhat on Tuesday when the country reported 938 new cases, down from a daily high of 1,624 on Saturday, the highest daily tally in more than a month, according to situation reports by the World Health Organization.
Tokyo Gov. Yuriko Koike and Okinawa Gov. Denny Tamaki have counseled their populations generally to stay home and avoid crowded spaces if they venture out. The Tokyo metro area and Okinawa are home to several U.S. bases; Okinawa is home to the bulk of U.S. forces in Japan.
Okinawa reported 65 new cases Wednesday, according to the prefecture's website. Ten people have died there.
A total of 1,052 people in Japan have died of the virus, according to Tuesday's WHO situation report, the most recent available. The number of deaths per day since July 15 hovered between none and three until Aug. 4, when they rose to between four and seven deaths per day, according to WHO.
At Yokosuka, south of central Tokyo, one of the four cases reported Wednesday tested positive during a medical screening, another was tested after showing symptoms and the remaining two had contact with another infected person. None were recent arrivals, and all are now in quarantine and their contacts are being traced, according to the Facebook post. The base has 18 active cases.
At Kadena, on Okinawa, one person already quarantined since Aug. 1 tested positive Wednesday and remained in isolation, according to the base Facebook post.
At Camp Courtney the three new cases all stem from contact with another individual, according to a Facebook post by the Marine Corps Installations Pacific.
The Marine Corps since the pandemic began has reported 301 cases on Okinawa, the bulk of military cases there.
The Marines also reported Wednesday that six people had recovered from the virus for a total of 92 so far in August.
The service branches typically do not specify whether the cases they report are service members, civilian employees or family members.
Schneider's declaration alone imposes no measures but allows commanders to enforce compliance with their restrictions. Those measures typically include limits on free-time travel and bans on patronizing bars, nightclubs and other crowded entertainment venues.
The public health emergency also extends the commanders' authority to include Defense Department civilian employees, Japanese workers and family members affiliated with their installations.
ditzler.joseph@stripes.com Twitter: @JosephDitzler