Tokyo's daily coronavirus count remains above 200; US military reports 17 new cases
by
Hana Kusumoto Aya Ichihashi Joseph Ditzler Matthew M. Burke
August 28, 2020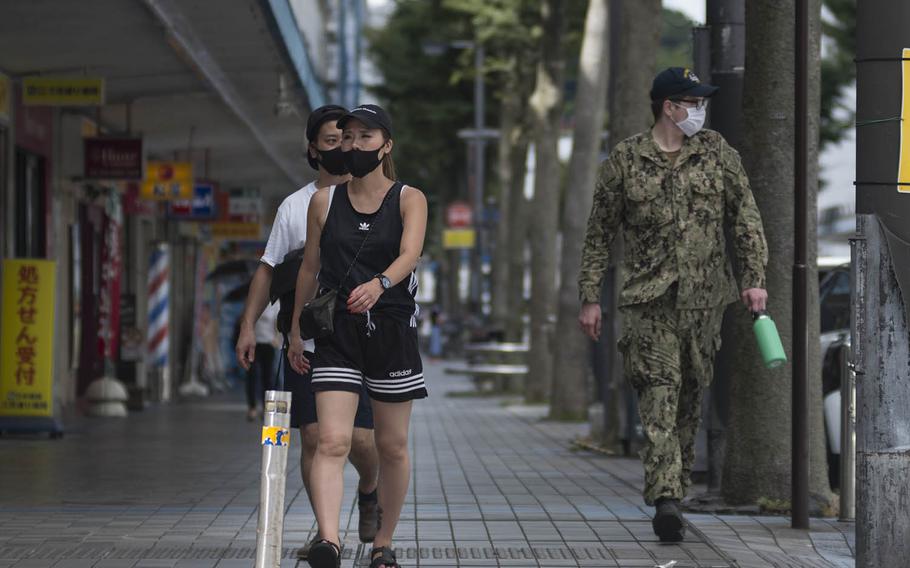 Stars and Stripes is making stories on the coronavirus pandemic available free of charge. See other free reports here. Sign up for our daily coronavirus newsletter here. Please support our journalism with a subscription.
TOKYO — Japan's capital city reported another 226 coronavirus cases Friday, the day Japan's prime minister announced he was stepping down due to health concerns unrelated to the pandemic.
The U.S. military in Japan reported 17 new infections: one at Yokota Air Base in western Tokyo, one with the Army on Okinawa, four at Kadena Air Base and 11 across four Marine bases on the island. All but the Army case are individuals newly arrived in Japan and still in quarantine, according to their respective commands.
Tokyo's new cases bring the city's total to 20,322, according to public broadcaster NHK. Friday is the third day in a row the city has reported more than 200 new patients. The daily number rose steadily from 95 cases on Monday, the lowest daily figure since July 8.
In Tokyo, Prime Minister Shinzo Abe announced he would resign after learning his ulcerative colitis was worsening, he said during a televised press conference. Abe instituted a nationwide state of emergency to deal with the pandemic in April. On Friday, he announced new measures to stem the virus' spread as the nation approaches the winter flu season.
Japan, with a population of 126.5 million and almost 65,000 coronavirus cases during the pandemic, is in better shape than many larger countries.
Poland, a nation with one-third Japan's population, is just behind Japan with 63,802 cases, according to the World Health Organization. Russia, with a population of 144 million, has three times the coronavirus cases as Japan at 976,000.
A handful of U.S. bases are in the greater Tokyo metro area, including Yokosuka Naval Base, home of the U.S. 7th Fleet; Camp Zama, headquarters of U.S. Army Japan; and Yokota, headquarters for U.S. Forces Japan.
Most U.S. military personnel in Japan, including civilian employees, contractors and family members, are barred from central Tokyo due to the virus.
The new cases at Yokota and Kadena tested positive on Friday, according to Facebook posts by each base. All are under care in isolation, those commands said.
U.S. Army Japan reported an individual on Okinawa tested prior to a medical procedure came up positive on Wednesday, according to a statement issued Friday. The patient showed no symptoms of the virus and was not deemed a risk to others, the Army said.
All 11 new cases among the Marine Corps arose in people who have been quarantined at least 10 days, according to a Facebook post by Marine Corps Installations Pacific.
All those patients recently arrived in Japan aboard different Patriot Express flights, according to an email from Marine spokesman Maj. Ken Kunze. The express is a government-contracted service that connects the U.S. with overseas bases.
All new arrivals affiliated with the U.S. military must go directly into 14-day quarantine and test free of the virus before exiting, according to U.S. Forces Japan.
The Marines on Okinawa had reported one to three new cases per day since Aug. 21, but the sudden increase was expected, Kunze wrote. Typhoon Bavi this past week interrupted flights carrying samples to South Korea for testing, which resulted in "delayed reporting of a large number of tests," Kunze wrote.
He said Camp Foster has four new cases, Camps Courtney and Kinser have two each and Camp Schwab has one.
Results suggest that about 2% of everyone the Marines test on Okinawa are infected with the coronavirus, Kunze wrote, adding that people are tested no earlier than Day 10 of quarantine.
The Marine Corps, which experienced three cluster outbreaks on Okinawa in July, has reported a total 350 cases there, of which 324 have recovered.
All U.S. military cases on Okinawa since the pandemic started total 381.
The U.S. military in Japan typically reports case numbers without specifying whether they are service members, civilian employees, contractors or family members.
Okinawa prefecture reported 43 new coronavirus cases Friday, a prefectural health official told Stars and Stripes. The prefecture on Thursday on its website also reported one death, a woman in her 90s who died Wednesday. Hers is the 26th death on Okinawa attributed to the virus.
The bulk of U.S. forces in Japan are stationed on Okinawa, about 30,000 service members.
Elsewhere in Japan, another U.S. military base eased its coronavirus restrictions Friday. Hiroshima city is no longer off limits to anyone affiliated with Marine Corps Air Station Iwakuni, according to a Facebook post by the air station.
A strict, no-overnight liberty policy is still in effect, however, along with other rules included in that post.
ditzler.joseph@stripes.com Twitter: @JosephDitzler
kusumoto.hana@stripes.com Twitter: @HanaKusumoto
burke.matthew@stripes.com Twitter: @MatthewMBurke1
ichihashi.aya@stripes.com Twitter: @AyaIchihashi