Tokyo reports 55 coronavirus cases, its highest daily tally since early May
by
Seth Robson
June 24, 2020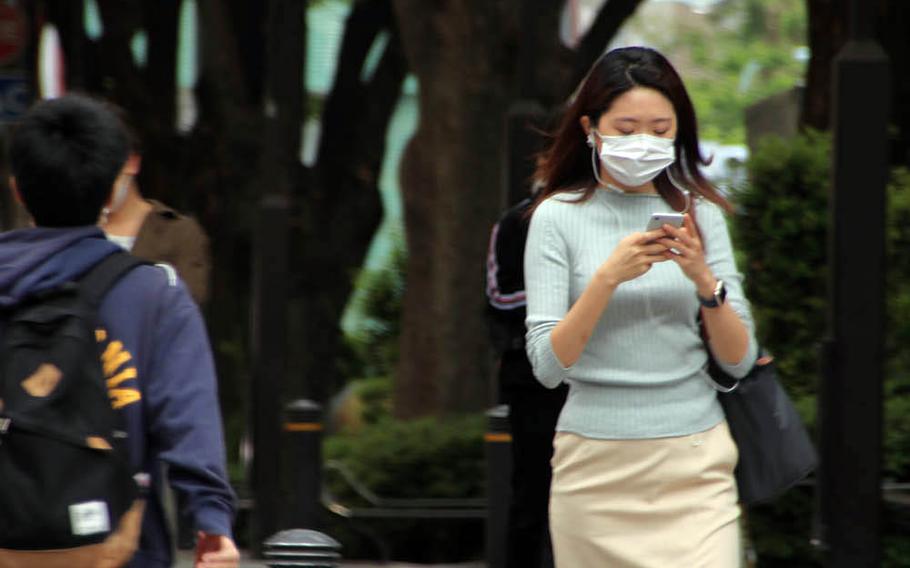 Stars and Stripes is making stories on the coronavirus pandemic available free of charge. See other free reports here. Sign up for our daily coronavirus newsletter here. Please support our journalism with a subscription.
TOKYO — Japan's capital city reported 55 new coronavirus cases Wednesday, the highest number since Prime Minister Shinzo Abe lifted a state of emergency there on May 25.
Earlier in the day Tokyo Gov. Yuriko Koike warned reporters the city would record "quite a large number" of new cases after a cluster of infections was discovered at an office building, according to a Reuters news report.
Tokyo has said it could reimpose restrictions if new daily cases exceed 50, something that hasn't happened since early May.
U.S. military bases in Japan, including several in the Tokyo area, have eased restrictions in recent weeks but remain under a public health emergency imposed by U.S. Forces Japan commander Lt. Gen. Kevin Schneider on April 6 that's set to expire July 14. All installations bar service members from leisure trips to central Tokyo.
Compared to the United States or Europe, Japan has seen relatively few cases of the deadly disease – just over 17,000 and under 1,000 deaths, Toho University Prof. Kazuhiro Tateda, an infectious disease expert, told reporters during a recent teleconference hosted by the Foreign Press Center in Tokyo.
Worldwide there have been more than 9 million infections and more than 477,000 deaths. The U.S. has had over 2.3 million infections and more than 120,000 deaths, according to Johns Hopkins University.
Japan's relative success has come without mandatory lockdowns, although the country did enforce a national state of emergency on April 16 that was lifted in some prefectures in mid-May and for the entire country May 25.
"We passed the first wave of infections but still we have a concern about the second wave of infection," Tateda said.
The fact that coronaviruses are often seasonal suggests that number of new infections will remain low during summer, he said.
Japan's health care system has been preparing beds, supplies and personnel to deal with a second wave, he said.
Areas where there is a risk of contracting the virus include pleasure boats, taxies, long distance buses, gyms, bars, massage parlors, karaoke bars, nightlife districts and medical institutions, Tateda added.
Especially risky are "places where people speak in loud voices," he said.
The frequent use of face masks may be one of the key factors in Japan's low rate of infection, Tateda added.
"There had always been this culture in Japan for people to wear masks, especially during winter, in response to influenza outbreaks or hay-fever," he said.
Small clusters of the virus are still emerging in Japan and there is debate about when a second wave might reemerge necessitating more controls, he said.
However, it's clear that people need to adapt their lifestyle to live with the disease, Tateda said. This includes social distancing, mask wearing, takeout food, video conferences and ventilation.
"It might be difficult to follow such a lifestyle, but each citizen must use his imagination and creativity to pursue both caution as well as freedom," he said.
robson.seth@stripes.com Twitter: @SethRobson1