Tokyo nightclub on off-limits list after violent incident
by
Seth Robson
July 21, 2015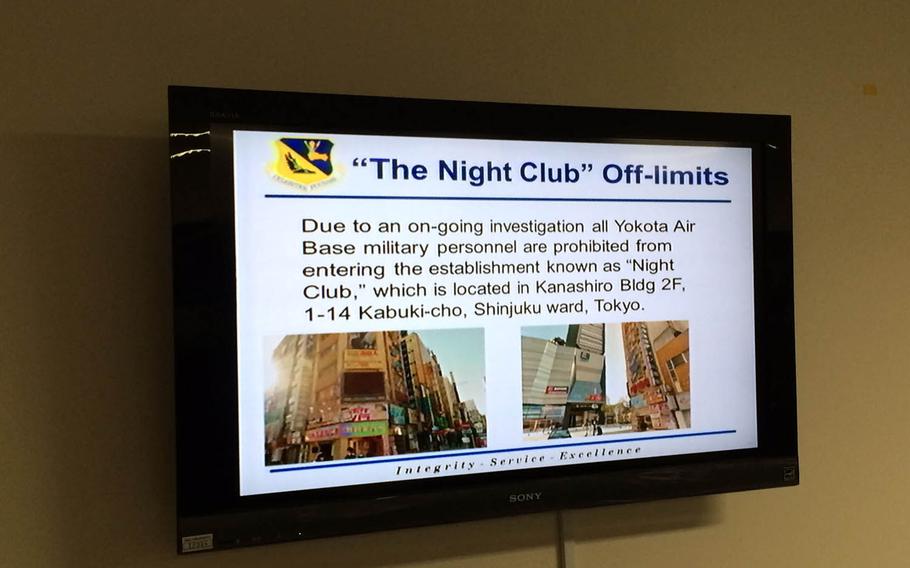 YOKOTA AIR BASE, Japan — An alleged act of violence against a military member and a foreign national has prompted the Air Force to add a Tokyo club to its list of off-limits establishments, Yokota Air Base officials said.
The Night Club, in Shinjuku's Kabukicho entertainment and red-light district, has been declared off limits for up to six months in a memo sent last week to base personnel. The order applies directly to all military personnel, 374th Airlift Wing spokesman Capt. Mark Lazane said in an email Monday.
"The memo also strongly encourages all non-military, SOFA-status personnel, to include dependents, civil servants and contractors, to avoid this location until further notice," he said.
The Office of Special Investigations is looking into the alleged incident at the club, Lazane said.
There are a variety of reasons that an establishment could be placed off limits to servicemembers, he added.
"The Nightclub was placed off limits for up to 6 months pending a formal recommendation from the Armed Forces Disciplinary Control Board," he said.
robson.seth@stripes.com Twitter: @SethRobson1