Three years after deadly collision, USS John S. McCain is ready to carry on
by
Caitlin Doornbos
June 16, 2020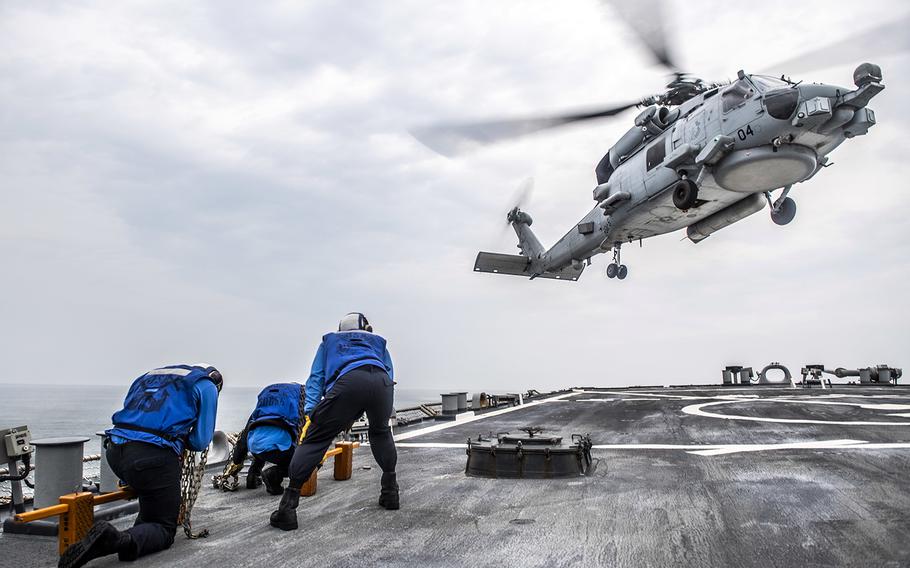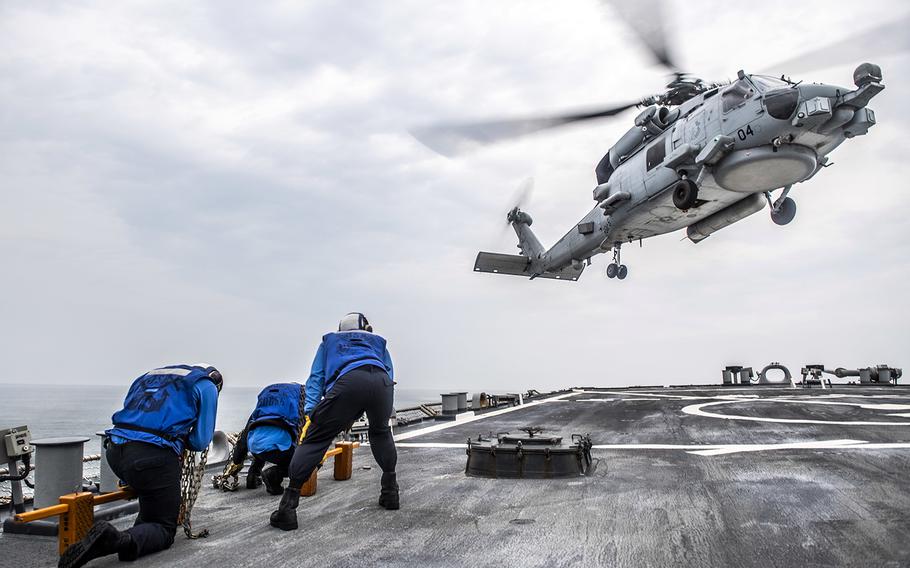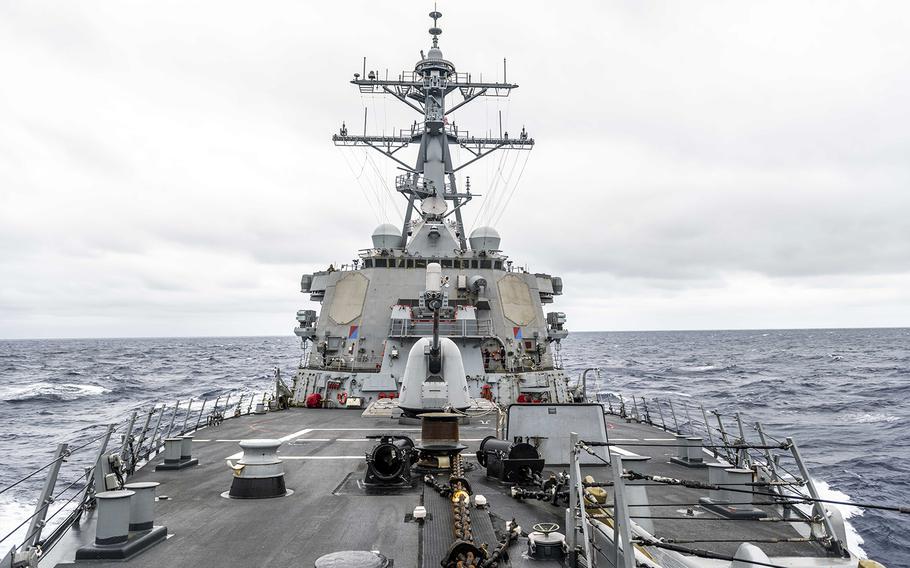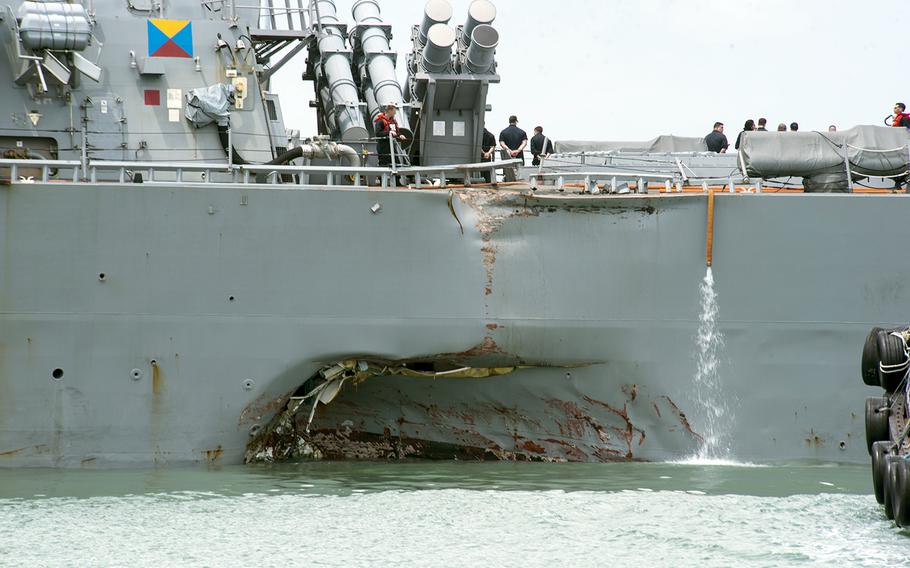 YOKOSUKA NAVAL BASE, Japan — The USS John S. McCain is ready for business again, nearly three years after a fatal collision that killed 10 of its sailors and left it heavily damaged, its commander said Tuesday.
The guided-missile destroyer completed "basic phase certification" on June 2, concluding major repairs and crew training based on new procedures put in place after two deadly collisions involving U.S. warships in 2017.
"Every day as I walk onto the ship through the portside airlock, I pass the memorial plaque that is engraved with the names of the 10 sailors who lost their lives on this ship in 2017," Cmdr. Ryan Easterday told reporters during a conference call. "Frankly, everything we've done since then honors their memories and, more importantly, carries on their work."
The McCain has been sidelined since Aug. 21, 2017, when it collided with a Liberian-flagged tanker, the Alnic MC, in the Strait of Malacca near Singapore.
The McCain collision was the second involving a 7th Fleet warship that year. On June 17, 2017, seven sailors died aboard the USS Fitzgerald when it collided with a Philippine-flagged container ship, ACX Crystal, about 80 miles southwest of Tokyo.
The Fitzgerald, under repair at a Mississippi shipyard since January 2018, left for San Diego, its new homeport, on Saturday. There, it will undergo training and certifications similar to those the McCain completed before becoming available for operations, the Navy said.
'Ready to rejoin the fleet' To certify as mission-ready, the McCain crew trained in 23 areas from seamanship to engineering as part of the Navy's revised training and readiness cycle, the result of a post-collision report on both collisions, Easterday said.
The report found the crashes were "avoidable" and identified several contributing causes, including training issues and poor watch-standing. At the time, ships often went to sea despite having fallen behind on required maintenance and mandatory crew training.
Easterday said the new training cycle also incorporates "the latest innovations in training technology and standards" based on the report's recommendations.
"The John S. McCain is one of the first ships to benefit from these changes, including revised individual and unit training, updated career paths and practices and renewed focus on professional seamanship and navigation," he said.
The crew trained in classrooms, in simulators and in port and at sea, Easterday said. The destroyer left Yokosuka in October for brief at-sea testing and again in March for underway drills.
The March period at sea was supposed to last 10 days but stretched into early April after the coronavirus outbreak reached Yokosuka while it was gone, he said.
Crew members "have proven that Big Bad John is absolutely ready to rejoin the fleet," he told reporters.
'Pretty intense experience' Easterday came aboard the McCain in December 2017 as executive officer and since then has played an essential role in bringing the ship back into service. His predecessor and the then-commanding officer were relieved after the collision.
"This tour is not the tour that I expected when I was talking to my wife in 2016 about coming to Japan," he said, " ... but this experience is absolutely one of the most rewarding experiences I have ever had."
About 10% of the current crew was aboard the destroyer during the 2017 collision — "all volunteers who decided they wanted to stick it out and see the ship back to sea," Easterday said.
"It's been a pretty intense experience for most of them, I think," he said.
"They have bound together through the repair period, and even more so through the last six months of basic phase," he said. "They're hungry, they're eager to learn and they're getting really, really good at it."
The Navy does not disclose ship movements. When the McCain deploys again, Easterday said, the fallen sailors' memory will be carried with it.
"Our successes are their legacy, and I'm absolutely confident in saying that Big Bad John is back, and we are more ready and more lethal than ever before," he said.
doornbos.caitlin@stripes.com Twitter: @CaitlinDoornbos