Thousands of US Marines will be isolated for first two weeks of their six-month rotation to Australia
---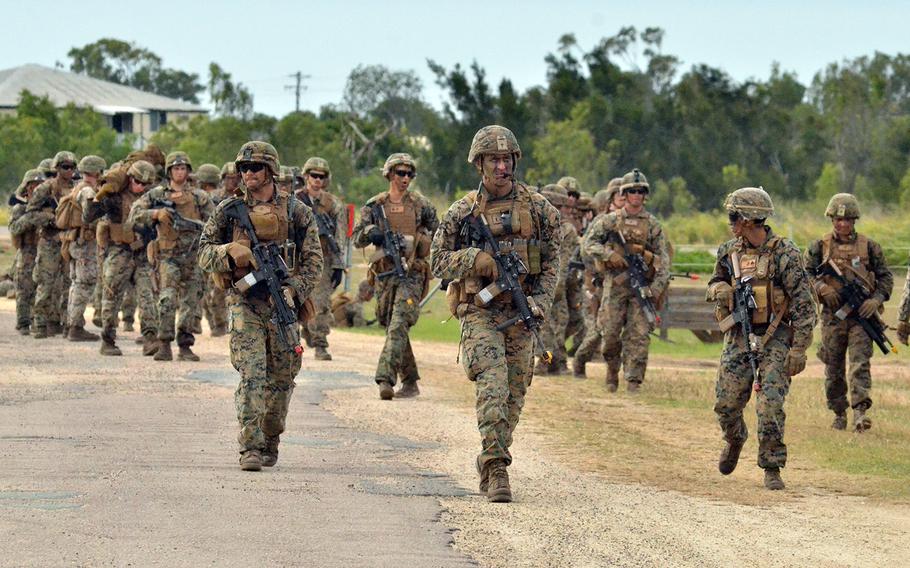 • Stars and Stripes is making this story and other coverage of the coronavirus pandemic available free of charge. See other stories here, and sign up for our daily coronavirus newsletter here.
Two and a half thousand Marines will stay in their barracks for 14 days to prevent the spread of coronavirus at the start of a six-month rotation to Australia's Northern Territory next month, according to a Marine Corps official.
"As of now we are continuing with the [Marine Rotational Force - Darwin] rotation as planned," 1st Lt. Bridget Glynn, a spokeswoman for the force, said in an email Wednesday.
The main body of Marines is projected to arrive in early April and additional personnel will arrive in early July, bringing the total force to 2,500 personnel, similar in size to last year's rotation, she said.
The force, which trains in Australia during the southern hemisphere summer, has built up slowly since an initial contingent of 250 Marines hit the beach there in 2012. Last year the Marines rotational force had grown to 10 times that size, its target strength.
The units heading Down Under this year and the equipment that they will deploy with are still being finalized, Glynn said.
"All personnel arriving to Australia will follow the 14-day self-quarantine in line with the policy imposed by the Australian government," she said.
Australia this week began requiring anyone arriving in the country from overseas to self-isolate for two weeks to combat the global coronavirus pandemic, the Australian Broadcasting Corporation reported Monday. Health authorities have reported 512 confirmed cases in Australia, the broadcaster reported Wednesday.
Marines arriving with the rotational force will be restricted to their rooms with access to necessary supplies, until the isolation period has passed, Glynn said.
"Once we have ensured those quarantined are free of the virus, operations will proceed as scheduled," she said.
The Marines take the responsibility of protecting their personnel and communities seriously, she said.
"We are taking all reasonable precautions to prevent the spread of the disease," she said.
robson.seth@stripes.com Twitter: @SethRobson1
---
---
---
---