Terrified Myanmar Muslims hide in forests amid sectarian violence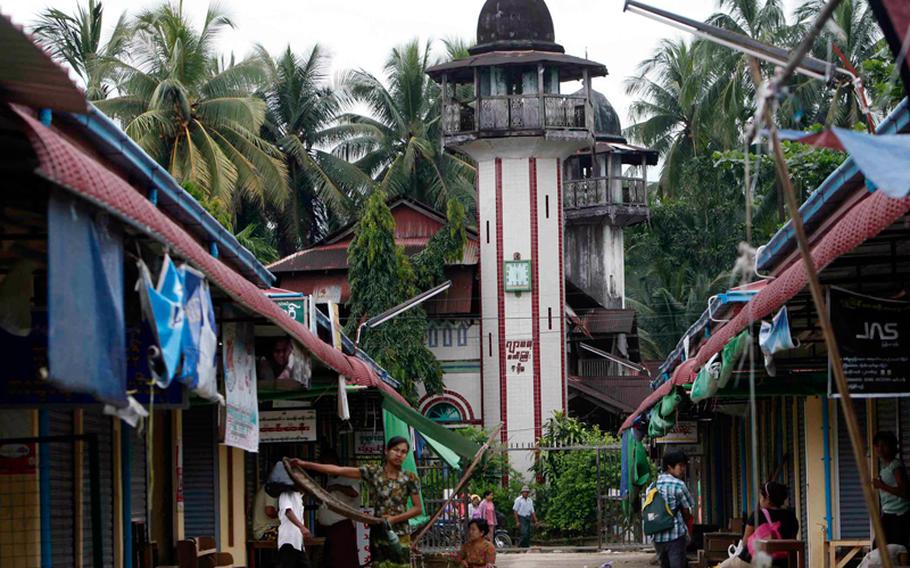 THANDWE, Myanmar — Terrified Muslim families hid in forests in western Myanmar on Wednesday, one day after fleeing a new round of deadly sectarian violence that erupted even as the president toured the divided region.
Tuesday's unrest near the coastal town of Thandwe saw Buddhist mobs kill a 94-year-old woman and four other Muslims and burn dozens of homes.
The violence underscored the government's persistent failure to stop the sectarian violence from spreading since it first erupted last year, costing hundreds of people their lives and many thousands their homes.
Some rights groups accuse the government of tolerating, or even abetting, what they describe as ethnic cleansing directed against the Muslim Rohingya minority in Myanmar, also known as Burma.
They say President Thein Sein, visiting the region for the first time since clashes flared there last year, has done little to crack down on religious intolerance and failed to bridge a divide that has left hundreds of thousands of Muslims marginalized and segregated, many of them confined by security forces in inadequately equipped camps for those who fled their homes.
Thein Sein arrived in Thandwe on Wednesday, the second day of his visit to Rakhine state, and was to meet religious leaders from both communities.
Critics say his security forces have not done enough to contain it. They also say his government has failed to crack down on radical monks who have instilled hatred and fear of the nation's Muslim minority, arguing they pose a threat to Buddhist culture and traditions.
In a message to religious leaders that ran in Myanmar's state-run newspapers Wednesday, Thein Sein said the sectarian unrest threatens the government's reform process "and tarnishes the national image internationally."
State television broadcast a statement Wednesday night from the president expressing sadness over the violence and saying the government would pursue justice. It did not say how many people were injured or killed.
Thein Sein has been widely praised for overseeing an unprecedented political opening in the Southeast Asian nation since the army ceded power two years ago to a nominally civilian government led by retired military officers.
"It's just a political game," said Hla Sein, a 54-year-old Muslim man speaking at a house in Thandwe.
"The president is the most responsible person in the country. Up until now, when Muslim people have been killed, their property destroyed, he's been silent," he said, as six men sitting with him nodded in agreement.
He blamed ultra-nationalist Buddhists for sowing divisions between Buddhists and Muslims who until now have been living peacefully together.
Two of his cousins' houses were burned down y a day ahead of Thein Sein's arrival. Witnesses said soldiers and police made no efforts to step in to try to stop violence that afflicted several villages.
In Thabyuchaing, about 12 miles north of Thandwe, more than 700 rioters, some swinging swords, took to the streets, police officer Kyaw Naing said. A 94-year-old Muslim woman died from stab wounds in the clashes that followed, the officer said, adding that between 70 and 80 houses were set on fire. Another officer, however, said only 19 homes were burned.
Thandwe township police confirmed Wednesday that the bodies of four Muslim men were found in the village.
A Muslim resident of Thandwe, Myo Min, said he was concerned about the safety of families who fled Tuesday's violence. Many families in Thabyuchaing, he said, fled into forests when their village was attacked.
"Many of them, including women and children, are still hiding, and they are cornered and unable to come out," Myo Min said. "They need food and water, and Muslim elders are discussing with authorities to evacuate them or send food."
There was at least one account of a revenge attack.
Thaung Shwe, 40, said a group of Muslims including some women attacked him and five other persons who were passing through the village of Shwe Hlay on Tuesday. Four managed to escape with injuries but two were missing, he said. An Associated Press reporter saw building smoldering in the village, which is about 20 miles from Thandwe.
Sectarian clashes that began in Rakhine in June 2012 have since morphed into an anti-Muslim campaign that has spread to towns and villages nationwide. So far, hundreds of people have been killed and more than 140,000 have fled their homes, the vast majority of them Muslims.
Most of those targeted in Rakhine state have been ethnic Rohingya Muslims, considered by many in the country to be illegal migrants from Bangladesh, though many of their families arrived generations ago. But in the latest flare-up this week, the victims were Kamans, another Muslim minority group, whose citizenship is recognized.
Muslims, who account for about 4 percent of Myanmar's roughly 60 million people, have been the main victims of the violence, but they have been prosecuted for crimes related to the clashes far more often than members of the Buddhist majority.
A statement issued Wednesday by the U.S. Embassy in Myanmar expressed deep concern about the reports of violence, and urged the authorities to bring to justice those responsible for the attacks. It called on "religious and civil society leaders, and all citizens throughout the country, to stand against continued violence targeting Muslim communities, and to promote understanding, mutual respect and peaceful co-existence among all people in this diverse country."
Associated Press writer Aye Aye Win contributed to this report from Yangon, Myanmar.