Technology boot camp aims to upgrade Okinawa-based Marines' problem-solving skills
---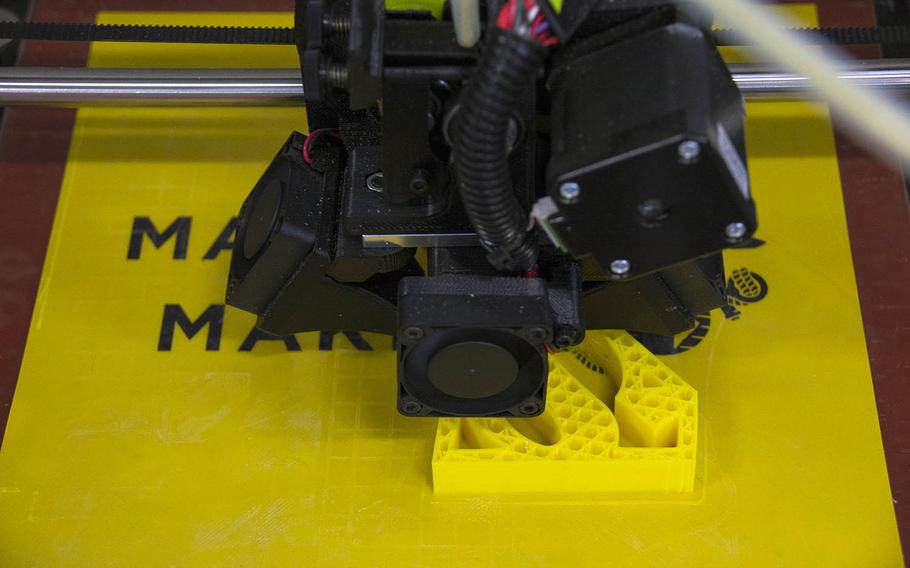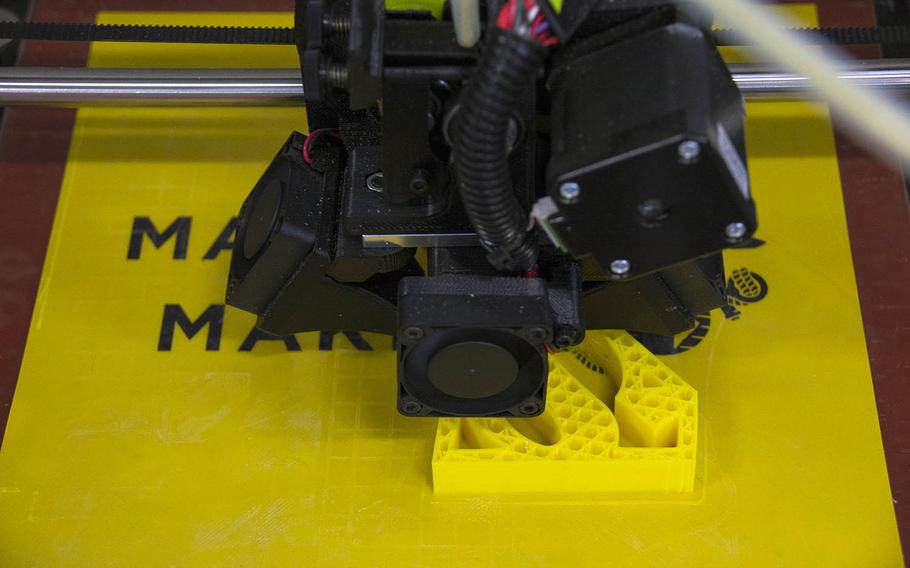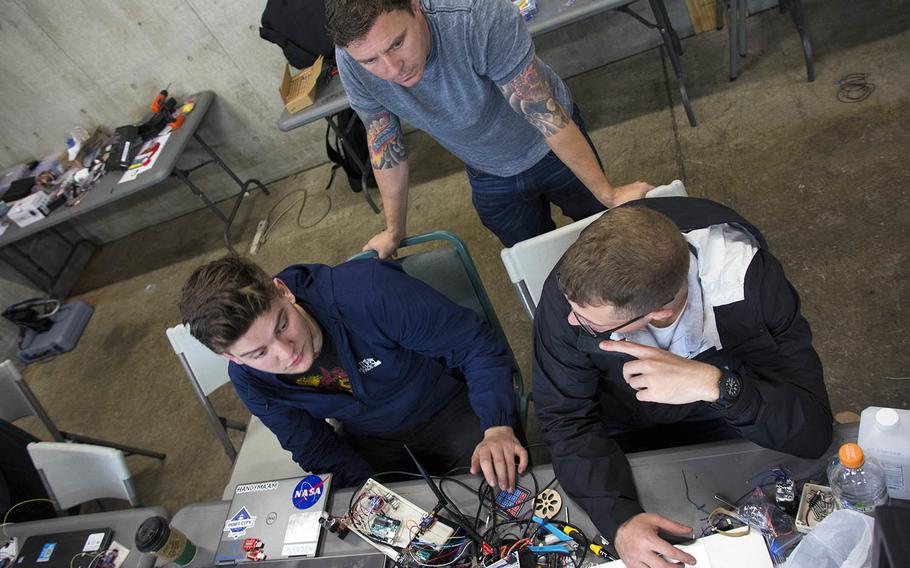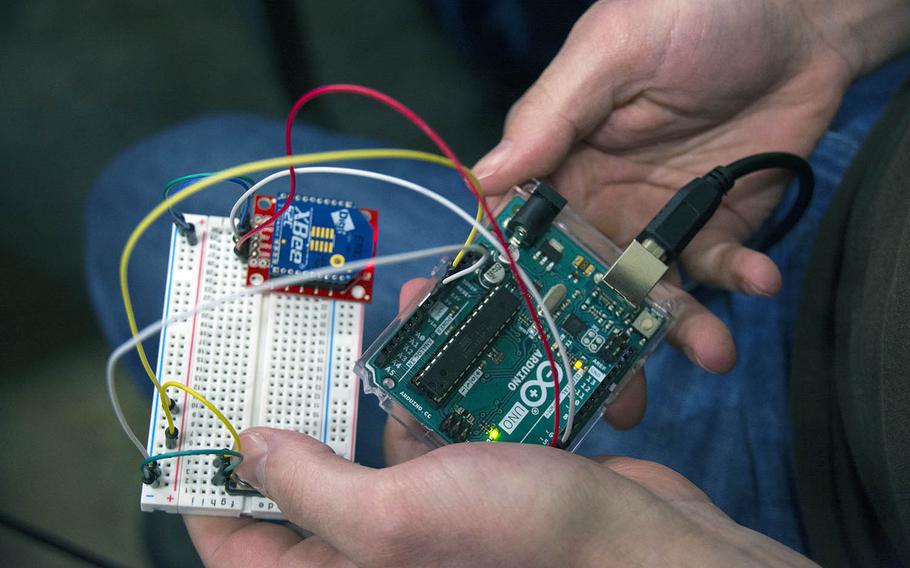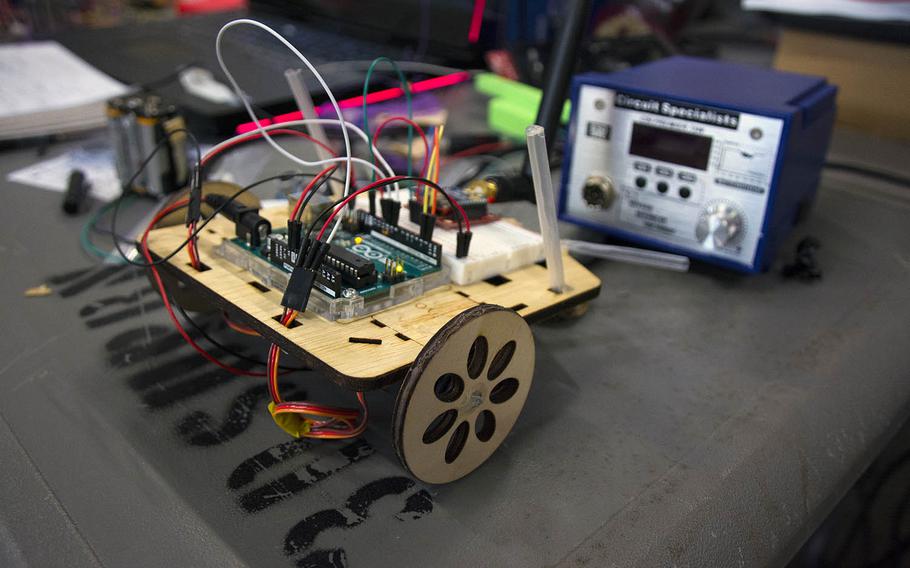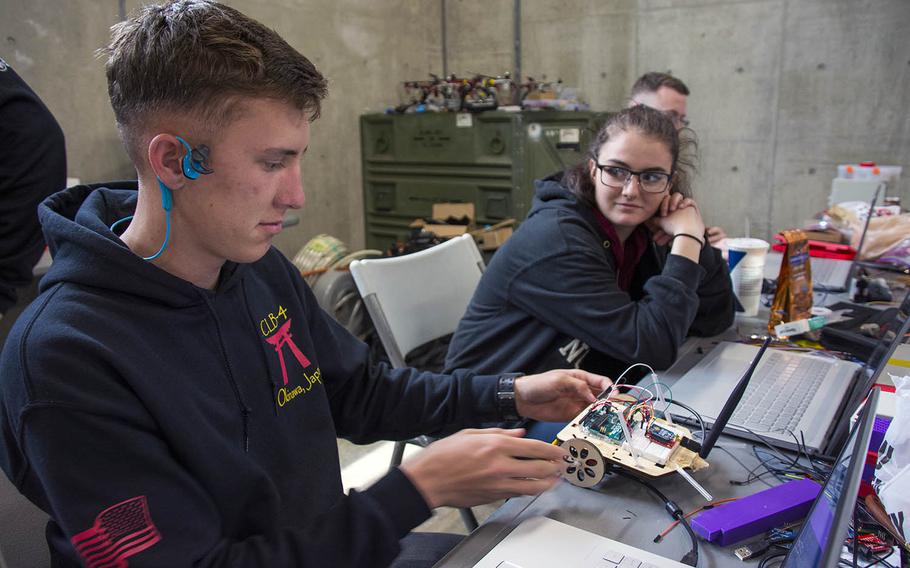 CAMP KINSER, Okinawa — Building upon technology already at their fingertips, Marines gathered at Okinawa's first-ever Marine Maker Innovation Boot Camp this month to learn how they can put robotics, 3D printing and other tools to work on the battlefield.
A training team from Building Momentum, a small business founded by a Navy veteran and based in Alexandria, Va., spent one week each with two classes of Marines from March 4-15.
The company — a problem-solving, engineering and consulting firm — works with the Defense Department and educational institutions, corporations and entrepreneurs, according to its website.
"Building Momentum's end goal for the Marine Corps is to make the Marines better adept at problem solving," Cheyanne Dwyer, an instructor for the workshop and director of engagement for Building Momentum, told Stars and Stripes on March 15.
The program aims to help Marines in the field with limited resources to come up with an idea that may save their fleet time, money and resources, she said.
An otherwise empty warehouse served as a classroom with tabletops of wiring, gadgets and 3D printing machines for 38 students, seven Marine teaching assistants and five Building Momentum trainers, including Dwyer, CEO and founder Brad Halsey and training director Tom Sullivan.
For the first time, Building Momentum put machinist Marines in the role of teaching assistants. They gave their students real-world examples of how this training can be put to use on the battlefield.
"Marines out in the field often encounter problems they can't solve with the supply chain, like broken handles, knobs and switches," said Gunnery Sgt. Justin Horn, a teaching assistant for the two-week workshop. "[Now] they'd be able to 3D print those."
Dwyer recalled an example a student provided from Kuwait, where an antenna had fallen from a roof. Normal supply channels would take six to eight months to provide an entire antenna when only one part needed replacing, she said.
"A gentleman who had gone through our course was able to jump into the maker space, was able to 3D print the part and get that antenna back up and running within 48 hours," she said.
The Okinawa students' projects included developing and employing sensors, using solar energy and building a bridge from 3D-printed materials.
The bridge, about 2 feet long, could support 1,000 pounds, Dwyer said.
"During the innovation boot camp, we have a lot of lightbulb moments happen with the students," she said. "We like to say, we don't teach the tech, we teach problem solving because we know that these guys are smart, and we know the Marines are able to solve the problem themselves if just given the confidence and permission to do so."
Classes at Camp Kinser met daily from 8 a.m. to about 8 p.m., and each class wrapped up its week with a capstone project, in which students incorporated what they learned in a realistic challenge.
In those projects, Marines were given an earthquake scenario. They could enter buildings only with the use of autonomous robots and cameras to evaluate conditions and deliver medical supplies. All the while, they had to keep an eye on their own supplies, including water, which instructors attempted to steal during the exercise.
"Sometimes there's things in the field we have to watch and monitor all the time and have to post a fire watch or guard on," Horn said. "Instead, we can post a camera and remotely monitor it from the [combat operations center]."
The team of instructors are planning to return this summer to deploy a mobile maker lab constructed during their visit. It's a 10-foot shipping container able to house personnel and equipment of the Innovation Boot Camp for training or essential missions
"We should get a lot more of this training to a lot more Marines," Horn said. "The problem-solving skills that the Marines are learning here, just how to think outside the box and come up with solutions to problems without using the things you were already handed … I think that's really useful."
vazquez.carlos@stripes.com Twitter: @StripesCarlos
---
---
---
---