Talisman Sabre flexed coalition power in the Indo-Pacific, experts say
by
Caitlin Doornbos
August 2, 2019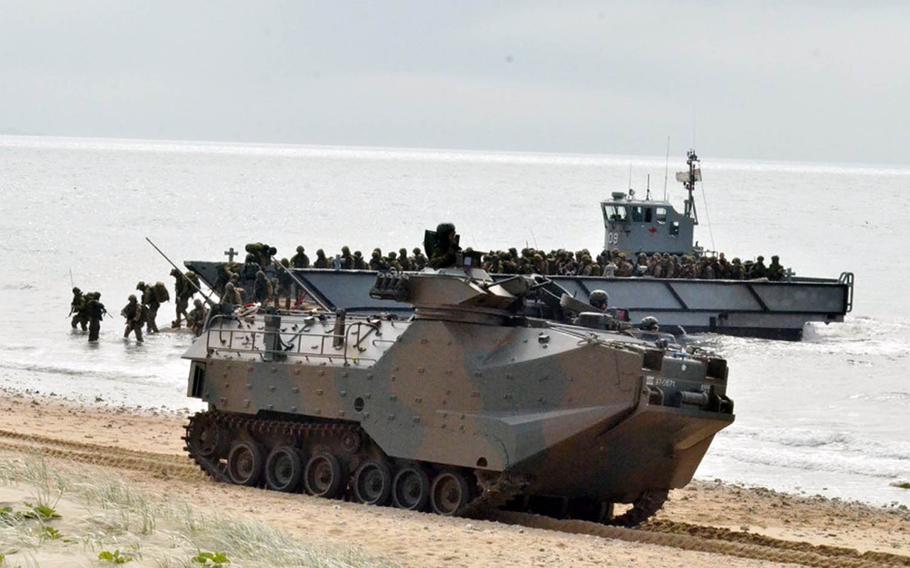 Talisman Sabre 2019, the monthlong, multinational military exercise led by the U.S. and Australia, demonstrated that the U.S. has allies ready to help keep order in the Indo-Pacific region.
This year's version of Talisman Sabre, the eighth, was the biggest yet. While intended as a generic team-building exercise, it also sent a message to China that any attempt to assert dominance in the region will be met by a unified front, outside observers say.
Starting in 2005 with 11,000 U.S. and 6,000 Australian troops taking part, Talisman Sabre this year involved 34,000 troops from six countries, according to the Australian Department of Defence. Japan, Canada, New Zealand and the U.K. sent contingents to join those from the U.S. and Australia.
The Indo-Pacific region is where the future of the world will be shaped, "but it's also a region where there are challenges that more than one nation is going to address itself," said Rear Adm. Fred Kacher, commander of the Sasebo, Japan-based Amphibious Force 7th Fleet, on July 27. "The Indo-Pacific is a region that I would say is too big for one nation to go it alone."
Military units drilled across the eastern coast of Australia including, for the first time, Japan's newly formed Amphibious Rapid Deployment Brigade. The U.S. sent an aircraft carrier strike group and an amphibious assault ship and supporting vessels, along with other units. The Australians and Japanese sent two ships built for amphibious assault, including a Japanese helicopter carrier. The exercise concluded with a ceremony July 27.
Officially, Talisman Sabre is not aimed at any one country, Kacher told reporters aboard the USS Wasp July 15. The exercise scenario called for liberating a fictional island nation from a fictional invader, according to the Australian Defence Department.
However, to outside observers the intent was clear. The exercise was "meant to send the strongest message to China," said Stephen Nagy, a politics and international studies professor at Tokyo's International Christian University and Japan Institute for International Affairs visiting fellow.
"Multilateral exercises such as Talisman Sabre demonstrate to rule-breakers that states are willing to work with like-minded countries to protect, preserve and buttress a rules-based order in the Indo-Pacific," Nagy said Thursday in an email to Stars and Stripes.
Since 2012, Beijing has claimed and militarized islands in the South and East China Seas, extending its influence in the resource-rich waters where more than 20% of the world's commerce flows, according to the Center for Strategic and International Studies.
Its neighbors in the region, some with competing claims, object to Chinese assertions, and the U.N. in 2016 rejected its territorial claims in the South China Sea in a case brought by the Philippines. The U.S. maintains that the seas are international waters and free for all countries to sail through.
China sent a spy ship to observe Talisman Sabre, according to a July 12 report by Australia's ABC News.
Building coalitions with regional partners is crucial if the U.S. intends to curb China in the region, and exercises like Talisman Sabre are key to solidifying those bonds, said Daniel Kliman, director of the Center for a New American Security's Asia Pacific Security program.
"One of the key obstacles to China's ambitions in the region today is America's network of alliances," Kliman said in a phone interview Wednesday. "They're helpful in terms of demonstrating to China the balance of power remains with the US and its allies."
Talisman Sabre also feeds a narrative favored by China that the U.S. is undermining China's prosperity, Nagy said.
"It has strengthened the containment narrative that Beijing has had concerns about for decades," Nagy said. "It also strengthens the regime's raison d'être in that they play the 'foreigners are trying to keep the Chinese down' card."
China in a defense white paper last week said the U.S. "has provoked and intensified competition among major countries" and "undermined global strategic stability." Nagy said multinational exercises like Talisman Saber counter such statements.
"Without a multilateral approach, China will claim that outsiders — in particular the U.S. — are bringing instability to the region," Nagy said.
The exercise scenario assumed a well-equipped adversary and employed skills applicable anywhere in the Indo-Pacific region "for any challenge that occurs," Kacher said during a July 27 press conference aboard the USS Wasp livestreamed by 7 News Cairns.
For Japan that scenario has potential real-world applications, Nagy said. It's in a dispute with China over ownership of the Senkaku Islands in the East China Sea. In Beijing, they're called the Diaoyu Islands.
"The amphibious forces are a demonstration of Japan's capability and willingness to develop and deploy troops able to take back peripheral islands from an invading force," Nagy said in an email. "The hypothetical enemy is unnamed but there really is only one state with the capability and interest in seizing the Senkakus — China."
Japan's heightened participation in Talisman Sabre this year also signaled a commitment to its U.S. alliance, Nagy said. At the G-20 summit at Osaka in late June, President Donald Trump, in remarks to reporters, slighted the 68-year-old U.S.-Japan defense treaty as unfair, according to a Reuters report. The U.S. must come to Japan's aid if attacked, he said, but Japan is not equally obligated.
"This support is driven by the desire to constrain China and support and preserve a rules-based order," Nagy said. "It is also a strong signal to the Trump Administration that Japan is contributing to the alliance not just through checkbook diplomacy but through naval capabilities."
doornbos.caitlin@stripes.com Twitter: @caitlindoornbos