Analysis
Syria strikes may complicate US-North Korea summit
By
Stars and Stripes
April 15, 2018
---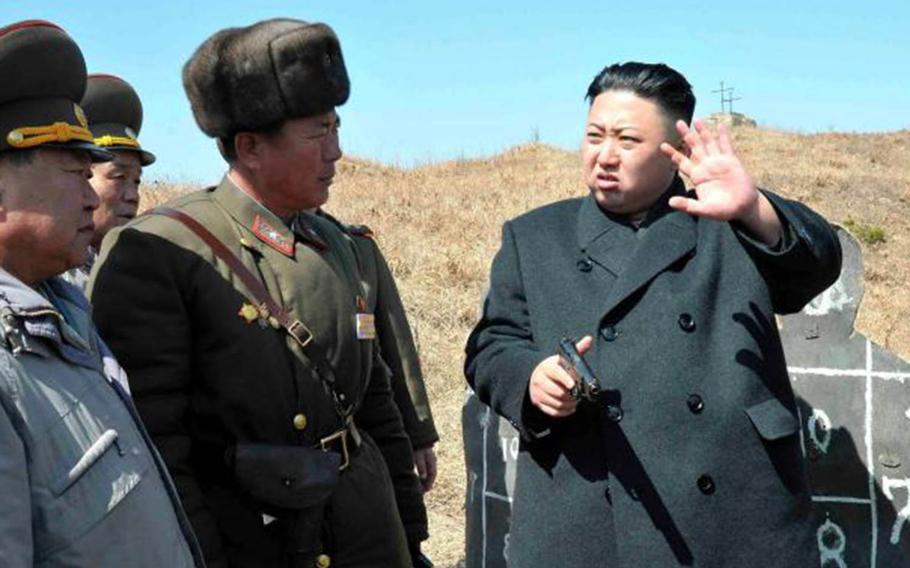 SEOUL, South Korea — President Donald Trump may have just given North Korea's leader a new excuse not to give up his nuclear weapons, experts say.
The North has long maintained that its nuclear and missile programs are needed for self-defense against a U.S. attack, with some 28,500 American servicemembers poised across the heavily fortified border that divides the peninsula.
The U.S.-led targeted airstrikes punishing Syrian President Bashar Assad for an apparent chemical attack against civilians were exactly the type of assault that Kim Jong Un's regime fears.
Experts say that could undermine the U.S. administration's goal of persuading Kim to abandon his nuclear ambitions just weeks ahead of a planned summit between the two leaders.
Kim "may view this as added justification for possessing nuclear weapons, as a way to deter this type of intervention," said Catherine Dill, a defense analyst at the Middlebury Institute of International Studies at Monterey, Calif.
"Similarly, it may weaken the general international position of the U.S. at a crucial time leading up to negotiations, especially if U.N. hours are spent discussing this strike rather than North Korea," she added.
Libya effectNorth Korean officials have pointed to NATO airstrikes that led to the downfall of Libyan leader Moammar Gadhafi years after he agreed to give up his nuclear weapons as justification for their position.
Gadhafi, who brutally suppressed his people, agreed in 2003 to eliminate his weapons of mass destruction. But the dictator was ousted and killed in 2011 after the international community intervened to support protesters against his rule.
At the time, North Korea called the West's deal with Libya a bait-and-switch approach and warned the crisis amounted to a "grave lesson" that "one should have power to defend peace."
The North is believed to have its own massive stockpile of biological and chemical weapons.
The threat was highlighted when the North Korean leader's estranged half-brother Kim Jong Nam was killed when suspects smeared the banned nerve agent VX on his face at a Malaysian airport on Feb. 13, 2017.
Pyongyang also has been accused of sharing the technology in exchange for foreign currency to thwart U.N. economic sanctions.
Ties with DamascusU.N. experts monitoring sanctions compliance found that North Korea had been shipping supplies to Syria that could be used in producing chemical weapons, with at least 40 previously unreported shipments between 2012 and 2017.
North Korean missile technicians have been spotted working at known chemical weapons and missile facilities inside the war-torn country, according to the report.
Both countries denied the allegations. North Korea's state-run Korean Central News Agency called it a "nonsensical argument."
Pentagon officials said Friday's coordinated attacks on Syria that also involved France and Britain targeted the heart of Assad's programs to develop and produce chemical weapons.
Defense Secretary Jim Mattis said it was a "one-time shot," so long as Assad does not repeat his use of chemical weapons.
That's likely to be of little solace to the North Koreans as they prepare for the historic meeting with Trump, their first-ever with a sitting U.S. president.
Stephen Bryen, the former director of the Defense Technology Security Administration, said Kim Jong Un should take notice of the Syria strikes.
"First, he is known to have a chemical weapons program which is a threat to security in the entire region, but especially to South Korea," Bryen said in an opinion piece published Sunday in the Asia Times.
"The second reason for Kim Jong-un to take notice is that the U.S. and its allies just demonstrated that they don't miss their set targets," he added.
Cost of denuclearizationKim has made a series of diplomatic overtures this year after months of threats and weapons tests that raised fear of a nuclear war on the divided peninsula.
Trump agreed to meet with the North Korean leader after he reportedly expressed the will to denuclearize. But the offer came with a caveat that his regime's security must be guaranteed.
No date or location has been set, although Trump said the meeting would happen in May or June.
Many observers believe one reason for Kim's reversal was fear that Trump stepped up his rhetoric as well, trading personal insults with the North Korean leader and threatening to "totally destroy" the communist state if forced to defend the U.S. and its allies.
The U.S. administration also raised the possibility of a pre-emptive strike targeting the North's nuclear infrastructure.
Such an attack would be significantly more difficult than the assault on Syria since the North's weapons are believed to be hidden in a vast network of tunnels and hardened bunkers.
But the threat raised fears of a miscalculation by either side that could lead to a new conflict on the peninsula, which was devastated by the 1950-53 war that ended with an armistice instead of a peace treaty.
"There was a real and growing fear that the U.S. would be willing to do something like military strikes that could potentially bring about devastating consequences to the region," said Jenny Town, assistant director of the U.S.-Korea Institute at the Johns Hopkins School of Advanced International Studies.
"People thought we were over that phase now that Kim Jong Un has been in this diplomacy mode," she said.
Town said the Syria strikes could make other players in the region, including China, South Korea and Japan, more willing to give concessions to the North to maintain the momentum for talks.
"This kind of action does raise the stakes in the region," she said. "At the very least I think that these kind of actions sort of undermine global buy-in to this maximum pressure campaign."
"The cost of denuclearization … is going to be higher and higher," Town said in a telephone interview.
Democratic Sen. Tim Kaine, a member of the Senate Armed Service Committee, invoked North Korea in calling Trump's order to strike Syria "illegal" and "reckless."
"Today it's a strike on Syria - what's going to stop him from bombing Iran or North Korea next?" Kaine said in a statement.
Twitter: @kimgamel
---
---
---
---