Super Hercules' operational debut a wet one at Yokota Air Base, Japan
by
Leon Cook
June 30, 2017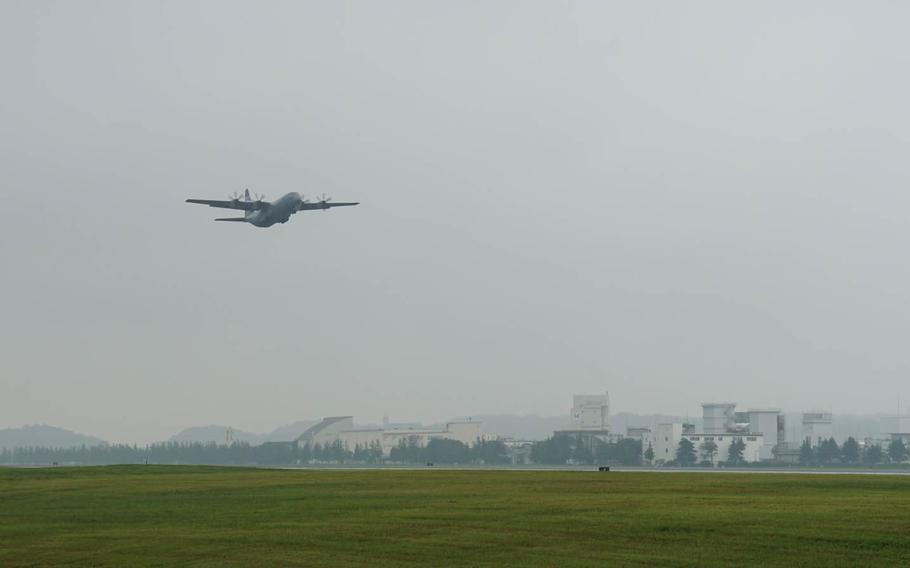 YOKOTA AIR BASE, Japan — Twenty-four whirring propeller blades sang a deafening tune as a Super Hercules cargo plane barreled down Yokota's wet runway Friday morning in western Tokyo.
Picking up speed, the aircraft lifted off the pavement, its gray body swiftly obscured by clouds dark with rain. The takeoff marked the beginning of the first operational flight by one of the 374th Airlift Wing's new C-130J aircraft since the first arrived earlier this year.
Yokota pilots underwent months of training on the J model, which boasts more advanced avionics compared to the venerable H model that's being phased out. Mechanical controls on the old planes, which are being sent to Air National Guard units in the states, are replaced by computers and digital systems on the Super Hercs.
"It's been three months learning to fly the J, and I'm very excited to get my chance to fly a mission with it," said Lt. Col. Jesse Klaetsch, a pilot with the 36th Airlift Squadron. "It's nice to do what you've been trained to do."
The squadron transports cargo throughout the Pacific theater, a task the J models can perform much more efficiently than the base's aging fleet of C-130H aircraft. Each Super Herc needs two fewer crewmembers thanks to automated navigation and engineering systems, and its Rolls-Royce engines provide more power, fuel efficiency and range. They can also carry eight cargo pallets – two more than the older model.
With the first operational flight under its belt, the 374th Airlift Wing is further along in its transition from "the world's greatest airlifter to the world's most advanced tactical airlifter," Col. Kenneth Moss, the wing's commander, said after the base's first Super Herc arrived in March.
cook.leon@stripes.com Twitter: @leoncook12