Study: China is the most aggressive nation in South China Sea disputes
by
Wyatt Olson
July 2, 2015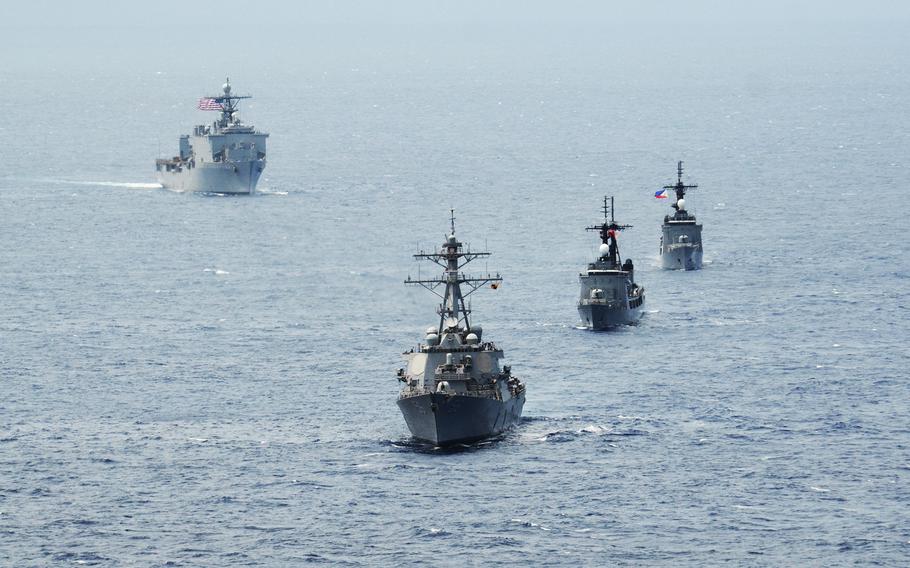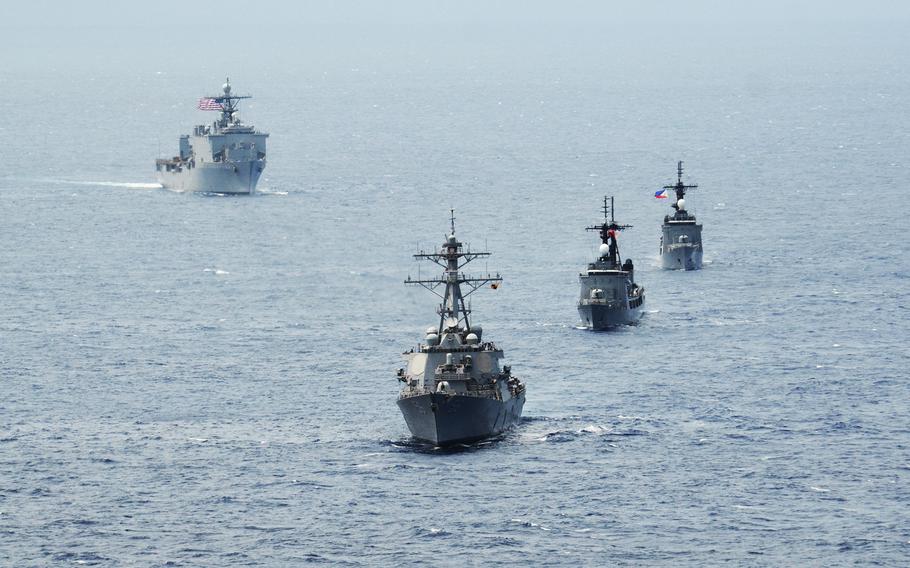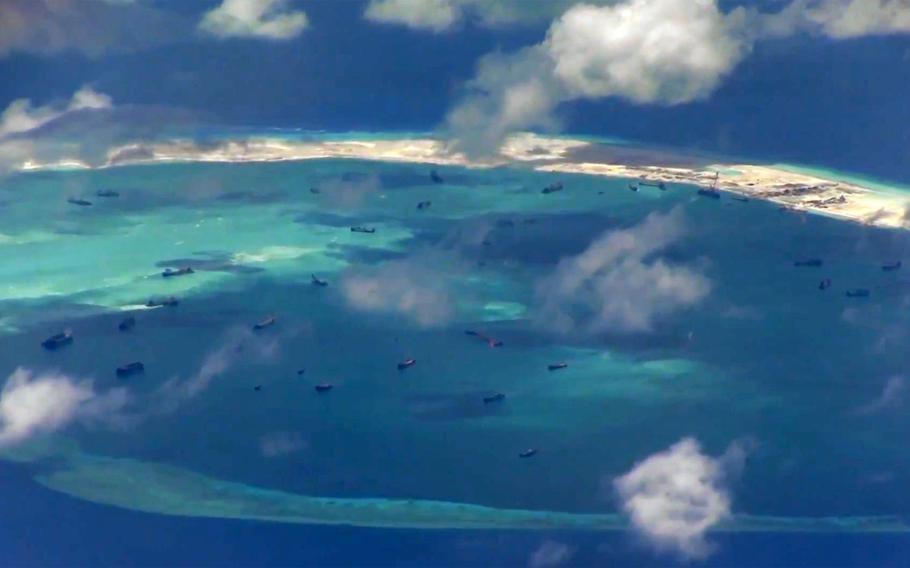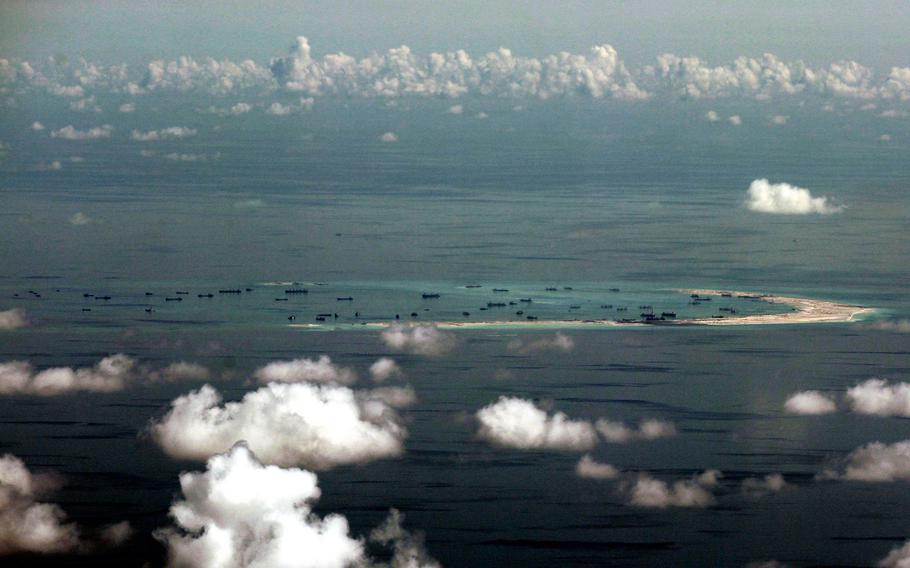 Confrontations over disputed islands in the South China Sea have been going on for so many years it's hard to keep track of the succession of standoffs, skirmishes and withdrawals — not to mention the wars of words.
But two researchers, who developed a database to track tactics used over 18 years by the six countries claiming sovereignty over the islands, have found that China has far exceeded its rivals in the use of military and paramilitary actions, economic clout and diplomatic "sabotage" as a means of asserting and defending those claims.
The researchers, who were with National Defense University when the study was published earlier this year, used open sources to track the tactics used by the rival states from 1995 through September 2013, grouping the actions into nine categories: military, paramilitary, economic, administrative, legal, coalition diplomacy, negotiation, dispute management and informational.
China was responsible for 500 actions, with the Philippines next highest on the list at 300, according to a summary of the study published by Honolulu's East-West Center, which aims to promote better relations and understanding among the people and nations of the United States, Asia and the Pacific. China's 148 military and paramilitary actions during that 18-year period represent just over half of all actions in those categories among the other nations, which include Vietnam, Malaysia, Brunei and Taiwan.
China has claimed sovereignty over much of the South China Sea, which is a key shipping lane for the region. Some areas below the seabed are believed to be rich in petroleum and perhaps other valuable minerals. Actual sovereignty over even one island could potentially extend a nation's economic control over thousands of acres of sea.
China's claims The researchers' findings were particularly important in responding to China's claims that is has stepped up activity in the South China Sea because of the U.S. rebalance to the Pacific announced in 2011, said Christopher Yung, one of the researchers who is now an independent political-military analyst.
China has argued for the past four years that the rebalance encourages the rival nations to behave more provocatively, and that it has simply reacted to that aggressiveness, he said.
"When you go have diplomatic meetings with the Chinese, or when any of these other countries meets with the Chinese, this is the point they'll trot out," Yung said. "We collected data showing that was not accurate; that the Chinese argument essentially has no legs."
For example, in 2009 and 2010, China's actions far exceeded its rivals, and in the latter year surpassed the actions of all other claimant nations combined.
Various levels of the U.S. government — military, intelligence and the State Department — are using the research to deal with China and other Southeast Asian nations, Yung said.
However, the study didn't capture the entire "universe" of the nations' actions because it includes only those in public records and the media, said Patrick McNulty, the other researcher on the project who is updating the database under a contract with NDU's Center for the Study of Chinese Military Affairs.
"Our feeling is that if we did a search of classified materials there would definitely be more actions," he said.
That hunch comes in part from discussions with officials from the claimant nations after presenting the study's findings. When showed the results at the Vietnam Embassy in Washington, officials quickly asserted that they'd taken more actions than the research indicated.
When Yung traveled to China and presented the study to analysts at a think tank that focuses on South China Sea issues, their reaction amounted to, "Wait a minute; there are only 500 actions? There should be many, many more," he said.
'Damning conclusion'? While China's overwhelming use of actions against its rivals might appear as a "damning conclusion" to U.S. observers, the Chinese view is that "this shows that we are actively protecting our national sovereignty," Yung said.
The researchers broke down the nine main categories into 39 "sub-actions," which were placed on a spectrum of escalation to de-escalation of tensions. For example, under both the military and paramilitary categories were five sub-actions that ran from outright use of force to complete withdrawal of forces from an area.
The researchers had to make some value judgments when categorizing sub-actions, McNulty said. "For instance, if China is negotiating with another state and it says that the negotiation should be on a bilateral basis only, that could be viewed as China trying to obfuscate from engaging in multilateral negotiations," he said. "But China might say, no, we sincerely want to resolve this but only on a bilateral basis."
China's coalition diplomacy strategy was clear in most cases. It derailed a proposal for a code of conduct in the South China Sea that had been discussed at the Association of Southeast Asian Nations' 2012 ministers meeting in Cambodia, during which it went to great effort to prevent coalitions from forming opposed to China's positions on the sea.
The researchers said China's diplomatic efforts have included maneuvering to break coalitions of ASEAN states attempting to unite on South China Sea issues, "sweetening the pot" with economic assistance for other ASEAN members to side with China, insisting on bilateral negotiations to the exclusion of multilateral mechanisms to resolve a dispute, and "agreeing in principle to resolve the dispute peacefully, but obstructing any effort to meaningfully impose a binding code of conduct or other confidence-building measures on the dispute resolution process."
China does appear to have one "soft spot" when it comes to South China Sea disputes, Yung said. Legal action is the only category in which it was surpassed by a competitor, the Philippines, with 21 compared with China's 12.
In 2013, the Philippines submitted a claim to the International Tribunal on Law of the Sea for arbitration concerning the Spratly Islands, primarily contending that the tiny, barren atolls in question don't even qualify as "islands" that would expand the owner's exclusive economic zone.
"The primary Chinese actions were refusing to participate in legal proceedings or obfuscating or delaying participation," McNulty said.
The Philippines' move "put China on its heels," Yung said. China has preferred to keep its claims vague, while slowly moving to expand key one-on-one relationships in the region as it literally expands some of the disputed islands with sand dredged from the sea bottom. According to U.S. officials, China is militarizing some islands.
Should the tribunal decide in the Philippines' favor, China would be rejecting international norms if it continued on its present course — at the same time its leaders contend China is committed to "rule of law."
olson.wyatt@stripes.com Twitter: @WyattWOlson