Students on US military bases in South Korea return to classrooms after starting year online
by
Matthew Keeler
October 5, 2020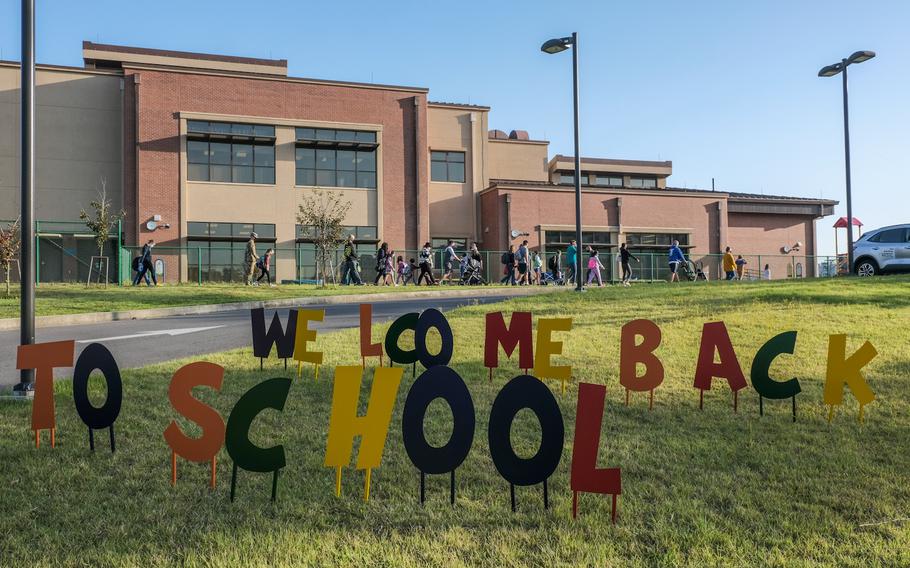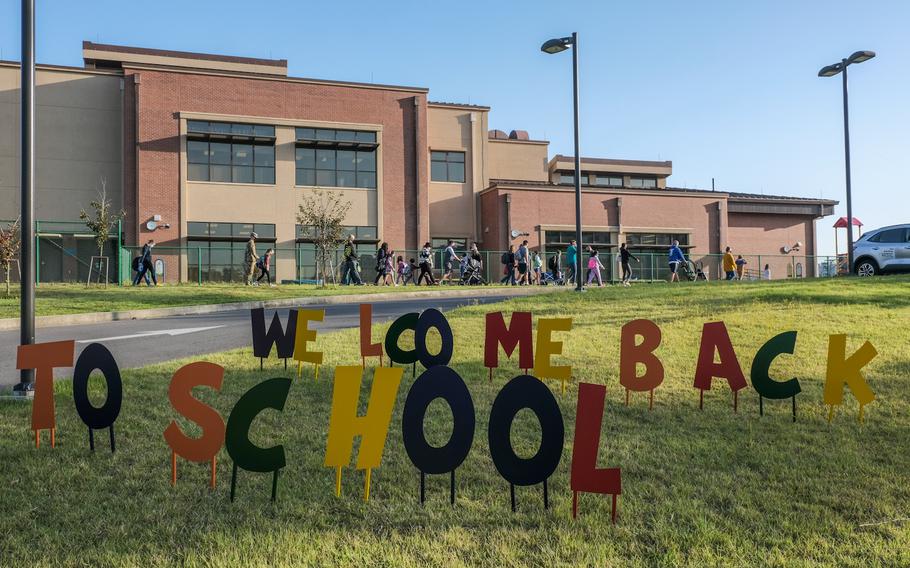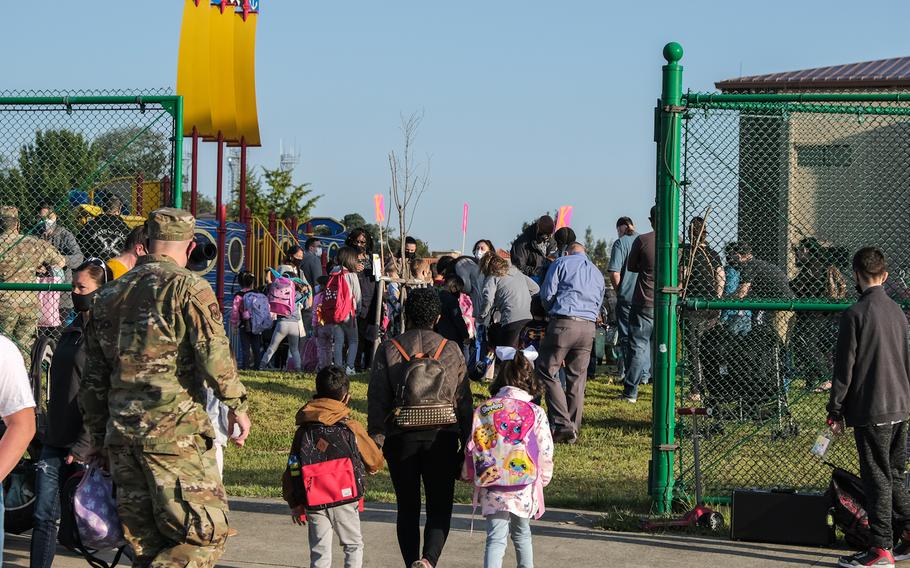 Stars and Stripes is making stories on the coronavirus pandemic available free of charge. See other free reports here. Sign up for our daily coronavirus newsletter here. Please support our journalism with a subscription.
OSAN AIR BASE, South Korea — More than 4,000 students returned to traditional classrooms on U.S. military bases throughout South Korea on Monday, more than a month after starting the school year online due to the coronavirus pandemic.
U.S. Forces Korea lowered the coronavirus risk level on Sept. 23 to moderate, or Health Protection Condition-Bravo, a move that allowed the Department of Defense Education Activity to bring students together again in school buildings.
"I'm not worried about them being at school, the kids need a classroom environment," said Rachel Maples, mother of a second-grade student at Osan Elementary School. "They don't look at home like school. They want to play their video games, watch television and go outside."
When U.S. military families had the opportunity to choose before the school year began Aug. 24, most opted to send their children back to classrooms rather than continue to learn online.
In the DODEA Pacific West District, 4,209 students elected to return while another 236 chose to remain in the Virtual School, according to district Superintendent Jeff Arrington.
And then USFK, following the South Korean government's lead, raised its risk level to substantial, or Health Protection Condition-Charlie, on Aug. 16, the day before teachers were due back to work after summer vacation. Thousands of students were kept home to learn online when school started a week later.
DODEA operates eight schools on the peninsula at Camp Humphreys, Camp Walker, Camp George and Osan Air Base.
During the online classes, communication between teachers and students was not optimal, Maples said. Her son's class was so large that oftentimes he kept his hand raised for several minutes while teachers moved on with the lesson without noticing him.
"It was too chaotic," she said. "They did their best but it's not an optimal learning experience for little ones."
Anna Winter, mother of a fourth-grader at Osan Elementary School, said being back in a classroom gives her son a sense of normalcy and schedule, especially beneficial being in a foreign country.
Coming to South Korea from Germany, Winter said this is her son's first experience in an American school system. The online environment "worked as well as it could have," she said, while also describing issues with communication.
"My son wanted his privacy to really focus on the class and concentrate, but I would get information from him filtered through whatever he remembers," Winter said. "Sometimes I would find out additional information through other parents."
While thousands of parents rejoice in their children's return to classrooms, some students also welcomed the transition.
"I feel it's easier to learn when you're actually in the school environment instead of at home because you get to experience the actual classroom and be with other people," said Lauren Soh, a ninth-grader at Osan Middle High School. "Whereas at home, you're learning in your own environment where there are distractions and things that get in your way."
keeler.matthew@stripes.com Twitter: @MattKeeler1231