Tropical Depression 03W, #4 FINAL
by
Dave Ornauer
March 15, 2019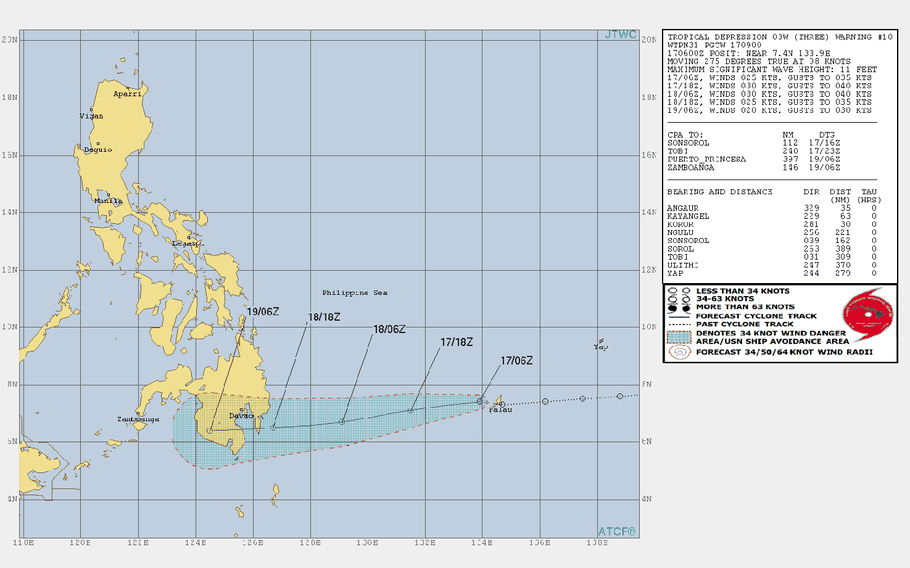 5:30 p.m. Monday, March 18, Philippines time: Though the Joint Typhoon Warning Center has issued its final warning on Tropical Depression 03W, Tropical Storm Warning Signal 1 remains raised for parts of southern Mindanao, according to the Philippines national weather authority PAGASA. 03W, named Chedeng by PAGASA, is forecast to weaken into a low-pressure area as it passes over southern Mindanao, but could strengthen back into a tropical depression once back over the South China Sea, PAGASA reports.8 p.m. Sunday, March 17, Philippines time: Tropical Storm Warning Signal 1 has been issued for Davao Oriental in southern Mindanao as Tropical Depression 03W continues heading toard the Philippines' southernmost island, according to national weather authority PAGASA. 03W, named Chedeng by PAGASA, remains a minimal wind threat, with plenty of rain forecast for the southern Philippines as 03W continues heading west; it might be downgraded to a low pressure area by PAGASA before arriving on Mindanao.11 p.m. Saturday, March 16, Philippines time: Little change. Tropical Depression 03W continues on a westerly path and remains forecast to head over southern Mindanao, if it makes it that far, sometime Tuesday.
The Philippines' national weather authority PAGASA reports 03W is forecast to enter the country's area of responsibility and be named Chedeng. No tropical storm warning signal has been raised at this point.
3 p.m. Friday, March 15, Philippines time: A new tropical depression has formed south of Guam and its initial forecast track has it headed toward central Mindanao as a middling tropical depression by early next week. It's not forecast to become a significant wind event, though it could produce quite a bit of rain in the southern Philippines. PST will keep track.