pacific storm tracker
94W Invest FINAL
by
Dave Ornauer
April 28, 2020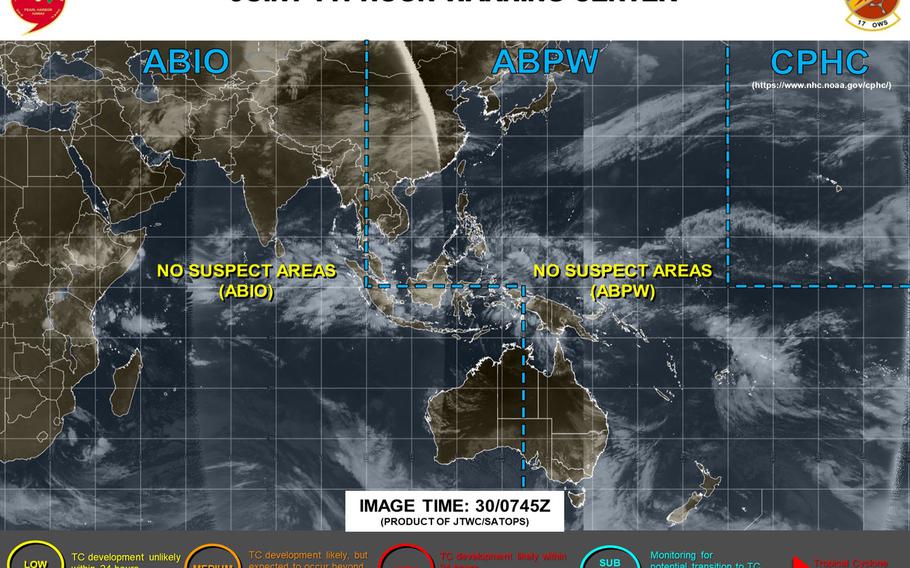 5 p.m. Thursday, April 30, Philippines time: Looks as though 94W Invest remains southeast of the Philippines, but it might be dying out, if reports coming out of weather agencies are an indication.Joint Typhoon Warning Center reports 94W has dissipated and is no longer suspect for development into a tropical cyclone in the next day or so. Global models still show 94W out there, with both the GFS and CMC model ensembles reflecting a northwesterly track through northern Mindanao and east and south Visayas over the weekend. So the Philippines can probably expect heavy rain over the next few days, which the country could use right about now. Okinawa appears to remain well out of harm's way, with a couple of extreme outlying exceptions in terms of model solutions. U.S. bases on Okinawa remain in Tropical Cyclone Condition of Readiness All Clear. Unless something changes, this should be Storm Tracker's final report on 94W.5 p.m. Wednesday, April 29, Philippines time: Dry air. The bane of a tropical disturbance's existence. That's what apparently could be the demise of 94W Invest, or at least what may prevent it from developing into something more. According to the Joint Typhoon Warning Center, 94W remains on the charts as a tropical disturbance, some 1,530 miles south-southeast of Kadena Air Base, Okinawa. It's forecast to continue tracking west to northwest, bisecting the Philippines just north of Mindanao and through the Visayas region. But JTWC projects little to no intensification out of 94W as it keeps moving that way; the likelihood of it generating into a tropical cyclone of any description remains low. Global models are in agreement except for one outlier. A quick check with meteorologists and weather media types in the area says areas south of 20 degrees north remain very dry, with drought conditions present in some areas. Though dry air has invaded the disturbance, enough moisture remains that the south-central Philippines can expect up to between 2 to 4 inches of rain in some areas. Prudent, it would be, to watch for flooding and possible landslides in hilly areas. Best tracks by the GFS and CMC ensembles show 94W piercing the Philippines, with solutions diverging from there, from north Palawan Island to just east of Luzon. U.S. bases on Okinawa remain out of harm's way, in Tropical Cyclone Condition of Readiness All Clear. Japan Meteorological Agency has yet to declare the start of the annual rainy season on Okinawa.5:30 p.m. Tuesday, April 28, Philippines time: It's been an awfully quiet start to the year concerning tropical cyclone development, but with May just around the corner, it appears the northwest Pacific basin is finally showing signs of life.
94W Invest popped up on the weather charts Tuesday morning, and as of 6:30 p.m. Japan time was about 1,520 miles south-southeast of Kadena Air Base, Okinawa. Joint Typhoon Warning Center projects chances of formation of a tropical cyclone in the next 24 hours to be low.
Current model projections indicate a northwesterly track toward northern Mindanao and through the east and central Visayas in the Philippines, but from there, solutions diverge somewhat.
Earlier Tuesday, the Global Forecast System's model ensemble indicated a best track curving northeast in the general direction of Okinawa, but that's been scaled back significantly in the last several hours.
Thus, for the moment, Okinawa appears to be out of harm's way, though that could change. And further activity will surely ramp up the days get longer and ocean water gets warmer. U.S. bases on Okinawa remain in Tropical Cyclone Condition of Readiness All Clear, and should remain so until seasonal TCCOR 4 is issued on June 1.