Spiritual adjustments: Chaplains get creative to care for overseas troops during pandemic
by
Seth Robson
April 10, 2020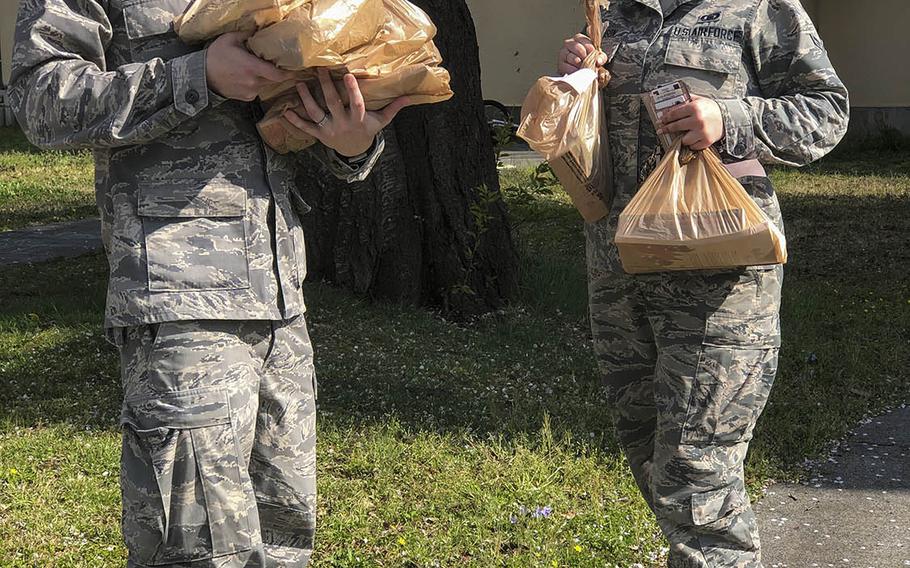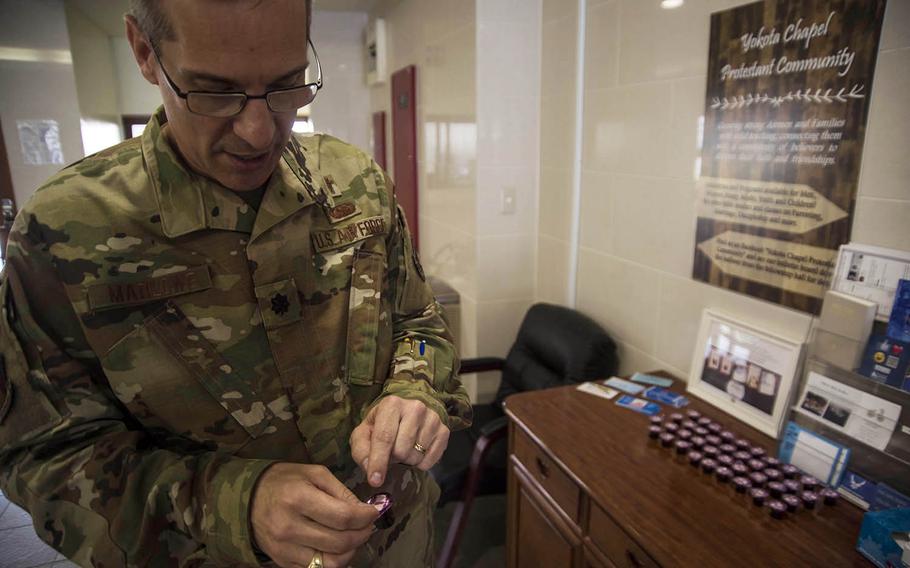 Stars and Stripes is making stories on the coronavirus pandemic available free of charge. See other free reports here. Sign up for our daily coronavirus newsletter here. Please support our journalism with a subscription.
YOKOTA AIR BASE, Japan — Troops overseas often get calls from concerned family back home in a crisis, but the coronavirus pandemic has flipped that around with service members in Japan worrying instead about stateside loved ones, said the top chaplain at the home of U.S. Forces Japan.
"We're hearing about COVID-19 developments in the States," 374th Airlift Wing Chaplain (Lt. Col.) Dale Marlowe said during an interview Thursday inside Yokota's main chapel in western Tokyo. "People and families are worried about that."
In New York, the epicenter of the pandemic in the United States, officials reported 518 coronavirus deaths over the course of 24 hours Thursday. The city's death toll rose to 4,778, up from 4,260 the day before, although new deaths are trending down from the record 806 people who died on Tuesday, the New York Post reported.
By comparison, the Tokyo Metropolitan Government has reported 36 deaths from the virus, although the city recorded a record 181 new infections Thursday.
Service members whose loved ones become sick or die back home can request emergency leave. However, during the pandemic troops returning to the U.S. must be quarantined for 14 days.
"Now people ask, do I need to go on a plane and have two weeks of restricted movement to be with my family?" said Marlowe, 51, of New Castle, Pa.
The commander of U.S. Forces Japan, Air Force Lt. Gen. Kevin Schneider, declared a public health emergency on Monday for U.S. military bases in and around Tokyo. That's led to more restrictions while the Navy has quarantined sailors from all over Japan at Yokota ahead of a deployment.
Religious gatherings at Yokota and many other bases have been canceled but chaplains have adjusted their schedule to make sure at least one of them is always available, Marlowe said.
The chaplains visit airmen on the front line in the battle against the virus at Yokota's hospital or at entry gates, he said. They care for troops dealing with the loneliness of quarantine or isolation.
"If it's a single person in their room, those walls get real small, real quick," he said. "That's why it is incumbent on not only the chaplain corps but also their first sergeants, unit members and friends to provide for them and even just sit outside the door and talk."
So far, Yokota hasn't seen an uptick in social problems such as relationship issues or substance abuse, Marlowe said. Some couples, he said, might be spending a bit more time together than usual.
The chaplains collect inspirational books about relationships and children's books and deliver them to families. They're also spending more time connecting with the community on social media.
"Things have shifted from the group, in-person, mass-gathering services," he said.
Catholic masses at Yokota are now livestreamed while Protestant services are prerecorded. The services don't involve singing hymns, but they include messages, announcements and prayers. Protestant worshipers can collect plastic single-serving communion cups to take home. Catholics have been absolved from taking communion during the pandemic, Marlowe said.
"We are doing things we have never done before and probably things we should have done years before with technology and how to connect with people outside the traditional chapel walls," Marlowe said. "I think it is going to change the way we do our ministry."
At Camp Zama, home to U.S. Army Japan in nearby Kanagawa prefecture, chaplains also livestream services. A priest performs drive-thru communion at the post chapel after a livestreamed mass on Sundays, according to an Army news release.
The Zama chaplains are planning a drive-in Easter celebration where attendees will park at the Camp Zama Community Club, tune their radios into FM 88.9 to hear the service and afterward receive an Easter gift bag, according to the news release.
Chaplains are being creative to serve the community, Chaplain (Lt. Col.) Donald Ehrke of U.S. Army Garrison Japan said in the release.
"If we need to do that in a way that is unique or untried, we're willing to make a mistake and correct if we need to, but so far the community has really responded well and they've been grateful for what we've been able to offer," he said.
However, when the crisis is over it will still be important to hold religious gatherings, Marlowe said.
"There is still something about getting together with people who have common interests and priorities," he said.
robson.seth@stripes.com Twitter: @SethRobson1