South Korean worker at Camp Humphreys infected with new coronavirus, raising USFK total to seven
---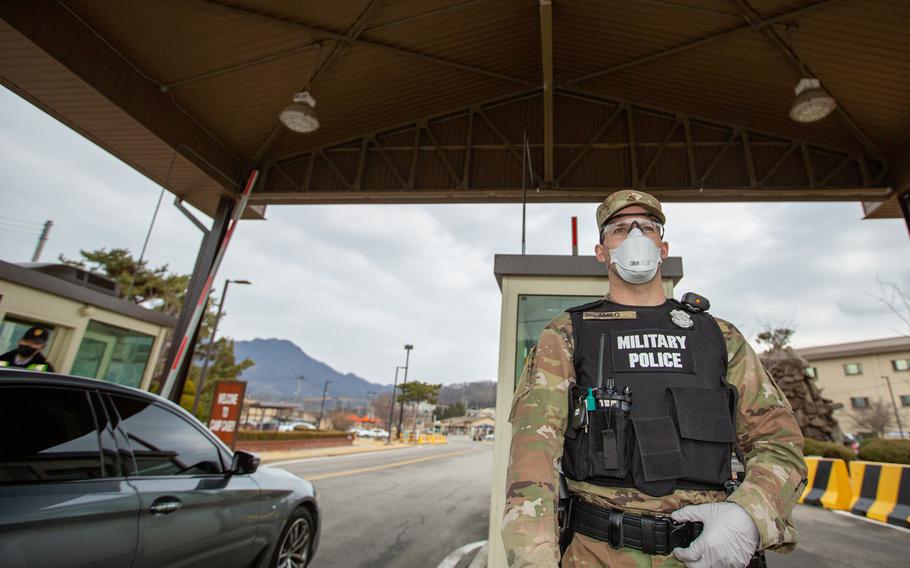 SEOUL, South Korea — A South Korean woman who works at Camp Humphreys has tested positive for COVID-19, officials said Friday, in the first confirmed case linked to the U.S. military outside the hard-hit area of Daegu.
The announcement raised to seven the number of people affiliated with U.S. Forces Korea who have been infected, including a soldier and his wife.
However, the other six were connected to bases in the southeastern area of Daegu, which is the epicenter of the outbreak that began in mid-February and has led to more than 6,000 infections nationwide.
The latest employee "is currently in isolation at her off-base residence in Cheonan," an area near Camp Humphreys, as directed by the Korea Centers of Disease Control and Prevention, USFK said in a press release.
Humphreys garrison commander Col. Michael Tremblay said she took the COVID-19 test on Thursday and the results came back positive earlier Friday.
"It is the first positive case on Camp Humphreys," Tremblay said in a Facebook live update for the community.
Officials tracking her movements using closed-circuit TV and electronic records have determined that she visited Starbucks and the post exchange in the main shopping area on post on Feb. 26, Tremblay said.
She also went to her office on Thursday, he added, without identifying the building or her job. She had taken leave in-between those dates.
Tremblay said the people who had come in close contact with her have been self-quarantined and the areas she visited have been cleaned. "We believe we have significantly mitigated that risk," he said.
The garrison, which is home to USFK headquarters and has a population of more 37,000, also reimposed ID checks at the entrances of its post exchange facilities and the commissary to ensure only authorized buyers can enter.
"This is strictly a precautionary measure and not meant to be an enduring thing," Tremblay said. "It's meant as a control measure in response to COVID-19."
USFK, which commands some 28,500 American troops on the divided peninsula, has restricted access to Camp Humphreys and other installations, barred service members from nonessential outside activities and implemented health checks at entry gates to contain the virus.
USFK's public affairs office said Friday it has decided to announce total numbers, status of isolation, location and contact tracing going forward.
"My assessment is this is the new 'normal' where we have COVID-19 cases weekly if not daily," spokesman Col. Lee Peters said in an email, adding that it's a matter of "when and where," not "if" COVID-19 happens.
U.S. and South Korean health professionals "are actively conducting contact tracing to determine whether anyone else may have been exposed," USFK said.
The command has announced six other cases, including a soldier and his wife, the spouse of an active-duty service member, the spouse of a civilian Defense Department employee, the widow of a military retiree and another South Korean employee.
The previous cases were all in the southeastern city of Daegu or surrounding areas, which have been hardest hit by the respiratory virus as South Korea's overall toll increased to 6,284, with 42 deaths.
Officials have said the previous infections occurred off post, but they were waiting for the contact trace investigation to be completed in the recent case.
USFK said it "remains at risk level 'high' peninsula-wide and is implementing all appropriate control measures to help mitigate the spread of COVID-19."
Most of the South Korean cases have been in Daegu and surrounding areas. The pneumonia-like disease has symptoms that are similar to the flu or a common cold and is believed to be spread through droplets or close contact.
The best way to prevent it is by washing your hands thoroughly and frequently, avoiding contact with people who are sick, and staying home if you are experiencing symptoms, authorities say.
gamel.kim@stripes.com Twitter: @kimgamel
---
---
---
---