South Korean support for alliance with US still strong despite cost-sharing row, poll finds
---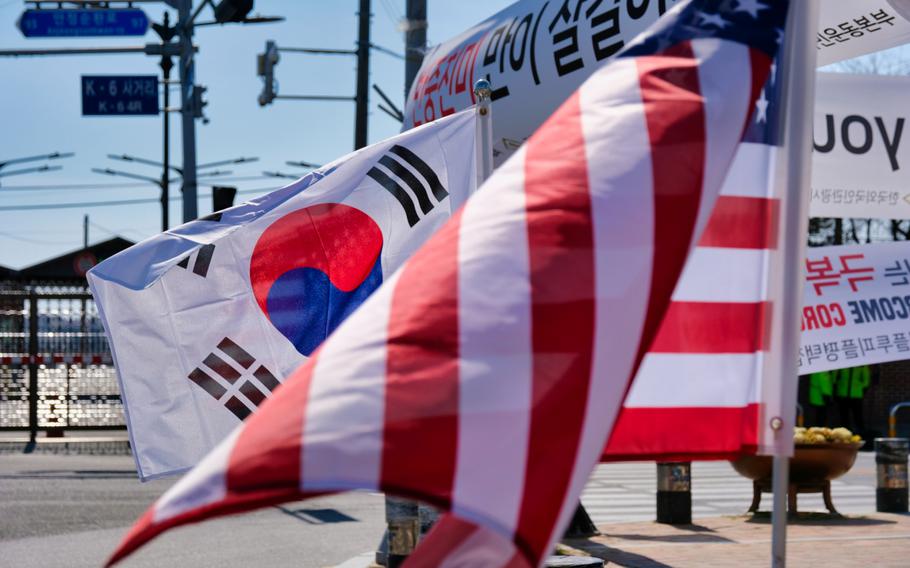 SEOUL, South Korea — South Korean support for the alliance with the United States remains strong despite a public row over defense cost-sharing, a recent poll found, as the negotiations remain stalled more than seven months after the previous deal expired.
A veteran U.S. diplomat who was previously the assistant chief of mission in Afghanistan has been named the new envoy leading the talks over how much South Korea should pay to offset the cost of stationing some 28,500 troops on the divided peninsula.
The State Department said Monday that Donna Welton, who speaks Japanese fluently and has studied Korean, would replace James DeHart as the senior adviser for security negotiations and agreements.
DeHart was appointed as U.S. coordinator for the Arctic last month.
Welton "will pick up where Jim left off" in regards to alliance negotiations with South Korea, Japan and other countries, a State Department spokesperson said Tuesday in an email.
South Korea said it would reach out to Welton, but no immediate plans have been made to resume face-to-face discussions on a new Special Measures Agreement, as the contract is known. The previous deal expired at the end of last year.
"We're going to continue to have negotiations with Washington without any problems," foreign ministry spokesman Kim In-chul told reporters on Tuesday.
The rare public dispute over U.S. demands for South Korea to sharply increase its contribution has raised concerns about a rift in the alliance as tensions rise over North Korea's nuclear program.
The issue has received a lot of attention in the South as critics accuse President Donald Trump's administration of treating service members like mercenaries.
Trump has insisted that South Korea is a wealthy country that can and should pay more, in line with his general views toward U.S. allies.
Some 90% of South Korean respondents said they still support the alliance with the United States, which was forged in the 1950-53 Korean War, compared with 92% last year, according to a poll released Monday by the Chicago Council on Global Affairs.
That number remained largely steady among those who reported having heard or read a great deal, a fair deal or nothing at all about the negotiations, it found.
The phone survey of a representative national sample of 1,000 adults in South Korea was conducted from June 23 to June 25 by Hankook Research, with funding from the Korea Foundation, it said. The margin of error was plus or minus 3.1%.
However, views about the alliance were largely contingent on the U.S. commitment to defend South Korea against the North, suggesting that any plan to withdraw troops would likely undermine that support, the survey's author said.
"While a range of actions may trigger a decrease in confidence in US commitment to defend South Korea, one of the most immediate reported to be under consideration is a partial withdrawal of US troops," wrote Karl Friedhoff, a public opinion and Asia policy fellow.
"This move has the potential to shift South Korean attitudes away from seeing the alliance as mutually beneficial and towards views that the alliance benefits only the United States," he added.
The Wall Street Journal reported last month that the Pentagon provided proposals to reduce the number of troops in South Korea in March as part of an overall review of how to reposition and potentially reduce military deployments worldwide.
Both sides have played down the report. South Korea said the issue was not raised in the cost-sharing talks. Defense Secretary Mark Esper also said he has given no orders to cut troop strength in South Korea but suggested he wants to pursue a rotational model.
The Chicago Council on Global Affairs survey found that 74% of the respondents said they support the long-term stationing of U.S. soldiers in South Korea, while 24% oppose it.
South Korea has helped pay for U.S. troops under the agreement since 1991, with most of the funds used for local labor providing food, administrative and logistical support, as well as construction costs.
Stars and Stripes reporter Yoo Kyong Chang contributed to this report.
gamel.kim@stripes.com Twitter: @kimgamel
---
---
---
---