South Korean spy chief to lead high-level delegation to North Korea
by
Kim Gamel
March 4, 2018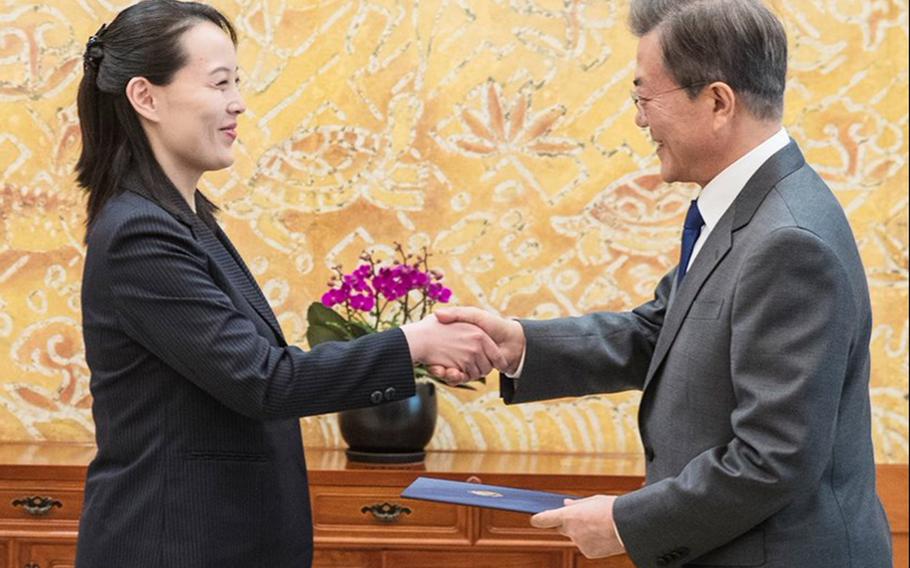 SEOUL, South Korea - South Korea will send a high-level delegation led by its spy chief to North Korea on Monday in a bid to improve relations between the longtime adversaries and to push for a resumption of dialogue with the United States.
It's the latest step in President Moon Jae-in's efforts to extend the detente stemming from the recent Olympics into broader talks with Washington aimed at easing tensions over the North's nuclear weapons program.
Moon's office said Sunday that national security director Chung Eui-yong and national intelligence service chief Suh Hoon will fly with eight other officials and support staff to Pyongyang for two days of talks with senior North Korean officials.
It will be the first such group to travel to the communist state in more than a decade.
"The special envoys will have extensive discussions over issues including ways to create conditions for North-U.S. talks to denuclearize the Korean Peninsula and improving inter-Korean ties," spokesman Yoon Young-chan said.
The South Korean delegation will then visit Washington to brief U.S. officials about the talks, Yoon added.
North Korea's agreement to participate in the Feb. 9-25 Winter Games has led to a remarkable series of diplomatic breakthroughs including a visit by leader Kim Jong Un's sister.
She was the first member of the ruling family to visit Seoul since the 1950-53 Korean War, which ended in an armistice instead of a peace treaty.
Kim Yo Jong delivered an invitation from her brother for an inter-Korean summit in Pyongyang. Moon has not accepted, saying the conditions must be right and the North must actively engage with the United States first.
President Donald Trump, meanwhile, has indicated he would consider talks with the North but insisted denuclearization must be the end goal. It's unclear how that would work since the North has insisted its nuclear weapons program is not up for negotiation. Its foreign ministry reiterated Saturday that it would not accept talks with preconditions.
"The dialogue we desire is the one designed to discuss and resolve the issues of mutual concern on an equal footing between states," an unnamed spokesman was quoted as saying by the state-run Korean Central News Agency.
"In decades-long history of the (North Korean)-U.S. talks, there had been no case at all where we sat with the U.S. on any precondition, and this will be the case in future, too," it said.
Last week, Moon called on Washington to "lower the threshold for talks with North Korea" while adding that "North Korea should show it is willing to denuclearize."
Skeptics have pointed out that the North has agreed to talks in the past only to stall for time to develop its weapons programs and to wring concessions such as aid and eased sanctions from the West.
So-called six-party talks including the two Koreas, the United States, China, Russia and Japan broke down in 2009.
South Korea last sent its intelligence chief as a special envoy to the North a few months before the last summit between the two countries in 2007.
Since then, the North has made rapid progress toward its goal of developing a nuclear weapon that could target the U.S. mainland. It test-fired dozens of missiles including three ICBMs and conducted its sixth and most powerful nuclear test last year.
Twitter: @kimgamel