South Korean president gives Trump credit for historic talks with the North
by
Kim Gamel
January 10, 2018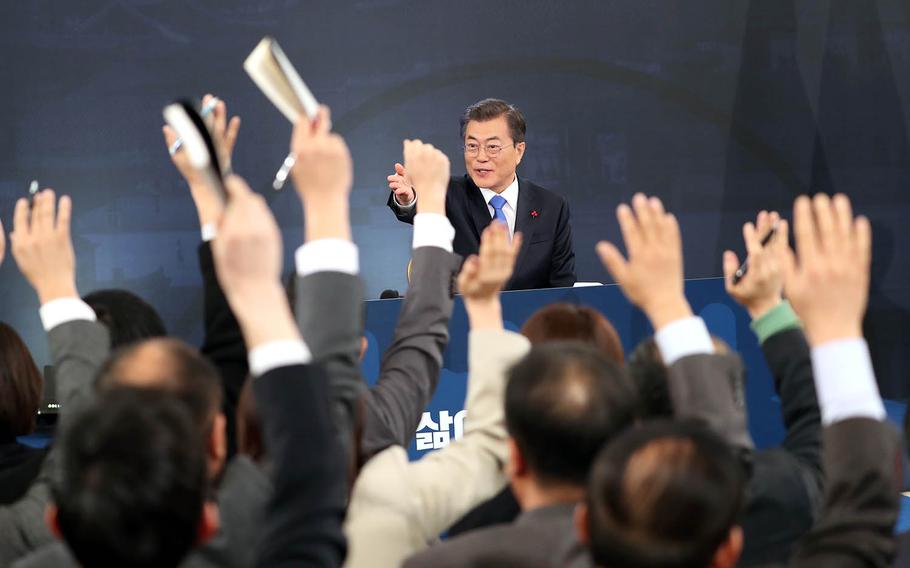 SEOUL, South Korea – South Korea's president gave his U.S. counterpart Donald Trump credit for playing a "very big" role in bringing the two Koreas together for breakthrough talks the day before.
Trump, in turn, told South Korean President Moon Jae-In that he's open to U.S.-North Korea talks "at the appropriate time, under the right circumstances." That's according to a White House readout of Trump's call Wednesday with the South Korean leader.
"I think the contribution of President Trump was very big in accomplishing inter-Korean talks. I'd like to express my gratitude," Moon said Wednesday during a nationally televised press conference.
That contrasted with the North Korean narrative as its chief delegate to the talks insisted his country's nuclear weapons were aimed at the United States.
The South Korean president faces a delicate balance in his efforts to pursue peace with the North while vowing to work with the United States and other allies to pressure the communist state to abandon its nuclear weapons program.
Tuesday's meeting ended after about 12 hours with North Korea agreeing to send a high-level delegation to next month's Winter Olympics in the South Korean resort village of Pyeongchang – a key goal of Moon's.
The countries also agreed to hold military talks aimed at easing hostilities in frontline areas, and they restored the second military hotline in a week.
Moon told reporters that he's very encouraged that the inter-Korean dialogue has been restored and said he would be willing to hold a summit with North Korean leader Kim Jong Un under the right conditions.
"I keep myself open to any meeting including the summit if it's helpful for an improvement of South-North relations or a settlement of the North Korean nuclear issue," he said. "But to have the summit, some conditions must be established. I think a tangible outcome must be ensured."
Moon, who took office in May promising to pursue peace with the North, stressed that he would continue to work closely with the U.S. and other allies toward the ultimate goal of denuclearizing the divided peninsula.
"Now the dialogue with North Korea has begun, but because the North Korean nuclear issue has not been resolved, South Korea will continue to keep pace with the pressure and sanctions by the international community," he said. "South Korea has no plans to ease our unilateral sanctions against North Korea that are in place in addition to international sanctions for now."
While he pledged solidarity with the international community, Moon expressed concern that increased sanctions and pressure could lead to unintended clashes and conflict.
"Therefore, we need to have a deep consideration regarding how we would appropriately manage these tensions," he said.
The U.S. welcomed the meeting but noted it will hold close consultations with South Korean officials to ensure the North's participation in the Olympics doesn't violate U.N. Security Council sanctions.
"The United States is committed to a safe and successful Winter Olympic Games, and the United States will send a high-level presidential delegation to the Games," State Department spokeswoman Heather Nauert said in a press statement.
The positive tone was tempered by remarks by chief North Korean delegate Ri Son Gwon, who said Tuesday that his country's nuclear weapons are aimed at the United States, not South Korea.
"All our state-of-the-art strategic weapons like atomic bombs, hydrogen bombs and intercontinental ballistic rockets are completely targeting the United States. They are not targeting our compatriots" in the South, Ri said in media footage released from Panmunjom.
North Korea has long insisted its goal is to develop a nuclear weapon that could target the U.S. mainland as a self-defensive measure. It has demonstrated rapid progress in its missile program with a series of tests over the past two years, including three underground nuclear explosions since January 2016.
Ri also said the two Koreas will hold working-level talks to follow up on cooperation in the Feb. 9-25 Olympics, which will be followed by the Paralympics in March.
The U.S. and South Korea have agreed to suspend annual war games that are usually held around that time until after the Winter Games in a nod to the North, which despises the joint military exercises that it believes are a rehearsal for an invasion.
Past agreements with the North Koreans have collapsed and critics cautioned that the North may be trying to divide Washington and Seoul or to persuade the international community to relax sanctions and diplomatic efforts to isolate the regime.
Trump has traded threats with Pyongyang and warned military action is on the table. But he also said as recently as this weekend that he would be willing to speak by phone with Kim Jong Un himself.
"With all of the failed 'experts' weighing in, does anybody really believe that talks and dialogue would be going on between North and South Korea right now if I wasn't firm, strong and willing to commit our total 'might' against the North. Fools, but talks are a good thing!" Trump said in a tweet last week.
gamel.kim@stripes.com Twitter: @kimgamel