South Korean president declares 'war' on coronavirus as number of infections spikes
By
Kim Gamel and Yoo Kyong Chang
March 3, 2020
---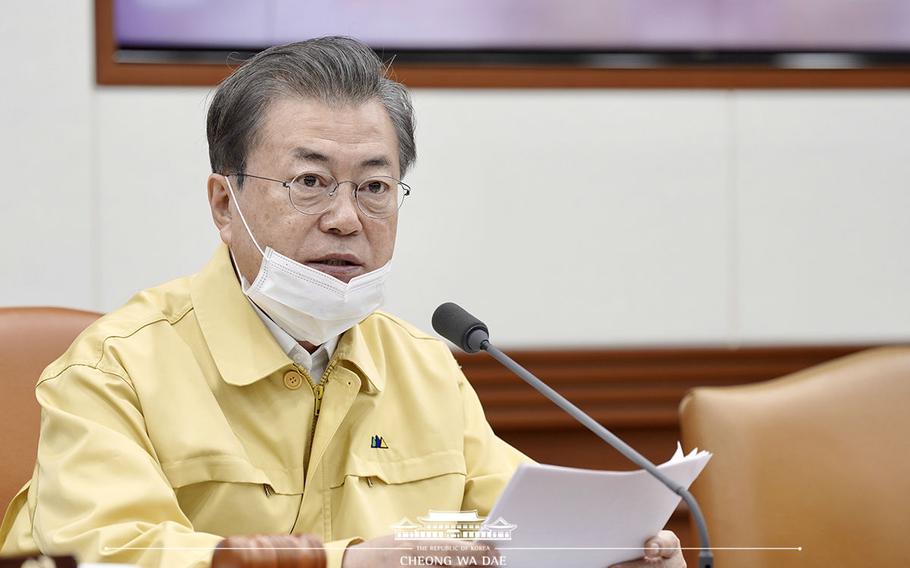 SEOUL, South Korea — South Korean President Moon Jae-in declared "war" on the new coronavirus Tuesday as the number of infections crept toward 5,000, most in a southeastern area that is home to a U.S. military base.
The South has suffered from the largest COVID-19 outbreak outside China, where the virus first appeared in December, then spread to dozens of other countries, killing more than 3,000 people.
Moon said he planned to spend $25 billion on fighting the virus, which has been mainly concentrated in the southeastern city of Daegu and surrounding areas. He also put all government agencies on 24-hour alert, saying the recent spike in cases marked a "critical phase."
"The crisis in Daegu and North Gyeongsang province reached its peak and the whole country has entered a war against the infectious disease," Moon said during a weekly Cabinet meeting.
"Now that economic sentiment has frozen, investment, consumption and industrial activities have shrunken considerably," he added. "The government should make an all-force response to mitigate economic shock. Bold fiscal injection is urgent."
Moon's remarks came as the Korea Centers for Disease Control raised the number of confirmed COVID-19 cases in the country to 4,812, with 28 deaths. It said 85,484 of 125,851 people tested negative.
Health authorities have warned the numbers will continue to rise as tests are completed on members of a religious sect believed to be at the center of the Daegu outbreak.
South Korea reported its first coronavirus case on Jan. 20 but had relatively low numbers until a 61-year-old woman linked to the church in Daegu tested positive on Feb. 18 and proved to be a carrier.
Army Garrison Daegu, which oversees several installations comprising a military community of about 9,000 people, restricted movement and began health checks at access gates. The U.S. military has expanded those protective measures at bases across the divided peninsula as it tries to prevent the virus from infiltrating.
However, four people affiliated with U.S. Forces Korea have tested positive, including a soldier and his wife who lived near Camp Carroll, the widow of a military retiree and a South Korean employee – all in the hardest-hit area.
South Korean officials planned to expand coronavirus tests on ordinary citizens in Daegu after completing those on members of the Shincheonji Church of Jesus amid fears of community transmission, Vice Health Minister Kim Gang-lip told reporters on Tuesday.
The government also will set up more isolation facilities in Daegu, which has a population of 2.5 million, by early next week, he added.
The World Health Organization, meanwhile, said the virus is showing signs that it can be contained.
"Containment of COVID-19 is feasible and must remain the top priority for all countries," WHO Director-General Tedros Adhanom Ghebreyesus said Monday during a briefing in Geneva.
The virus, which has symptoms similar to the flu or the common cold, is believed to have an incubation period of two weeks and is spread through contact. Authorities have urged people to practice good hygiene, wash their hands frequently and thoroughly, and avoid sick people or stay at home if they are sick.
gamel.kim@stripes.com Twitter: @kimgamel
---
---
---
---