South Korea, USFK report good news on coronavirus front but warn the threat remains
---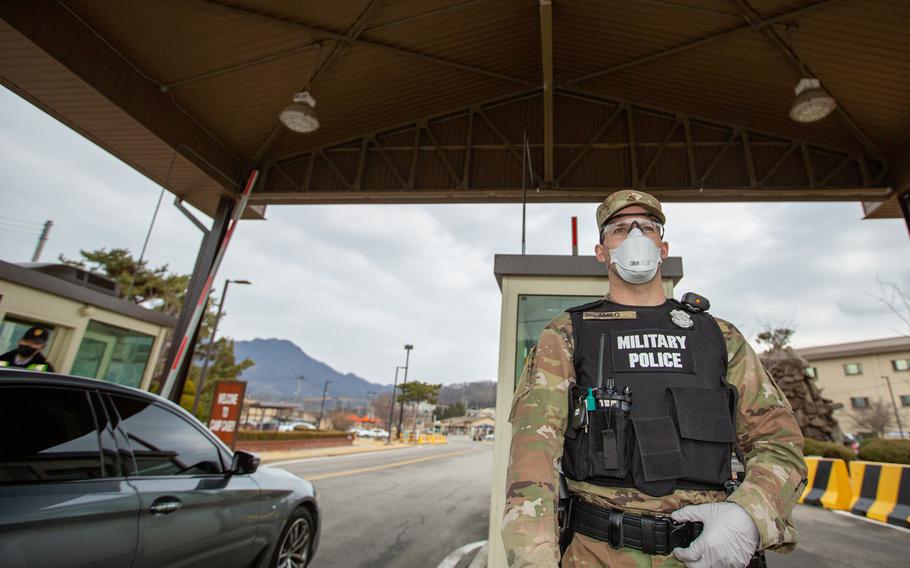 Read more coronavirus coverage from Stars and Stripes.
SEOUL, South Korea — South Korea's daily coronavirus count dropped to double digits for the first time since the outbreak began nearly a month ago, officials said Sunday.
The Korea Centers for Disease Control and Prevention logged 76 new cases on Saturday, raising the total of positive tests to 8,162. The number of deaths blamed on COVID-19 rose to 75, while 834 patients have been discharged.
It was the first time the number fell below 100 since Feb. 21, when a woman in the southeastern city of Daegu tested positive and the virus spread rapidly through a religious sect after she attended services.
Most of the infections have been in Daegu and surrounding areas, with more than 60% linked to the Shincheonji Church of Christ, which has apologized for its role in the crisis.
However, authorities have expressed concern over new clusters of infections elsewhere, including a call center in Seoul and the government complex in Sejong.
"We want to ask you to continue to maintain social distancing and refrain from visiting any crowded places and any social gatherings," Kwon Jun-wook, the vice head of the central disease control headquarters, said during a briefing.
The top U.S. commander in South Korea, meanwhile, said the number of military-affiliated infections remained steady at nine, and fewer people are being quarantined due to fears of the rapidly spreading virus.
"Currently, South Korean trends are trending downward and looking good," Gen. Robert Abrams said Friday during a video-teleconference with reporters at the Pentagon.
"We are not out of the woods yet here in Korea," he added. "We must all remain vigilant, and everyone must do their part in our efforts to control the virus."
Abrams, the commander of U.S. Forces Korea, said Friday that 392 service members, family members and civilians were in self-quarantine at the peak of the crisis in late February.
"Today we sit at 55. That number fluctuates daily, but we've seen a downward trend for the last two weeks," he added.
Only one soldier has tested positive along with his wife; the others included three dependents and four South Korean employees.
USFK, which commands about 28,500 service members, has sharply restricted access to bases and banned troops from nonessential travel or outside social activities to prevent the spread of the virus.
That has led to a 60% reduction in the number of people entering installations, Abrams said, stressing that the number of confirmed infections comprises a tiny fraction of the 58,000-strong military community.
The South Korean military has said 38 service members have been infected and nearly 3,000 have been quarantined as a protective measure.
In all, 268,212 people have been tested, with about 90% receiving negative results, according to the KCDC.
Stars and Stripes reporter Yoo Kyong Chang contributed to this report.
gamel.kim@stripes.com Twitter: @kimgamel
---
---
---
---