South Korea urges North to stop building sub-launched missiles
By
Yoo Kyong Chang Ashley Rowland
May 11, 2015
---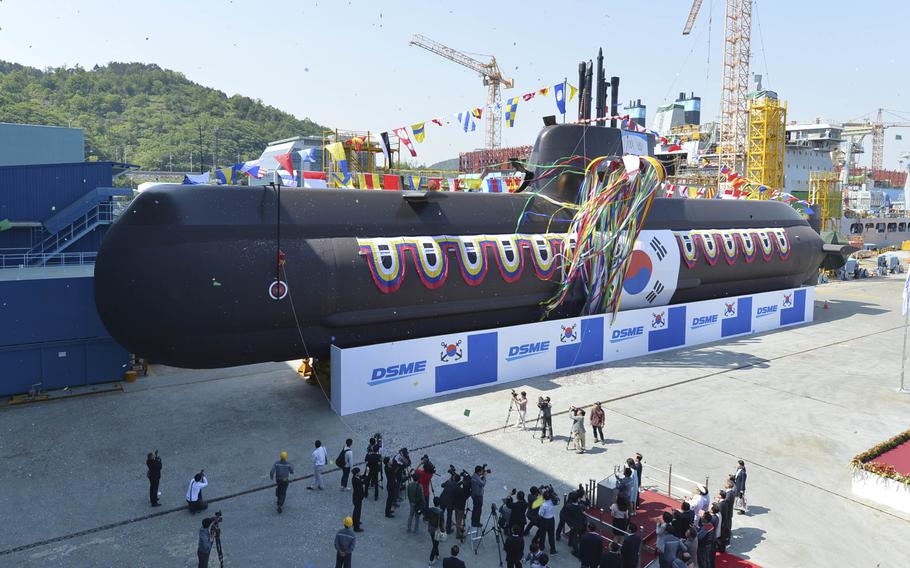 SEOUL, South Korea — South Korea on Monday urged Pyongyang to immediately halt development of submarine-launched ballistic missiles, calling it a threat to security across the region.
North Korea said Saturday it had test-fired a ballistic missile underwater, raising concerns about the reach, sophistication and pace of development of its weapons systems. South Korea's Ministry of National Defense later said North Korea fired three anti-ship cruise missiles into the East Sea on Saturday.
"We judge North Korea's test-firing of a ballistic missile underwater last week to be very serious and worrying," MND spokesman Kim Min-seok said Monday, according to a transcript of a media briefing.
According to Reuters, a South Korean defense official estimated Monday that the North could develop a submarine armed with ballistic missiles within two to three years. The official said North Korean photographs purporting to show a missile launched from the sea appeared to be real.
U.S. Forces Korea commander Gen. Curtis Scaparrotti noted the growing North Korean ballistic missile threat last month during testimony to the U.S. House Armed Services Committee, saying Pyongyang continues to emphasize its asymmetric capabilities, including missiles.
He warned that confrontation could escalate, noting that the North had conducted multiple artillery, rocket and ballistic missile tests last year "with very little to no notice."
"Due to the nature of the evolving threat, particularly ballistic missiles, it is critical for the (U.S.-South Korean) alliance to build a layered and interoperable BMD (ballistic missile defense) capability," he said, according to a hearing transcript.
In addition to the increased submarine threat, North Korea has been developing nuclear weapons — it has conducted three increasingly powerful underground tests — and has successfully test-fired a three-stage missile.
It remains unclear whether North Korea is capable of producing a small enough nuclear weapon to fit in a warhead and strong enough to withstand the rigors of launch and re-entry, but U.S. military officials say they have to work under the assumption that it has, or soon will be.
The U.S. appears to be willing to engage in renewed six-nation talks with the North on denuclearization. President Barack Obama's administration has been following a policy of "strategic patience" with Pyongyang, which has fundamentally meant no engagement.
Just days before the North announced that it had test-fired a SLBM, South Korea unveiled its sixth 1,800-ton attack submarine, which a navy spokesman said will be commissioned in 2016.
It is the first to be named after a woman, independence fighter Yu Gwan-sun, who died in 1920 after being tortured during Japan's colonial occupation of the peninsula. The naming of the submarine is meant to mark the 70th anniversary of South Korea's independence from Japanese rule and inspire patriotism, according to the navy.
The South Korean navy has approximately 13 1,200-ton and 1,800-ton submarines. It plans to build five more within four years, defense officials said, and deploy nine 3,000-ton submarines capable of launching ballistic missiles beginning in 2020.
The North is believed to have about 70 submarines, according to South Korean defense officials.
The MND also announced Monday that it has developed a combat-suitable reconnaissance vehicle for use in chemical, biological and radiological warfare, according to Yonhap News.
rowland.ashley@stripes.com Twitter: @Rowland_Stripes
---
---
---
---