South Korea to withdraw from military intelligence sharing pact with Japan over trade dispute
by
Kim Gamel
August 22, 2019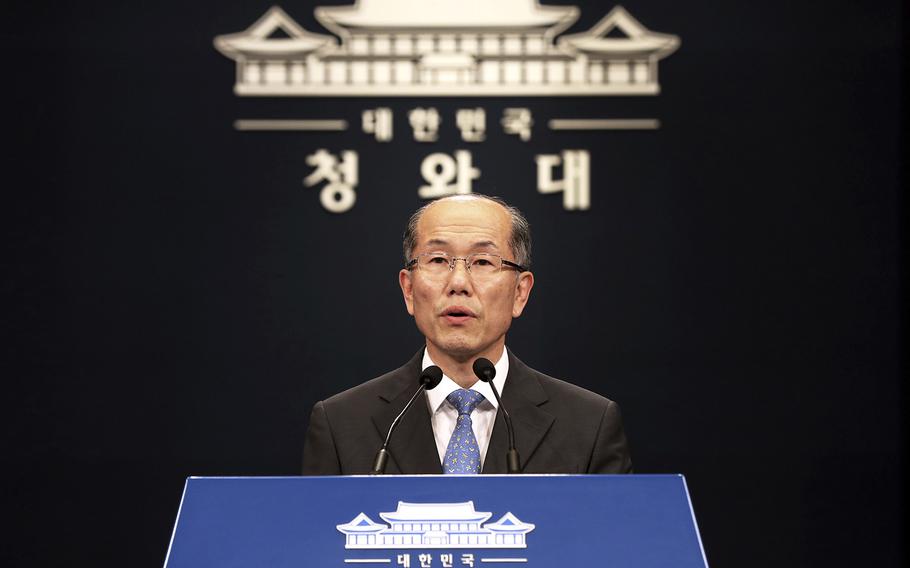 SEOUL, South Korea — South Korea will scrap a key military intelligence sharing pact with Japan, the government said Thursday, as an escalating trade spat between the two U.S. allies spilled into the security arena.
The surprise decision came despite lobbying by the United States for the two countries to resolve their differences as Washington seeks a united front against the nuclear threat from North Korea and other regional challenges.
The General Security of Military Information Agreement, or GSOMIA, was signed in 2016 to improve intelligence sharing as the North was stepping up its nuclear and missile testing activity.
The Pentagon urged its two allies to "work together to resolve their differences."
"I hope they can do this quickly," spokesman Lt. Col. Dave Eastburn said in a statement. "We are all stronger - and Northeast Asia is safer - when the United States, Japan and Korea work together in solidarity and friendship."
"Intel sharing is key to developing our common defense policy and strategy," he added.
South Korea said it was terminating the agreement because Japan had brought about "fundamental changes to the environment of security and cooperation between the two countries" by removing the South from a list of trusted trading partners.
"Under these circumstances, the government decided that maintaining the agreement, which was signed to facilitate the exchange of sensitive military intelligence, does not serve our national interest," President Moon Jae-in's national security council said in a statement after a meeting on the issue.
Seoul will inform Tokyo of the decision via diplomatic channels before Saturday's deadline for a decision, the NSC's deputy director Kim You-geun said.
The pact had previously renewed automatically unless either side decided to cancel.
The announcement marks another low point as relations between the longtime rivals have deteriorated to their lowest point in decades.
Japanese Foreign Minister Taro Kono called the decision "extremely regrettable" and said he had summoned South Korea's ambassador to Japan Nam Gwan Pyo to lodge a formal protest.
The intelligence sharing pact was approved on Nov. 23, 2016, after a previous attempt failed in 2012 due to the tense relations between the two countries.
Experts said its lapse may slow down the exchange of information because the two countries will have to go through the United States as they did before the pact.
"It will make cooperation between and among the United States and South Korea and Japan harder, particularly on serious security challenges like North Korea," said Mara Karlin, a former Pentagon official who directs the strategic studies program at Johns Hopkins University's School of Advanced International Studies
The consensus has been that South Korea has strong human intelligence, while the Japanese have satellites and other high-tech systems.
"Although Korea has been able to develop some capabilities we're not there yet and so we're going to need continuous cooperation through the United States now," said In-bum Chun, a retired South Korean lieutenant general.
"It's like going through a translator and the translator in this case would be the United States," he said. "You always lose something in translation. That's why it was felt that it was important to have direct conversations between Korea and Japan."
Seoul has accused Japan of tightening strict export controls as retaliation for legal steps taken in separate disputes over Japan's brutal colonial rule of the Korean Peninsula from 1910-45.
Tokyo has denied that, saying the trade measures were taken because of unspecified security concerns.
Many observers had predicted South Korea would keep the pact after Moon offered an olive branch to Japan last week, saying that "if Japan chooses the path of dialogue and cooperation we will gladly join hands."
Kono and South Korean Foreign Minister Kang Kyung-wha also agreed to keep talking after meeting with their Chinese counterpart in Beijing earlier this week.
Secretary of State Mike Pompeo also urged Seoul and Tokyo to resolve their differences at a trilateral meeting in Thailand earlier this month.
But the issue has touched a nerve in South Korea, triggering a wave of anti-Japanese sentiment including protests and boycotts. South Korea also downgraded Japan's trade status.
Karlin said the decision may be an indication that South Korea's leadership is prioritizing domestic political issues over regional security challenges.
"It's now incumbent on the United States to either try to fix this, fix the superficial progress that had been made between Japan and South Korea that enabled the GSOMIA to get signed, or to be willing to continue serving as the hub," she said.
Stars and Stripes reporter Yoo Kyong Chang contributed to this report.
gamel.kim@stripes.com Twitter: @kimgamel