South Korea added to list of US posts approved for same-sex couples
---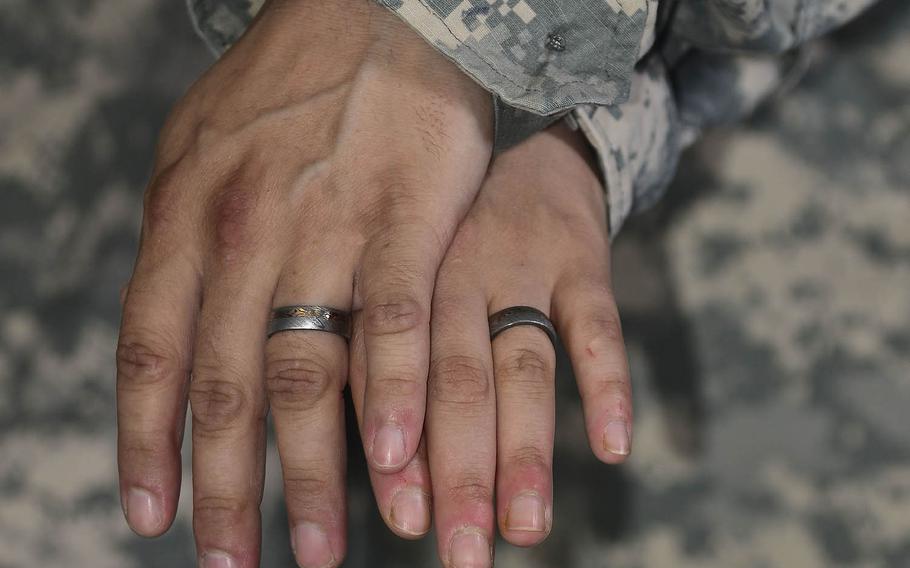 SEOUL, South Korea — South Korea has signed off on a U.S. decision to give same-sex couples the same legal protections and benefits as military families under the status of forces agreement, the Ministry of Foreign Affairs said Tuesday.
The statement came after the American Military Partner Association, a Washington-based advocacy group, announced that South Korea had been added to a list of overseas duty stations approved for same-sex couples.
"A huge burden has been lifted off of the shoulders of so many of our military families," AMPA president Ashley Broadway-Mack said in a statement. "This is incredibly welcome news for so many servicemembers and their families who now don't have to go through extraordinary lengths to stay together."
U.S. military officials in Korea declined to confirm the status change.
South Korea joins more than 50 countries that have been approved for same-sex couples, AMPA said. Servicemembers in South Korea have confirmed that their requests are being processed, Broadway-Mack told Stars and Stripes.
The Supreme Court enabled federal employees, including servicemembers and Department of Defense civilian workers, to obtain housing and other benefits on June 26, 2013, when it overturned a key provision in the Defense of Marriage Act. But the issue remained murky for many posts in conservative countries. The U.S. military delayed extending benefits such as official passports, visas and housing allowances while it reached out to host nations.
South Korea said U.S. Forces Korea had requested its cooperation in admitting the dependents of same-sex couples under SOFA, said a Ministry of Foreign Affairs official.
"The Korean government has decided to respect the decision by the U.S. side regarding that issue," the official said, speaking on condition of anonymity in accordance with department policy.
The U.S. has about 28,000 troops in South Korea. The SOFA establishes legal protections for them, as well as civilian employees and dependents, and governs how local law is applied for Americans.
Homosexuality is not illegal in South Korea but is widely considered taboo in the conservative country.
The South Korean news agency Yonhap reported that the South Korean government agreed to admit the status of same-sex U.S. military spouses under the SOFA at the request of USFK. Government officials could not immediately be reached for comment.
gamel.kim@stripes.com Twitter: @kimgamel
---
---
---
---