South Dakota-based Lancers arrive on Guam to take over PACOM's bomber mission
by
Leon Cook
August 8, 2017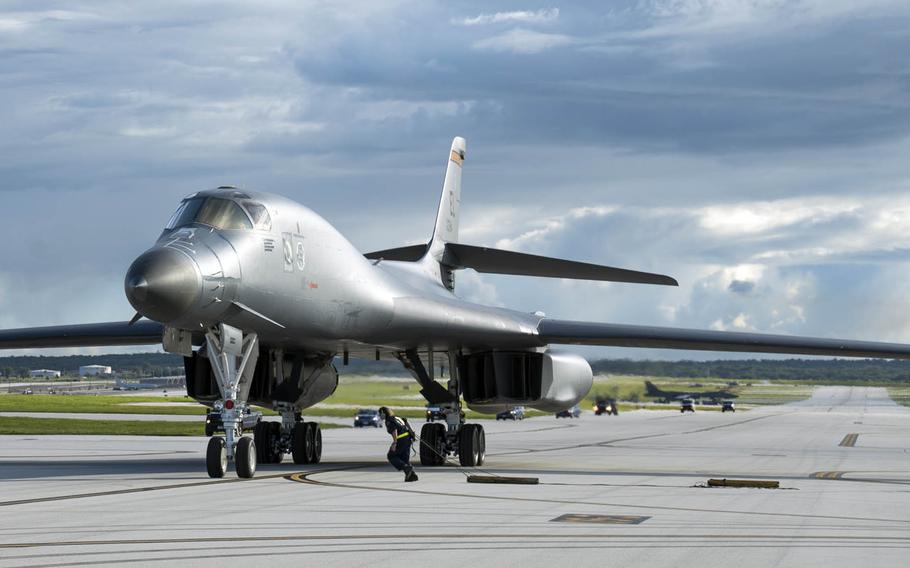 A South Dakota-based detachment of B-1B Lancers is on Guam to assume U.S. Pacific Command's continuous bomber presence mission at Andersen Air Force Base.
Six supersonic bombers and 350 airmen from Ellsworth Air Force Base's 37th Expeditionary Bomb Squadron, 28th Bomb Wing arrived at the end of July, an Air Force statement said.
The squadron is relieving the 9th Expeditionary Bomb Squadron, which deployed from Dyess Air Force Base, Texas, in February.
During their six-month deployment, the Dyess bombers flew a wide range of missions, including a low flyover of the Korean Peninsula as a show of force after North Korea test-fired its second intercontinental ballistic missile on July 28. They were escorted by Japanese and South Korean fighters during the 10-hour mission.
Since 2004, Air Force bombers, including Lancers, B-2 Spirits and the venerable B-52 Stratofortress, have maintained a continuous presence at Andersen. The mission has been performed solely by B-1 squadrons since last August, when a squadron from Ellsworth took over for an aging fleet of B-52s, an aircraft adopted for service in 1955.
Both the 9th and 37th squadrons operate state-of-the-art Block 16 B-1B Lancers that boast improved avionics, data-link equipment and other systems, the Air Force said.
The four-engine supersonic jet was designed for nuclear capabilities but switched to an exclusively conventional combat role in the mid-1990s, according to Boeing's website.
cook.leon@stripes.com Twitter: @LeonCook12