Some military moves resume to and from South Korea as exceptions granted
---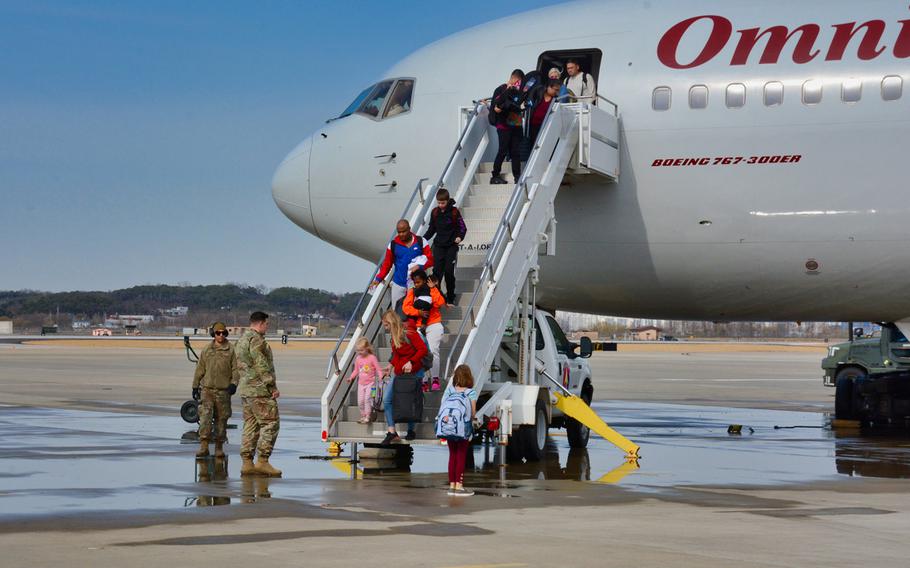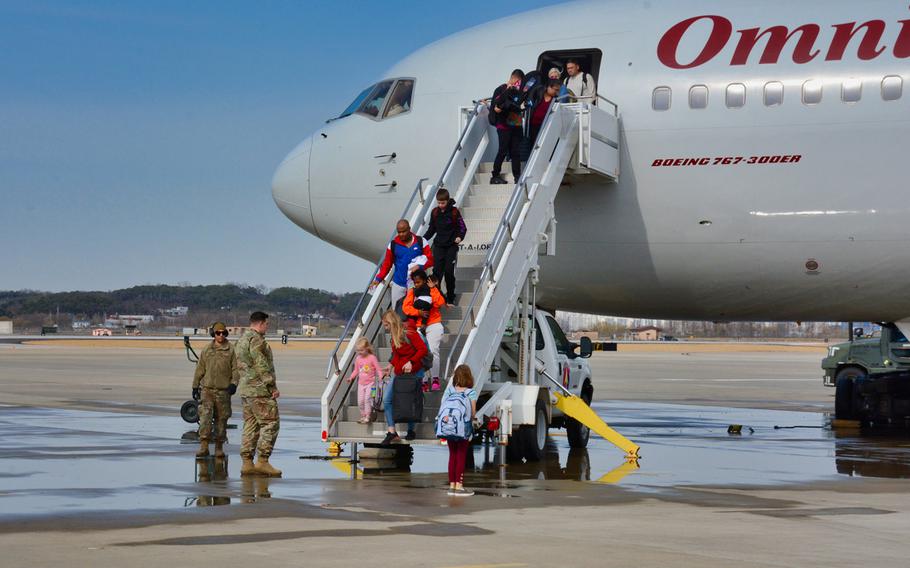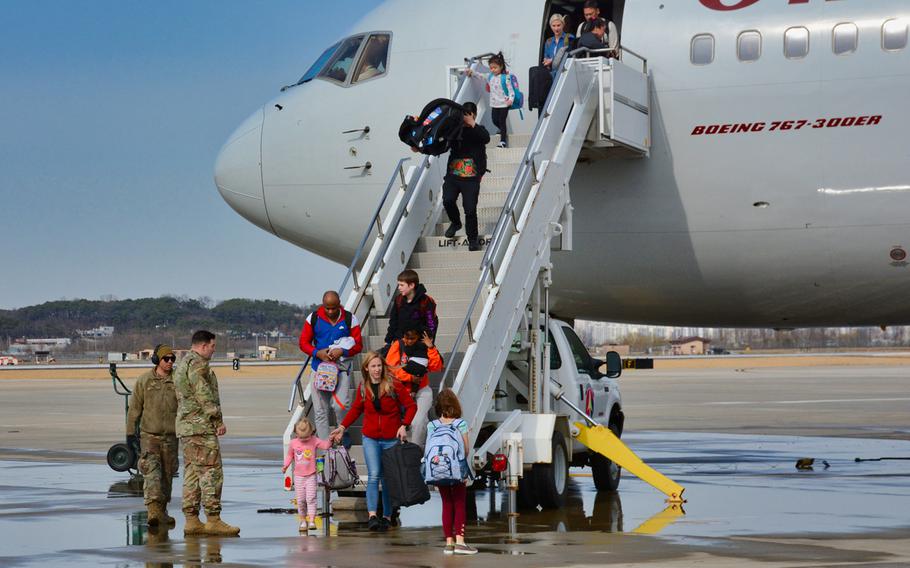 Read more coronavirus coverage from Stars and Stripes.
SEOUL, South Korea — Dozens of service members and loved ones arrived in South Korea, while others boarded a flight out this weekend as the Army granted exceptions to an order halting moves to prevent the spread of the new coronavirus.
About 70 troops and family members disembarked from a military charter plane that landed on Osan Air Base on Friday, days after many of them were kicked off the flight at the Seattle-Tacoma International Airport amid confusion over the order.
Eighth Army commander Lt. Gen. Michael Bills authorized their movement to South Korea since they had been stuck in transit, not initiating movement.
"These soldiers and family members were, unfortunately, delayed at the Seattle Tacoma airport earlier this week," said Maj. Gen. Daniel Christian, deputy commander for sustainment. "It was an extra few days, but we're glad to have them on the peninsula and welcome them to the Eighth Army."
The passengers underwent health screening procedures that included a questionnaire and temperature checks for possible exposure to the virus as required for entry to all military installations in South Korea.
They then boarded a bus to Camp Humphreys and will begin in-processing on Monday, officials said.
The military, meanwhile, began granting exceptions to the so-called stop-movement order, which caught many families in mid-move having already vacated homes, shipped household goods and sold cars.
The first group of service members and families left on the charter flight, known as the Patriot Express, from Osan Air Base on Saturday.
Bills "approved a number of exception to policy movements to get soldiers and their families who had already cleared, shipped household goods, or who were otherwise adversely affected by the order, off the peninsula," according to the Eighth Army.
Exceptions were granted on a case-by-case basis, and the travelers will have to undergo quarantine and other requisite protocols upon arrival in the United States, officials said.
Maj. David Watkins and his wife, Irina, have to be out of their apartment by next week as they planned to transfer to Fort Belvoir, Va.
Watkins, who suffers from mental health issues and was recently diagnosed with a brain tumor, said he has been told his exception was approved, but he's waiting to see it in writing.
The order announced last week, which included Italy, halted moves to new assignments known as permanent changes of station, or PCS, through May 6 as well as travel for professional military education unless the course lasts at least six months.
The Defense Department has since expanded international and domestic travel restrictions for all employees as the respiratory virus has spread rapidly, prompting President Donald Trump to declare the pandemic a national emergency.
gamel.kim@stripes.com Twitter: @kimgamel
---
---
---
---