Soldiers wait hours for haircuts as barber shops, gyms reopen at Camp Humphreys
by
Matthew Keeler
April 20, 2020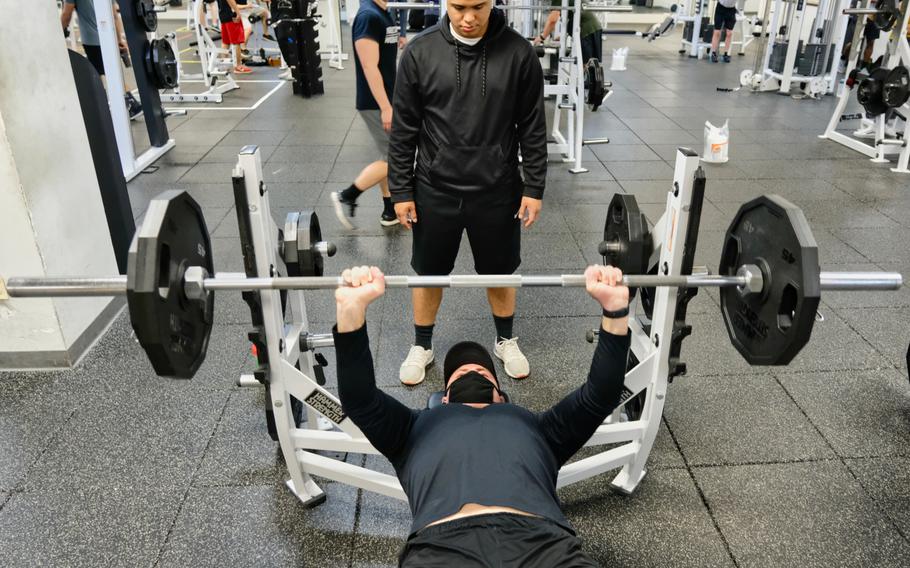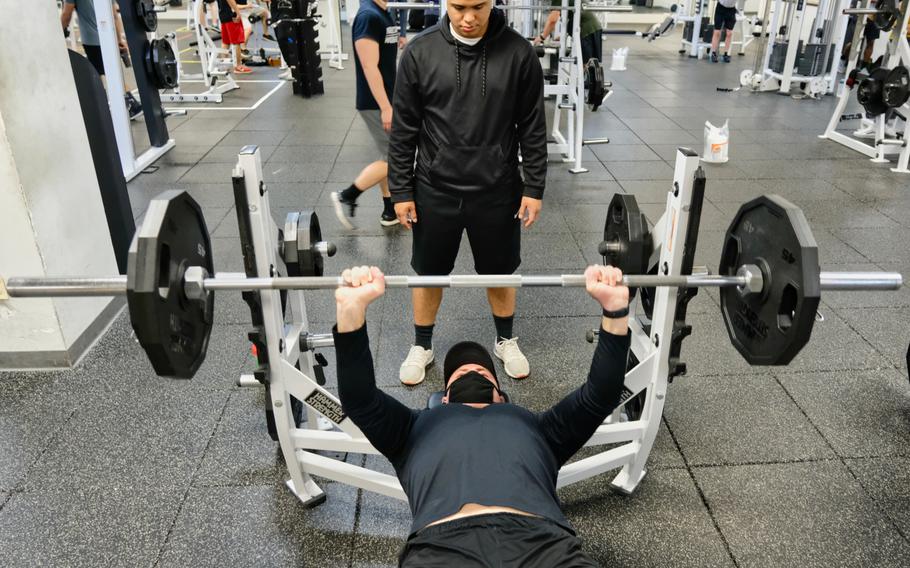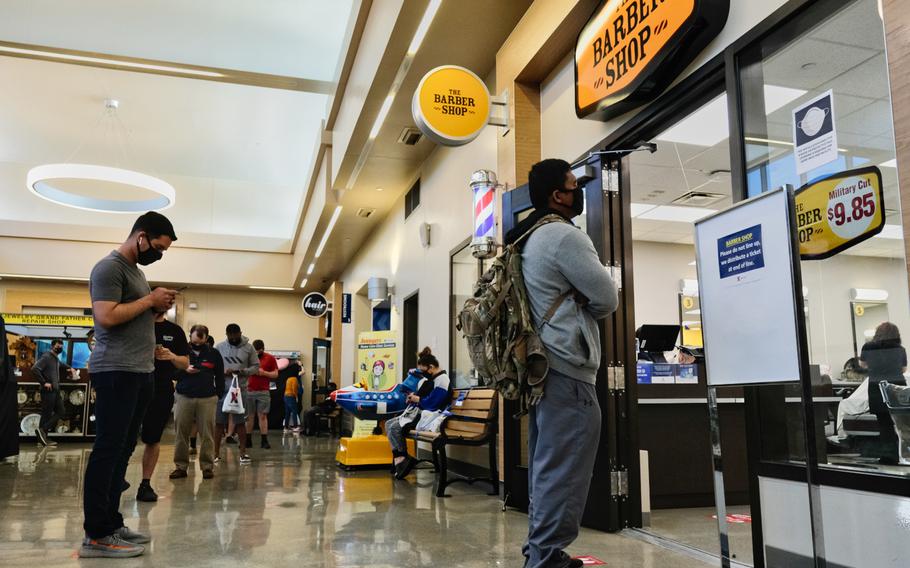 Stars and Stripes is making stories on the coronavirus pandemic available free of charge. See other free reports here. Sign up for our daily coronavirus newsletter here. Please support our journalism with a subscription.
CAMP HUMPHREYS, South Korea — After nearly three weeks without a regular trim or daily workout, Camp Humphreys soldiers lined up outside base barber shops and with their families hit the gyms that reopened over the weekend.
Most installation services that involve close contact with other personnel were closed in March after Eighth Army reported a case of coronavirus that originated at its headquarters.
At least eight base barbershops and three fitness centers reopened Saturday after U.S. Forces Korea commander Gen. Robert Abrams allowed Camp Humphreys to revert to Health Protection Condition C from C+ on Friday.
Maj. Bernard Bunal, the Korean Service Corps Battalion executive officer, and hundreds more waited in a queue, each member spaced six feet apart, for more than two hours Saturday at barber shops in efforts to meet the military grooming standards.
"It feels great getting a brand-new cut," Bunal told Stars and Stripes. "You can shower every day, but you can't get rid of all the grit."
The Guam native said he is typically ready for a new cut every seven days. "You know how you're so used to getting a haircut in the military," he said, "it's just one of those days you don't feel completely clean."
Off-base barber shops remain off-limits to USFK personnel, but to satisfy the demand all base hair salons and barber shops operated on extended hours over the weekend.
Garrison commander Col. Michael Tremblay said last week that service members would have at least a week before they faced any type of haircut inspection.
The fitness centers reopened Saturday to a clientele that made do with alternatives for three weeks. Doors opened for service members and their dependents only to accommodate the distancing requirements.
"I'm a gym junkie," Staff Sgt. Tiffany Holley said Saturday at the Collier Community Fitness Center. "It's my getaway, so not having access to it forced me to come up with different alternatives on trying to get in a really good workout.
"To cope with the shutdown, I implemented more resistance bands into my training, especially with my back routines," Holley said. "I also used sandbags as weights to do my deadlifts."
Like Holley, Chief Warrant Officer 2 Josh Vernor said the fitness centers are a significant stress reliever; but being outdoors as spring rolls in has been motivating.
"I see more people outside now, out being more active than I have seen in the past 12 months of being at Humphreys," Vernor said. "I think it has actually been good for people because it's made people get out, still having to social distance, but they are out being more active than before."
Additional services are becoming available as the command monitors the declining number of reported cases throughout the peninsula.
"We're opening it up a little bit by a little bit," Tremblay said Thursday, "but we're being vigilant."
keeler.matthew@stripes.com Twitter: @MattKeeler1231