Soccer stars teach their techniques to military kids during Pacific tour
---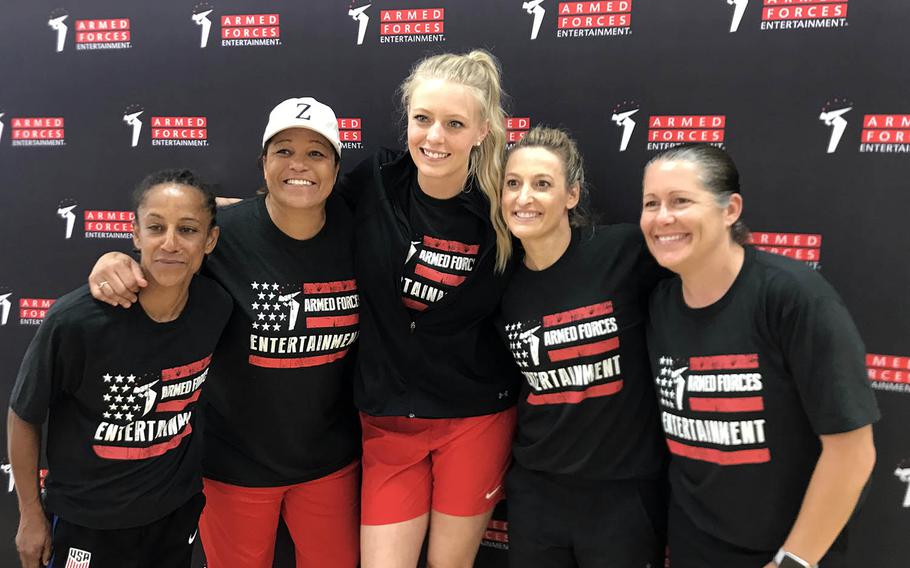 YOKOTA AIR BASE, Japan — Soccer-mad military kids are getting tips from former members of the U.S. national women's team who are touring bases in the Far East this month.
Overseas military soccer fans have been watching American Forces Network coverage of the Women's World Cup in France. The U.S. clinched a place in the tournament's knockout round with a 3-0 victory Sunday over Chile.
During the tournament, former national team players Staci Wilson, Saskia Weber, Nikki Serlenga and Shannon MacMillan have been hosting clinics for youngsters on Pacific military bases.
From June 10 to Wednesday they visited Guam, on Friday they came to Camp Zama before holding clinics at Yokota on Saturday and at Yokosuka Naval Base on Sunday. They were due to stop by bases on Okinawa this week.
At the Yokota clinic, held indoors because of rain, kids practiced basic skills such as dribbling.
"We try to get as many touches on the ball as possible," forward/midfielder MacMilllan said after putting the kids through their paces. "There are some really good players here."
After the skills session, dozens of kids, some clutching soccer balls and hoping for autographs, lined up for photographs with their heroes.
One of them, Evan Lawrence, 9, who is going into fourth grade at Joan K. Mendel Elementary School, said he's been playing soccer for six years. However, this is his first year playing goalie.
"They taught me how to catch the ball the right way," he said.
Weber, who counts an award as Soccer America's Goalkeeper of the Decade among her many honors, told Lawrence he'd need to have a strong character to play goalie and not to get downhearted if he's scored on, since defense is a team effort.
The former players are letting kids know about ways to develop their soccer when they return to the U.S. and about opportunities to play college soccer, MacMillan said.
The tour is supposed to be a thank you to the troops, but the World Cup and Olympic champion said the people they've met on Pacific bases have been extremely appreciative.
The former players have soaked up military culture, meeting the troops and checking out gear hardware such as an Army Black Hawk helicopter and a Navy submarine, she said.
Military blood runs thick in MacMillan's family. Her father was in the Army, her brother joined the Navy at age 17 and her niece recently retired from the Air Force, she said.
"It's something that is really near and dear to me," she said.
robson.seth@stripes.com Twitter: @SethRobson1
---
---
---
---