Six B-52 bombers heading to Indian Ocean island amid Iran tensions, report says
by
Wyatt Olson
January 7, 2020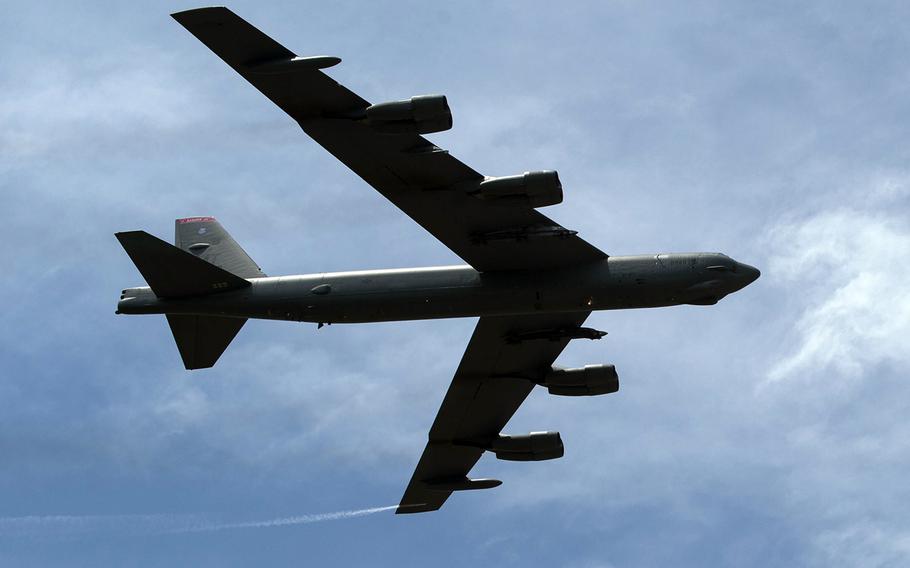 The Pentagon on Monday ordered six B-52 bombers deployed to Diego Garcia, a British-controlled island in the Indian Ocean, for possible operations against Iran, CNN reported Monday.
The bombers are being sent to Diego Garcia because the island is out of range of Iranian missiles, CNN said, citing an unidentified Pentagon source.
America's B-52 bomber wings are based at Minot Air Force Base, N.D., and Barksdale Air Force Base, La.
The deployment does not signal the Pentagon has ordered operations, CNN said.
"The Pentagon has traditionally deployed long-range bombers and other aircraft as a sign of U.S. force presence capability," the report said.
A Pentagon spokesman told Stars and Stripes on Monday he was unable to comment on potential movements of U.S. forces.
Tensions rose during the holidays between the two nations after an Iran-backed militia fired rockets at a coalition base in northern Iraq, killing a U.S. contractor and wounding American and Iraqi troops.
The U.S. retaliated with airstrikes in Iraq and Syria on Dec. 29 that killed 25 fighters with the Iran-backed Kataeb Hezbollah. That militia and its supporters attacked the U.S. Green Zone in Baghdad on Dec. 31.
On Friday, a U.S. airstrike near Baghdad airport killed Maj. Gen. Qassem Soleimani, head of Iran's elite Quds military force and the mastermind of attacks against American forces over two decades.
Iranian leaders have vowed revenge for the assassination, which the White House said was warranted because of an "imminent" attack planned by Soleimani.
Shortly after the killing, the State Department advised all U.S. citizens to depart Iraq.
The U.S. has long employed Diego Garcia in military affairs involving the Middle East.
In the early 1970s, the U.S. received permission from Great Britain to expand the island's airfield and build a naval port.
After the Iran hostage crisis of 1979-81, the U.S. and its allies took steps to assure the flow of ships carrying crude oil through the Persian Gulf, and two parallel runways capable of handling long-range, heavy bombers were built on the island.
olson.wyatt@stripes.com Twitter: @WyattWOlson