Singapore PM kicks off forum with call for peace in South China Sea
---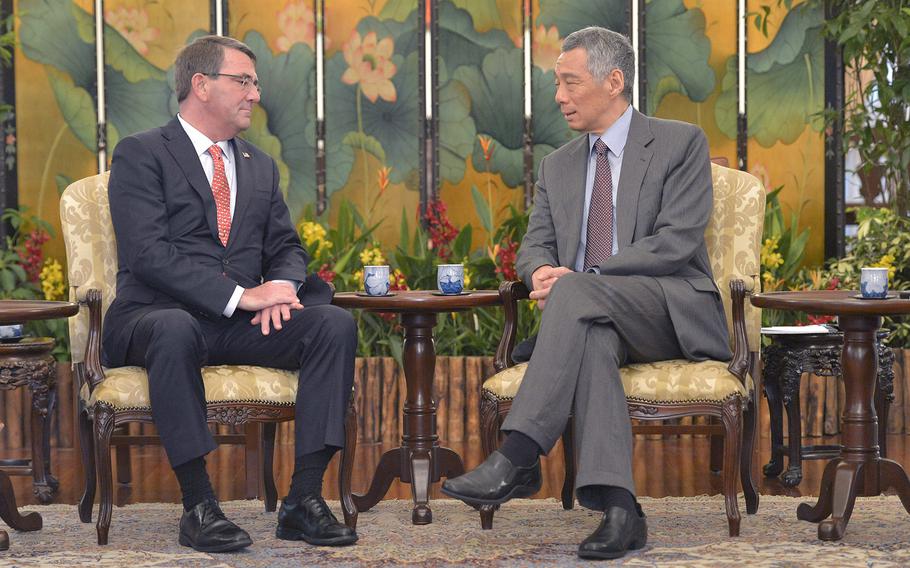 SINGAPORE — A key security summit of the world's defense ministers began Friday night with a measure of calm before an expected storm, as Singapore's prime minister called for China and other countries to sign a code of conduct to de-escalate tensions in the South China Sea.
Prime Minister Lee Hsien Loong told delegates at the Shangri-La Dialogue that a code of conduct would "break the vicious cycle" of hostile reactions over territory and freedom of movement in the sea.
The Association of Southeast Asian Nations and China have previously taken steps toward an agreement, but those efforts have largely stalled in the face of competing national interests.
"Every state whose trade passes through the South China Sea or whose ships and aircraft use the South China Sea, every such state has an interest in freedom of navigation and overflight," Lee said.
More than $1.2 trillion in U.S. trade transits the sea annually, according to 2014 U.S. government estimates.
Lee also delivered both a plea and a warning to the U.S. Congress to pass a bill that would allow President Barack Obama fast-track authority to negotiate the Trans-Pacific Partnership, a 12-nation trade agreement that would regulate roughly 40 percent of the world's economy.
The Senate has already passed the fast-track bill, but unions, privacy advocates, health care advocates and others are concerned about individual provisions. The bill, which advocates say would lower barriers throughout the economy, has been negotiated behind closed doors.
Lee said opponents should put aside objections to individual points because the strategic significance of deepening links to Asia is far more significant.
"Failing to get the TPP done will hurt the credibility and standing of the U.S. not just in Asia, but worldwide," he said.
Lee, whose country has managed warm relations with both China and the United States, also spoke about combating terrorism and mending historical grievances over World War II in the region.
However, it is the South China Sea that is expected to dominate discussion through the rest of the three-day event.
The attention is focused on the disputed Spratly Islands, where China is building artificial islands upon reefs that most nations don't consider sustainable land, and therefore, unclaimable as sovereign territory under international law.
On Thursday, U.S. officials reportedly told The Wall Street Journal that China had placed self-propelled artillery vehicles on one of the artificial islands.
U.S. Defense Secretary Ashton Carter, who has deeply criticized China's actions in the South China Sea, will address the summit's general session Saturday morning. He said in Hawaii on Wednesday that his Shangri La Dialogue speech would "call for the region to strengthen its security institutions and relationships."
Adm. Sun Jianguo, the Chinese military's deputy chief of staff, will address the summit's general session on Sunday morning. Sun is an ex-aide to Chen Bingde, a powerful former military chief of staff.
Sen. John McCain, R-Ariz., will speak in a roundtable discussion on Saturday.
McCain has vociferously criticized China for its actions in the South China Sea. On May 21, he sent a letter to Carter asking him to revoke China's invitation to the multinational 2016 Rim of the Pacific exercise in Hawaii.
The Navy and the Pentagon have maintained military-to-military professional exchange with China amid the continuing sea disputes, under the rationale that communication reduces the chances of an unplanned incident.
While McCain is speaking, new Pacific Command chief Adm. Harry Harris will join a separate roundtable talk on maritime intelligence and surveillance, joined by counterparts from Malaysia and the Philippines. Harris referred to Beijing's South China Sea claims as "preposterous" after assuming command of PACOM on Wednesday in Hawaii.
slavin.erik@stripes.com Twitter: @eslavin_stripes
---
---
---
---