Short-handed Edgren football forfeits for second straight week
---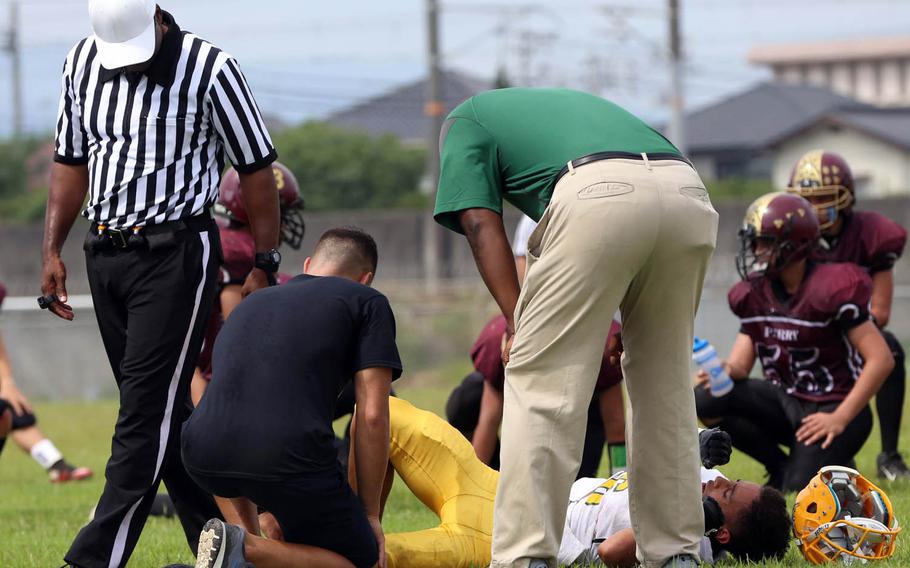 Short-handed, their ranks thinned by injuries in their last game, Robert D. Edgren football has forfeited its Friday contest at Yokota. And the future of the Eagles program, at least for this season, has been cast in doubt as a result.
It's the second straight Eagles forfeit, on the heels of a 23-0 loss at Matthew C. Perry last Saturday truncated with 4:23 left in the first half. Edgren brought 14 players to Perry and lost four to injury in the first half, leaving them one below the limit to keep playing.
Yokota coach and athletics director Tim Pujol announced the forfeit in an email Tuesday to school and Kanto Plain Association of Secondary Schools officials. DODEA-Pacific area public affairs officer Larry Torres confirmed the forfeit via phone to Stripes.
"Of course, we are devastated," Edgren principal Dr. Georgia Watters said in an email to Stripes. "I hurt for my players. Our team is so small and so young. This young team has the heart of David; however, there are just too many talented and experienced giants out there."
It's the latest blow to a program that dominated the Far East Division II football scene in the years following the inception of the DODEA-Pacific playoffs in 2005. Edgren won the D-II title in 2006-08 and made three other championship game appearances, in 2005, 2012 and 2013.
The Eagles opened the season with a 51-0 loss at American School In Japan on Sept. 9, eight days prior to forfeiting at Perry. Edgren football began the season with just 17 varsity players and no junior varsity.
DODEA-Pacific athletics coordinator Tom McKinney spent much time on Tuesday in phone consultation with the DODEA-Japan district and its superintendent, Dr. Steven Bloom, and with Pujol, Edgren athletics director Andre Thibert and others seeking a solution to the problem.
Should the team not be able to continue, it would lose all four of its home games scheduled in October, and Yokota, Zama American and Nile C. Kinnick would also lose one game each from their schedule. DODEA-Pacific teams are limited to seven regular-season games.
To help fill out Yokota's schedule, the team will play a home game Friday against Zama, Torres said. The game will not count in the D-II standings.
"I feel badly, especially for Edgren's kids, who've been working all these weeks in practice and through no fault of their own might not be able to continue," Pujol said. "And that's sad."
Despite what occurred, Watters expressed pride in her program, coaches and players and said she hoped the team would have a future.
"Safety is always our first concern," Watters said. "We will regroup as a school, with the district input, and decide a plan of action for our football season."
---
---
---
---