Servicemembers debark grounded cargo ship off Okinawa coast
by
Erik Slavin
January 26, 2015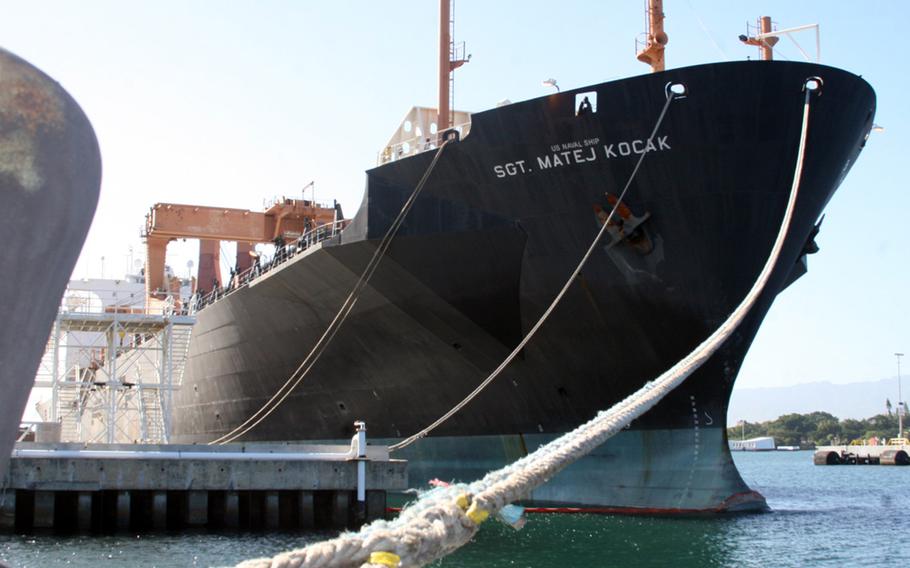 YOKOSUKA NAVAL BASE, Japan — Dozens of servicemembers have debarked the USNS Sgt. Matej Kocak, which remained grounded Monday on a reef about six miles east of Okinawa, military officials said.
Of the 131 people who were aboard when the Kocak ran aground at 11:30 a.m. Friday, 47 soldiers and 18 Marines have since transported by a landing craft ship to their shore-based commands, Commander Naval Forces Japan spokesman Cmdr. Ron Flanders said.
Maritime prepositioning ships like Kocak can carry up to a brigade's worth of gear. The soldiers and Marines aboard the civilian-crewed ship were maintaining the gear while headed to military exercises, officials said.
The 821-foot cargo ship remains stuck on a reef just outside of a deep-water shipping channel, where the open ocean is separated from Nakagusuku Bay, also known as Buckner Bay. How the cargo ship ended up outside of the channel remains under investigation, Flanders said.
The ship sustained some damage during the incident and has been taking on a low level of water, but officials say it is not a threat to the ship or its remaining crew.
"The ship remains stable, and there is no danger of flooding," Flanders said.
Tugboats connected to Kocak are keeping the ship from jostling too much over the reef and rocks, officials said.
Meanwhile, a team from the Navy's Supervisor of Diving and Salvage and another from the Military Sealift Command, which owns Kocak, are trying to determine the best way to get the ship off the reef.
Complicating the effort is the presence of live coral reef in the area. It remained unclear Monday if significant environmental damage occurred when the ship ran aground, Flanders said.
Crew safety and environmental protection will be primary factors in determining how to extricate the ship, Flanders added.
slavin.erik@stripes.com
Twitter:@eslavin_stripes