Seeking closure: American families get rare look at Korean War remains recovery site in DMZ
---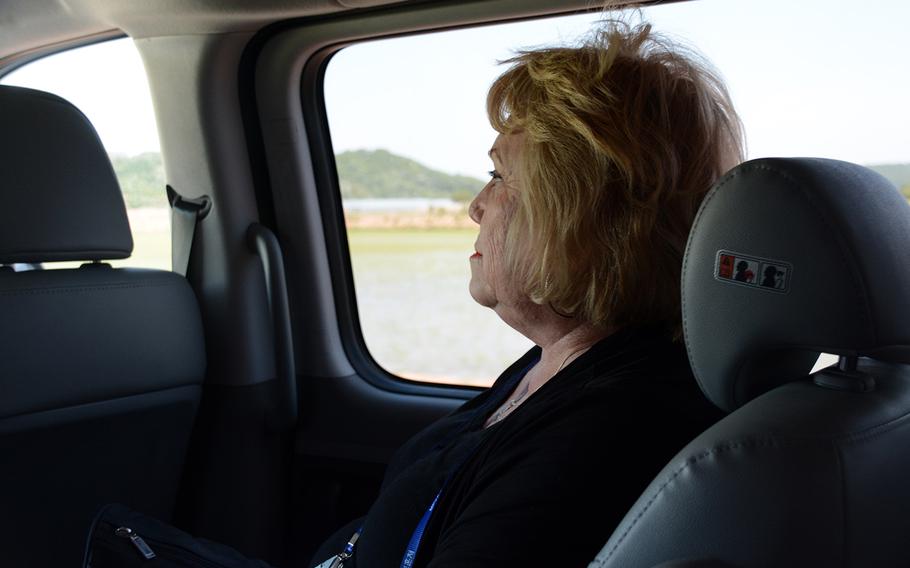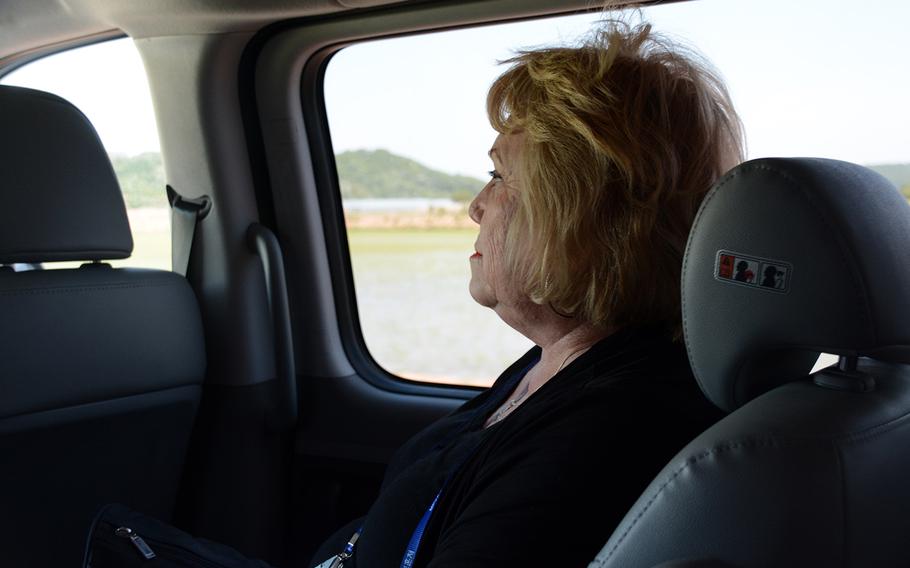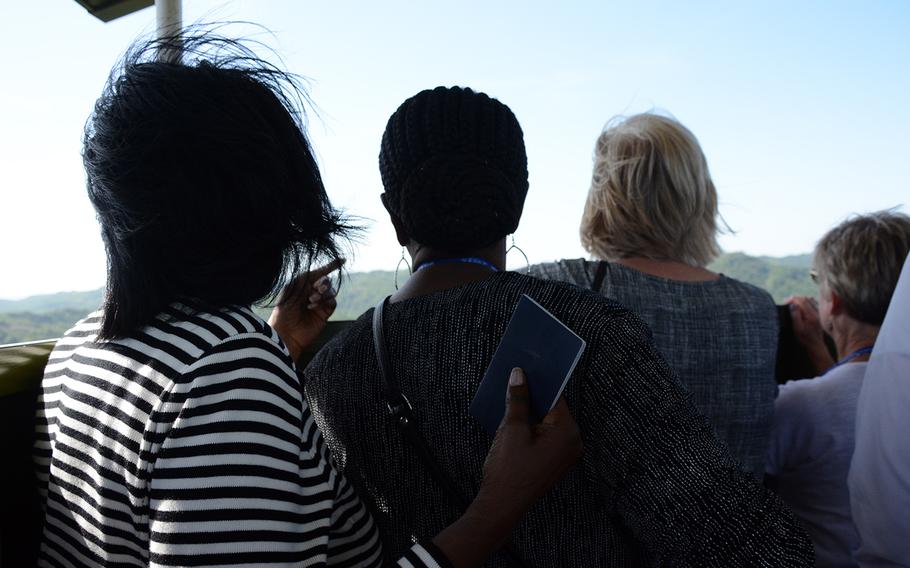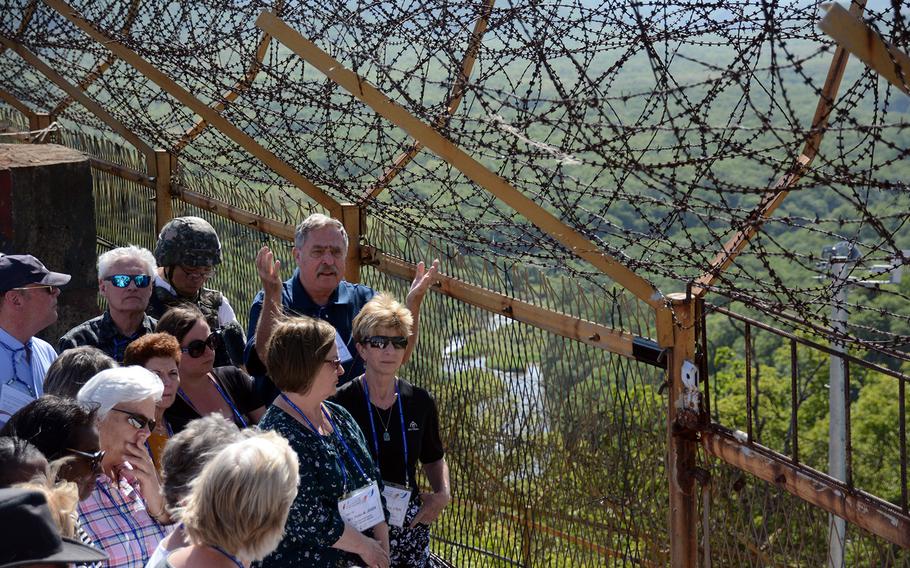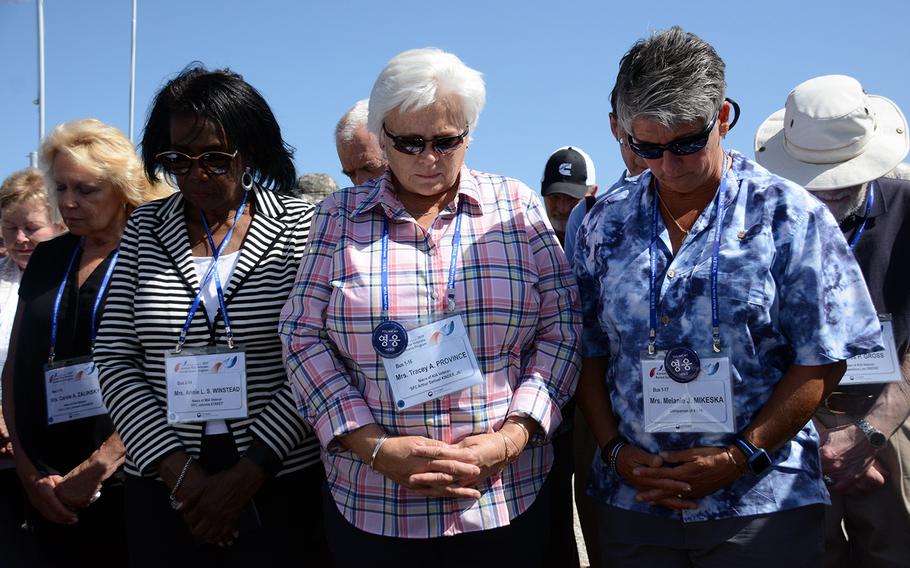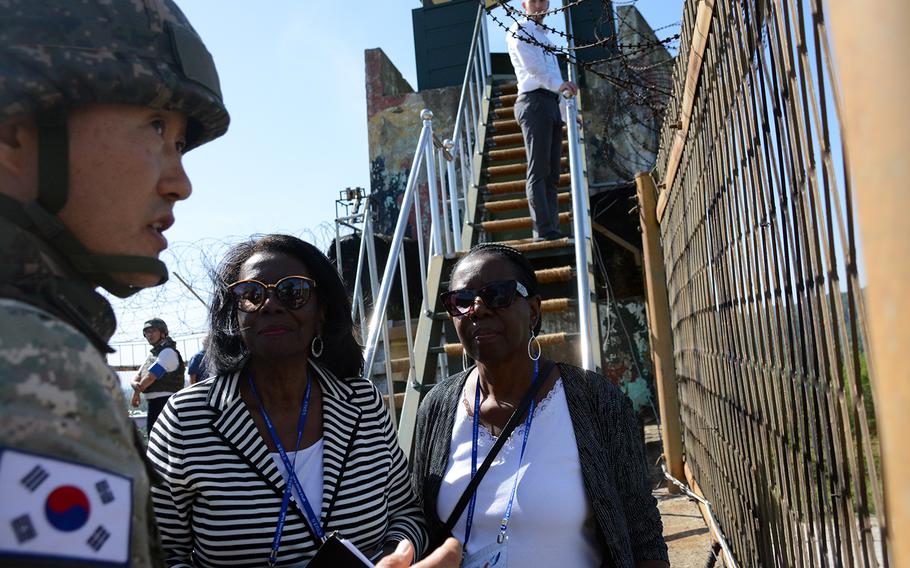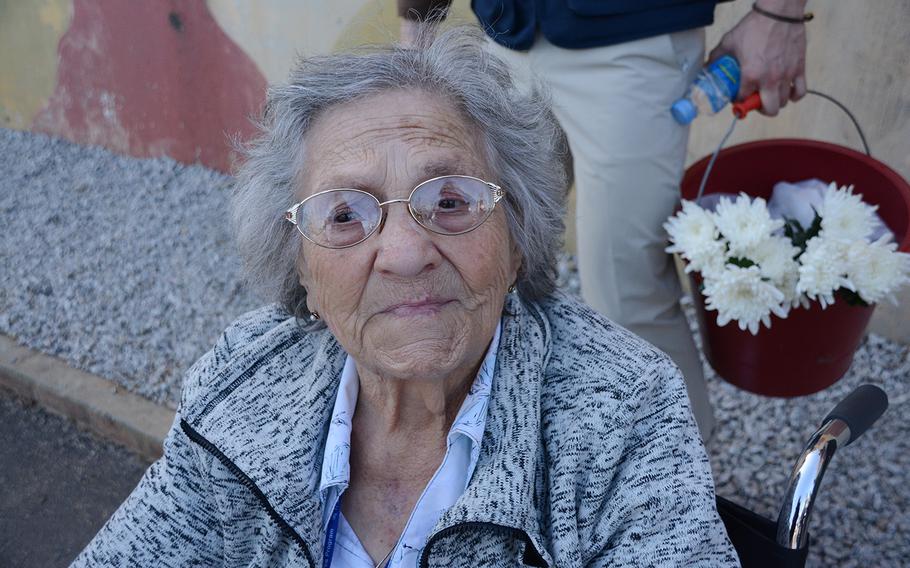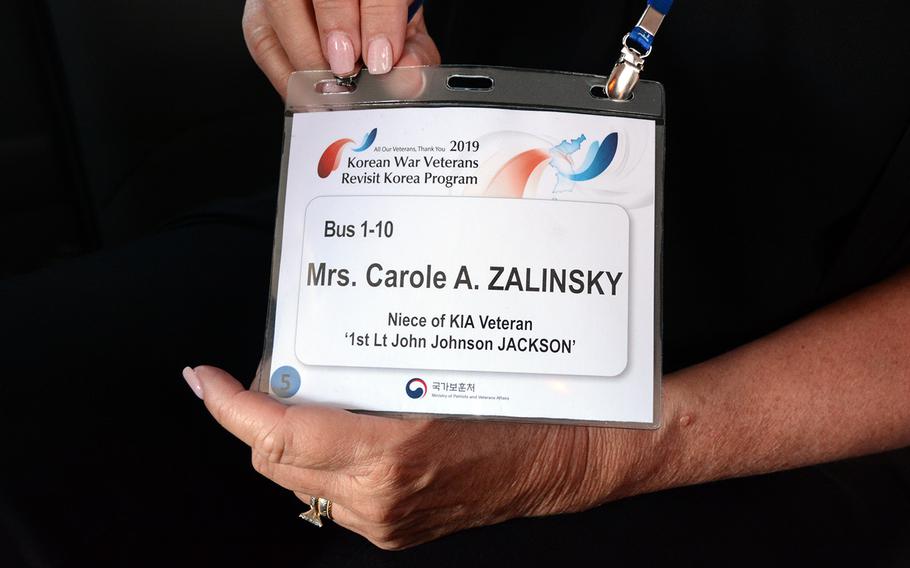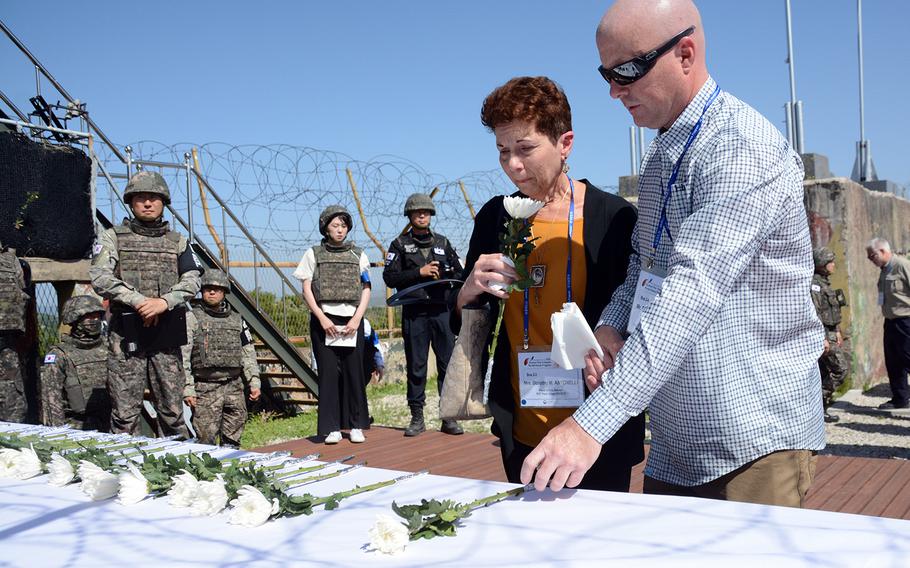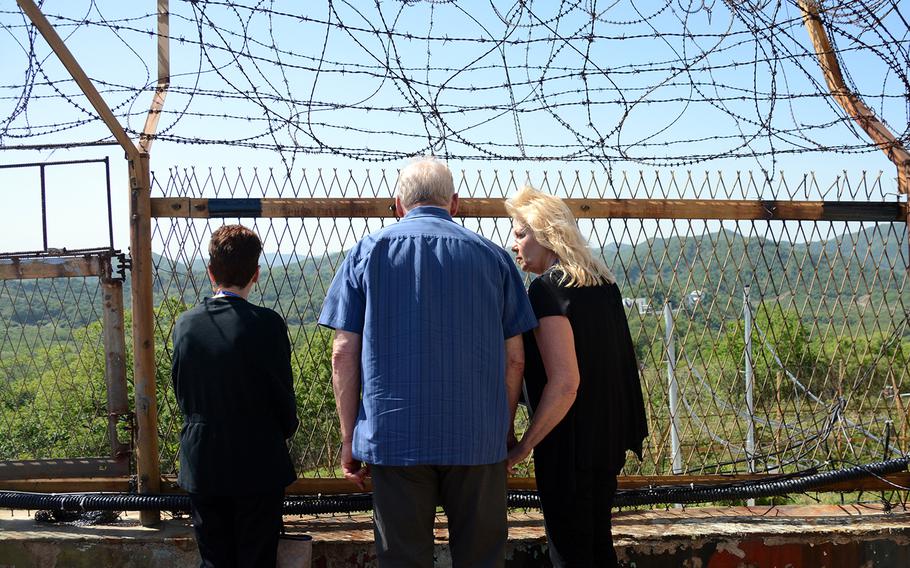 ARROWHEAD HILL, South Korea — One by one or in pairs, Americans related to servicemembers still missing from the Korean War laid white flowers on a table on the roof of a military outpost in the Demilitarized Zone.
They bowed slightly, then looked out somberly over the former battlefield where hundreds of soldiers were killed while fighting to repel waves of Chinese Communist troops trying to invade from the North.
It was an unprecedented opportunity for families of fallen soldiers to visit the site known as Arrowhead Hill, which sits in an eastern section of the heavily fortified border area that has largely been sealed off for decades.
"We thought we were prepared for what we were going to experience here, but it's been unbelievably emotional," said Chester Uhlik, whose wife's uncle was shot down over North Korea shortly after the three-year war started in 1950.
"I equate it to walking on the moon. We're going into areas where most people haven't been in nearly 70 years, and walking on the battlefields," he said, choking back tears.
The concrete outpost, which is surrounded by two layers of barbed wire fences, has become ground zero for Seoul's efforts to unearth remains since it agreed with the North last year to remove land mines and allow excavation in the area.
Renewed momentum in the search for fallen servicemembers was one of the most tangible outcomes from the first U.S.-North Korean summit nearly a year ago in Singapore.
Hopes have dwindled as the broader nuclear talks between the two countries stalled, but the South Koreans have persisted with the border digs.
The May 29 ceremony at Arrowhead Hill was part of a weeklong tour sponsored by the Ministry of Patriots and Veterans Affairs for the 50 Americans to highlight its continued efforts.
"It was very moving," said Susan Filkins, a 55-year-old botanist from Boise, Idaho, who was traveling with her 88-year-old mother, Arlene Barton, and six other family members.
Barton's brother, Army Cpl. Raymond Yafrate, was killed when his ammunition truck was blown up in May 1951.
"It's a bit frustrating to see it's so close. It's right there, so walking distance. I wish the process could go faster. I want the bodies recovered," Filkins said, lightly brushing a tuft of hair from her mother's face.
Sitting in her wheelchair near the outpost's camouflaged walls, Barton said she had been afraid to come on the trip because of tensions with North Korea, but her daughters convinced her it was important.
"They're as proud of their uncle as they can be," she said with tears welling in her eyes.
Search continues More than 7,600 American troops and more than 133,000 South Koreans remain unaccounted for since the war ended in an armistice instead of a peace treaty, leaving the peninsula divided by the no man's land known as the Demilitarized Zone, or DMZ.
The remains of American and other forces who died fighting under the U.N. banner as well as enemy troops were trapped inside.
Amid warming ties last year, the two Koreas cleared mines in the area and built a road to facilitate joint excavation efforts.
The North has stopped engaging, a casualty of the diplomatic stalemate, but the South Koreans resumed recovery operations on April 1.
While the numbers are a fraction of the overall total, with some 5,300 Americans believed to have been lost in North Korea, the border excavation has yielded hundreds of bone fragments and artifacts that include bulletproof vests.
South Korean Col. Moon Byung-wook, the head of the task force overseeing the project, said his team hasn't heard from their North Korean counterparts since early March.
"At the moment it is only South Korea that is working on recovering remains, but when we join hands with North Korea the process will accelerate," he told the families gathered on the roof of the outpost.
"The South Korean government is working hard on resuming the joint recovery effort," he added. "Our soldiers here also will do our utmost to return your loved ones to you."
Not like 'CSI' Once found, the remains will need to be identified in a process that can take decades.
Scientists and anthropologists at the Defense POW/MIA Accounting Agency lab in Hawaii use DNA, dental records and other forensic techniques, but many of the bones have been mixed together.
"People think that it's going to be like 'CSI' to find the remains and match the DNA. That's not how it works. It takes time," Judith Britton said, referring to a popular television show.
Her uncle, Air Force 1st Lt. Charles Andrews, was shot down over North Korea in 1951, but she learned about him only recently because her parents apparently found it too painful to talk about him.
After her father died, she found an invitation to an annual conference to brief relatives on the U.S. government's efforts to find missing servicemembers. "He had been invited for years," she said.
Britton, 72, of Hobbs, N.M., said she was overwhelmed by the warm reception the group received in South Korea.
"It's extremely emotional. It's mind-boggling that the Korean government is still, after all these years, so appreciative about the sacrifices our loved ones made for them," she said.
"I think of my uncle every time I see contrails in the afternoon sky," she said while riding in a black SUV up to the top of the steep hill. "He flew before he drove a car."
Never forgotten The South Korean government has sponsored several tours over the years for American veterans to revisit the places where they fought and to see firsthand the prosperous country that has risen from the devastation.
But the trip to Arrowhead Hill, which is in the same northeastern province where the 2018 Winter Olympics were held, was a first.
"North Korea is very close, and it might be dangerous, but we wanted to have this meaningful event for you here," Moon said, pointing to color-coded lines marking mine-free zones and the sites of recovery operations.
Barton, who lives in San Bernardino, Calif., smiled as she described tattling on her brother when they were children.
But she teared up as she recalled receiving the telegram about her 22-year-old brother's death at her family's homestead in East Bridgewater, Mass.
Her family is hopeful that Yafrate's bones may be identified based on new information about remains that had been mixed together in the chaos of the fighting.
"My mother-in-law lost two of her sisters this year so she's the last of the siblings," David Filkins said after laying a flower on the table. "We would like to have his bones found and identified prior to her passing if we can do that so she can have the closure that she so desperately needs."
The North returned 55 boxes filled with bones belonging to U.S. war dead last July following the Singapore summit.
So far six American soldiers have been identified from those remains, according to DPAA.
But the Pentagon announced last month that it had given up on plans to resume joint U.S.-North Korean searches in the isolated country this year due to the stalemate.
Despite the problems, Vice President Mike Pence has promised that the work would continue.
"I can assure you, and assure all the families of our missing fallen, we will never rest until every soldier is accounted for and resting on American soil," he said in his Memorial Day speech at Arlington National Cemetery.
gamel.kim@stripes.com Twitter: @kimgamel
---
---
---
---