Security forces airmen help battle blaze outside Osan Air Base in South Korea
by
Matthew Keeler
May 21, 2020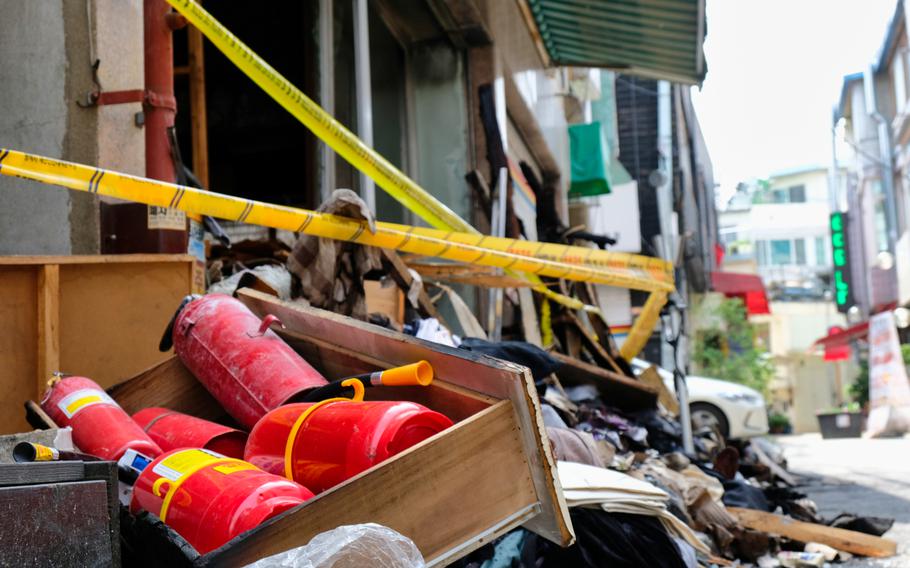 OSAN AIR BASE, South Korea — A team of airmen and South Korean soldiers on a routine patrol outside Osan became impromptu firefighters when they arrived first at a burning blanket shop on May 15.
Three airmen from 51st Fighter Wing security forces and two soldiers of the Korean Augmentation to the U.S. Army, or KATUSA, searched the burning, three-story shop for anyone still inside, said Staff Sgt. Sebastian Borges. Finding the place empty, he and his team attacked the fire with extinguishers and kept onlookers at a safe distance until city firefighters arrived.
The fire caused no injuries and left $8,000 in damages, according to Pyeongtaek city officials.
Around 10 p.m., the routine patrol in the Songtan entertainment district to ensure U.S. Forces Korea personnel were complying with coronavirus regulations quickly turned into a search-and-rescue scenario, said Borges, 24, of Vallejo, Calif.
South Korean civilians waved and shouted to the team, which the KATUSAs of the 35th Air Defense Artillery Brigade interpreted as a call for help.
"Luckily our two KATUSAs noticed local nationals yelling about a fire going on," Borges told Stars and Stripes on Wednesday. "We went down an alley and at this point it was just smoke."
A local woman approached the team, "screaming about how there were people inside the building, and she wasn't sure where they were at," Borges said. "At this time, we all looked at each other, we don't know how or essentially what is going to happen. It's a cheap fabric shop and everything in there is extremely flammable."
The team broke through a door in the building, called but heard no response and searched inside for about 20 seconds before dense smoke forced their retreat, he said.
"At that moment we decided all we could do now is pick up fire extinguishers," Borges said. "I've never responded to something where I have seen a fire ignite this quick."
The store owner, who was presumed to be on the second floor, eventually appeared from around a corner yelling and in tears, Borges described.
He said the incident served as a prime example of the importance of having South Korea soldiers serving alongside U.S. troops.
"They are essentially my left hand, and I'm a right-handed man," Borges said. "Without KATUSA, essentially our communication with any Korean, unless they speak English, is zero. When there is a fire going on and there is potentially someone in there and we need to find out an answer in a matter of two seconds, these guys have that answer."
Stars and Stripes reporter Yoo Kyong Chang contributed to this report.
keeler.matthew@stripes.com Twitter: @MattKeeler1231