Seasoned fighter pilot nominated to lead Pacific Air Forces
by
Wyatt Olson
May 16, 2020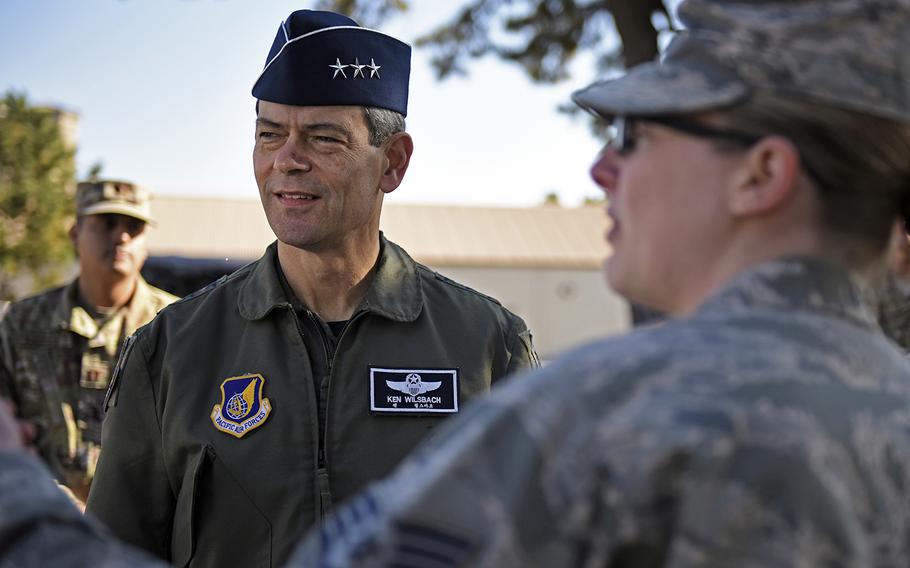 The deputy commander of U.S. forces in South Korea and a seasoned fighter-jet pilot has been tapped to lead Pacific Air Forces and its roughly 46,000 airmen.
Lt. Gen. Kenneth Wilsbach has been nominated by President Donald Trump for a fourth star and leadership of Pacific Air Forces, which is headquartered at Joint Base Pearl Harbor-Hickam, Hawaii, the Air Force said in a statement Thursday.
The nomination requires confirmation by the Senate.
The command is now headed by Gen. Charles Brown Jr., who has been nominated for Air Force chief of staff.
If confirmed, Wilsbach would oversee a vast geographical area with airmen stationed primarily in Japan, South Korea, Hawaii, Alaska and Guam.
He would take command at a time when U.S. strategy is shifting away from a focus on counterinsurgency and toward "great power" competition, primarily with China.
Brown has begun implementing the Air Force's new "dynamic force employment model" in the Indo-Pacific region, under which strategic bombers operate from a broader array of locations, both on the continental United States and overseas.
The model makes operational the National Defense Strategy's objectives of "strategic predictability and operational unpredictability," the Air Force said.
Wilsbach has been commander of 7th Air Force and deputy commander of U.S. Forces Korea since August 2018.
Prior to that he headed Alaskan Command and the 11th Air Force.
Wilsbach is a highly experienced aviator who has logged more than 5,000 hours of flying time in a host of aircraft, primarily F-15C, F-22A, and F-16C fighter jets and the MC-12 twin-engine turboprop, the Air Force said.
He has flown 71 combat missions in operations Northern Watch and Southern Watch, which enforced no-fly zones in Iraq during Saddam Hussein's regime, and Enduring Freedom in Afghanistan.
He has commanded a fighter squadron, an operations group and two wings and has held staff assignments in Japan, Hawaii and Florida.
Among his awards and decorations are the Bronze Star and Legion of Merit with two oak leaf clusters.
olson.wyatt@stripes.com Twitter: @WyattWOlson