Search is on for owner of parakeet found on playground at US air base in Japan
by
Theron Godbold
April 27, 2020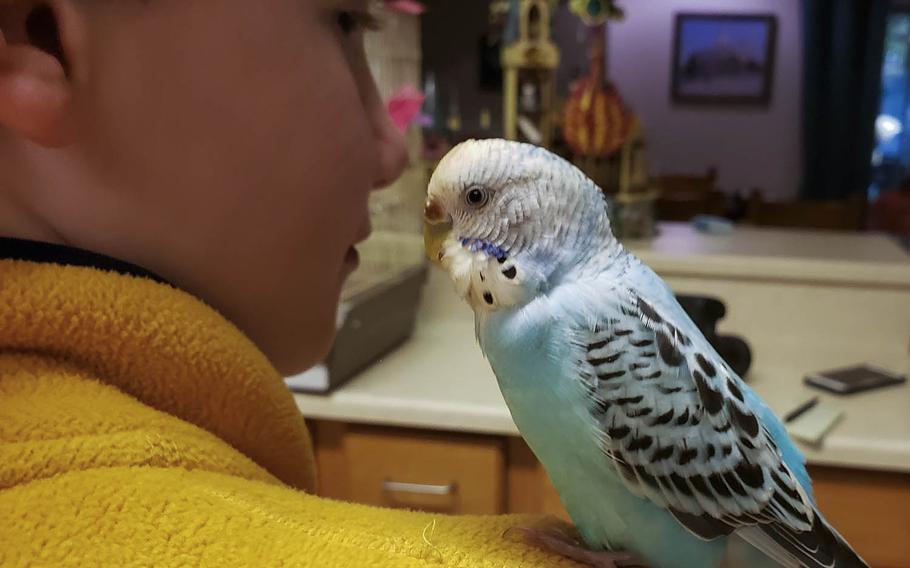 YOKOTA AIR BASE — The search is on for the owner of a blue and white parakeet that showed up unexpectedly Monday at the home of U.S. Forces Japan in western Tokyo.
The bird appeared around 11 a.m. at the Yume Child Development Center playground on Yokota's west side, said military spouse Christina Stull. She saw a post about the lost pet on the Yokota Spouses and Families Facebook page and volunteered to keep it until an employee at the center picks it up.
Stull has four parakeets of her own.
"We really want to help find the owners," she said. "Having birds, we really want the owner to be found so she can go back home."
Stull said she plans to turn the bird over to a co-worker for longer term safekeeping until the owner is found.
It's not the first time a lost parakeet found its way home via Yokota Air Base. Ao-chan, a pet that belonged to a Japanese woman in Sagamihara, 15 miles away as the crow flies, fluttered into the Stars and Stripes parking lot on the base's east side on Sept. 14, 2017.
Newspaper employees saw the bird's photo on social media and within hours the daughter of the bird's owner contacted the paper. The bird served as a therapy pet for the elderly woman. It had escaped through an open doorway several weeks earlier.
The family printed flyers and searched frantically for the bird, said the daughter, Kumi Sato. She eventually posted a photo of Ao-chan on Twitter.
"There is a shrine nearby and there are many crows and stray cats," she said at the time. "We wanted to somehow find it before it got attacked."
Ao-chan chirped in recognition when Sato arrived to retrieve it and called its name.
godbold.theron@stripes.com Twitter: @GodboldTheron