Satellite images show China's newest sub-hunting aircraft now deployed to South China Sea
by
Wyatt Olson
June 23, 2017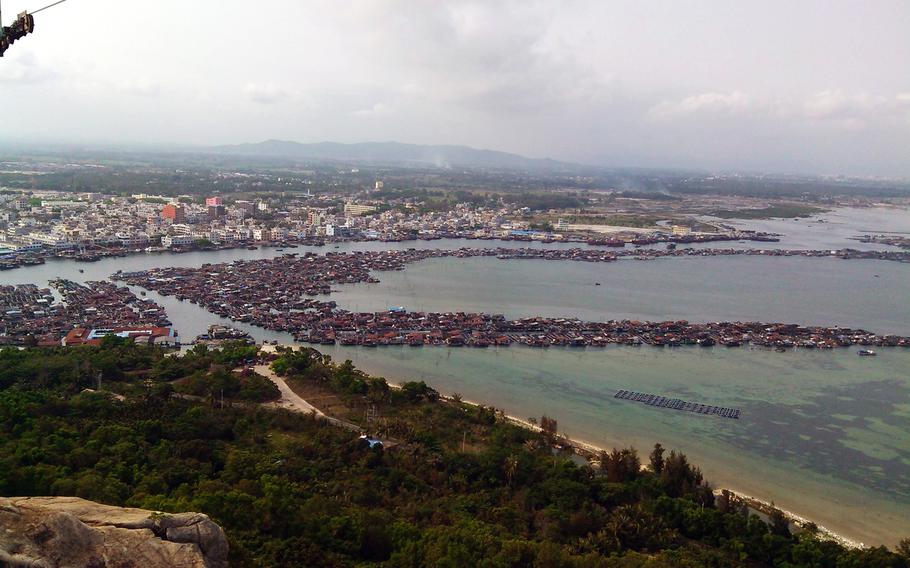 Satellite images taken in May show that China's newest submarine-hunting aircraft have been deployed to its southern province of Hainan on the South China Sea.
Commercial satellite photos taken on May 10 and 20 by DigitalGlobe showed four Shaanxi Y-8Q planes, according to Defense News, which obtained the images. The planes were photographed while on the ground at Lingshui Air Base, which is in the southeastern part of the island province.
Some of the features of the Y-8Q are comparable to the U.S. military's P-3C Orion and P-8 Poseidon. It is capable of carrying torpedoes and is equipped with infrared cameras to detect heat waves and wakes of small water vessels, drones and the periscopes of submarines.
It is most readily identifiable by the 8-yard-long "stinger," called a Magnetic Anomaly Detector, jutting out of its tail. That boom detects the magnetic signature of the metal hulls of submerged submarines as it passes over them.
China has only recently begun beefing up its anti-submarine capabilities, which will add muscle in its claims of sovereignty over most of the South China Sea, where it has spent the past few years building artificial islands and constructing military facilities on them.
Defense-analysis firm Stratfor reported in 2015 that it would take another decade for China to produce the needed number of anti-submarine aircraft and related surface vessels "to seriously contend with the threat of U.S. submarine operations in the East and South China seas."
This is the first time that Y-8Qs have been sighted on Hainan, where the older Y-8J and Y-8X models have routinely deployed, Defense News reported.
China has three air force bases in Hainan province, along with Yulin Naval Base, which houses nuclear submarines.
The satellite photos also revealed three drones, the long-range Harbin BZK-005, Defense News reported.
That drone model has been sighted at a Chinese air base at Woody Island, which is part of the Paracel chain to the south of Hainan. China, Vietnam and Taiwan dispute sovereignty over parts of the Paracels.
A Navy EP-3E ARIES II surveillance plane was forced to land at Lingshui Air Base in April 2001 after a Chinese fighter jet hit it during a close pass. The 24 crew members were detained for 10 days before being released.
olson.wyatt@stripes.com Twitter: @WyattWOlson