Sasebo Naval Base is first US installation in Japan to ban escorted guests over coronavirus
---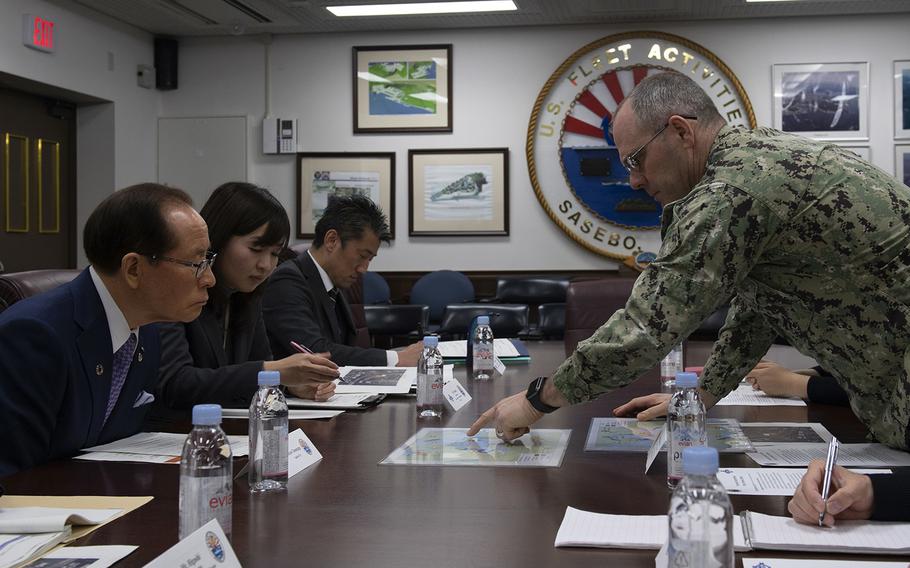 Read more coronavirus coverage from Stars and Stripes.
The base that is home to warships of the Navy's amphibious force in the Pacific has banned escorted guests — effective immediately — due to the coronavirus.
Sasebo Naval Base on the Japanese island of Kyushu made the announcement Friday afternoon, according to the installation's Facebook page. The order applies to all base facilities, including Naval Beach Unit 7's Yokose Landing Craft Air Cushion facility, fuel and ordnance facilities and off-base housing areas.
Government-issued ID cardholders, contractors and vendors will still be allowed access, the post said. The restrictions will remain until further notice.
"In order to minimize the presence of non-mission related personnel on base and to ensure the welfare and safety of everyone in the base community, escorted guests will be prohibited on all [Sasebo Naval Base] facilities until further notice," the post said.
Questions regarding the order were directed to base security.
A spokesman for U.S. Forces Japan, Air Force Lt. Col. Robert Firman, said this is the first such restriction he is aware of in Japan. USFJ provides baseline policy and direction but local commanders are given the discretion to implement additional measures, he said in an emailed statement Friday.
Similar restrictions have been implemented in South Korea, which has been designated a Travel Health Notice Level 3 country by the Centers for Disease Control and Prevention. A CDC level 3 advisory means a widespread community transmission of the disease is occurring.
Japan is part of a level 2 CDC travel advisory, which means a sustained community spread of the disease is underway.
"Every installation's process and protective measures will vary depending on available resources and capability," Firman wrote. "As long as all standing policies are adhered to, commanders retain the authority and flexibility to address issues at their installations."
Firman added that USFJ continues to monitor the situation with a level of "seriousness and an abundance of caution."
"USFJ is tracking all new developments on a 24-hour basis in order to make the best decisions possible," he said. "Our goal is to provide maximum protection and safety to our service members, families, and civilians while also ensuring we remain operationally ready."
The Defense Department imposed travel restrictions for its uniformed and nonuniformed personnel Friday, banning all forms of official travel for 60 days to countries affected by coronavirus, according to a memo dated Wednesday by Defense Secretary Mark Esper. The restrictions include China, Italy, Iran and South Korea, among others.
Travel for essential missions only is allowed to countries under a level 2 CDC advisory.
Sasebo is home to the operational detachment for the 7th Fleet's amphibious force, Expeditionary Strike Group 7, the Navy's only permanently deployed amphibious force, which is headquartered at White Beach Naval Facility, Okinawa.
burke.matt@stripes.com Twitter: @MatthewMBurke1
---
---
---
---