Same desks, different service: Space Force welcomes handful of Air Force transfers in South Korea
by
Matthew Keeler
September 15, 2020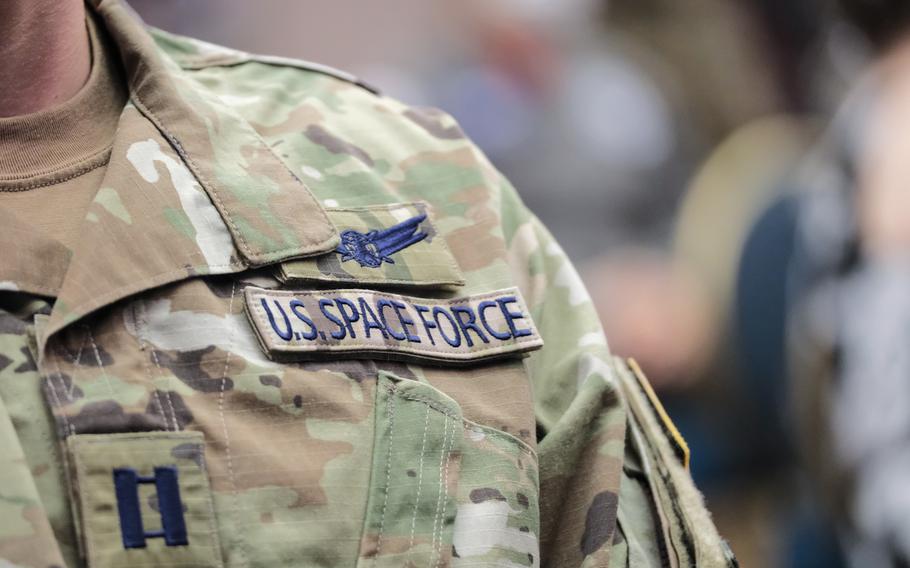 OSAN AIR BASE, South Korea — Three Air Force captains and a master sergeant joined approximately 2,400 other members of America's newest military service, the Space Force, at a swearing-in Monday at the Osan officer's club.
Seventh Air Force commander Lt. Gen. Scott Pleus administered the oath to Capt. Juan Correa, of Independence, Ky.; Capt. Jacob Myers, of Crowley, La.; Capt. Sean Sherlock, of San Diego; and Master Sgt. Patrick McCanless, of Brookneal, Va.
The four volunteered to transfer into the fledgling Space Force, a separate military branch created within the Department of the Air Force on Dec. 21. However, not much will change for them, duty-wise, Pleus said.
"While this is a milestone event, I recognize tomorrow you will come to work and sit at the same desk you did today," he said during the ceremony. "Your name tapes will now be blue instead of spice brown, and your uniform will read U.S. Space Force."
The new Space Force members will report to Lt. Col. Guy Epps, who will become director of Space Forces Korea after congressional confirmation.
Myers, the chief of space plans for 7th Air Force with seven years in the service, said after the ceremony that he revels in the opportunity to be part of an entirely new and different service with a mission in space.
"It's awesome to see how the military has changed over time, to come to focus in on this area," he told reporters. "It's huge to be a part of that history. To be able to step into a new service, define how that service is going to fight, and define how that service is going to support the overall global community is right where I want to be."
The four will continue to serve with U.S. Forces Korea; however, they will be trained, organized and equipped by the Space Force.
"Gentlemen, as you transition to the U.S. Space Force you will be expected to support and integrate with your Air Force, Army, Navy and Marine counterparts," Pleus said during the ceremony. "As members of the Space Force you will be responsible for acquiring military space systems, maturing military doctrines for space power and organizing Space Forces to present to combatant commands."
McCanless is the manager of 7th Air Force Space Operations and has 15 years with the Air Force.
"It's awesome to be a part of a team of elite space professionals," he said. "It's kind of cool to think that when people study Space Force history, they are going to be reading and studying about us."
keeler.matthew@stripes.com Twitter: @MattKeeler1231