Sailors in Japan barred from drinking alcohol, leaving base
by
Erik Slavin
June 6, 2016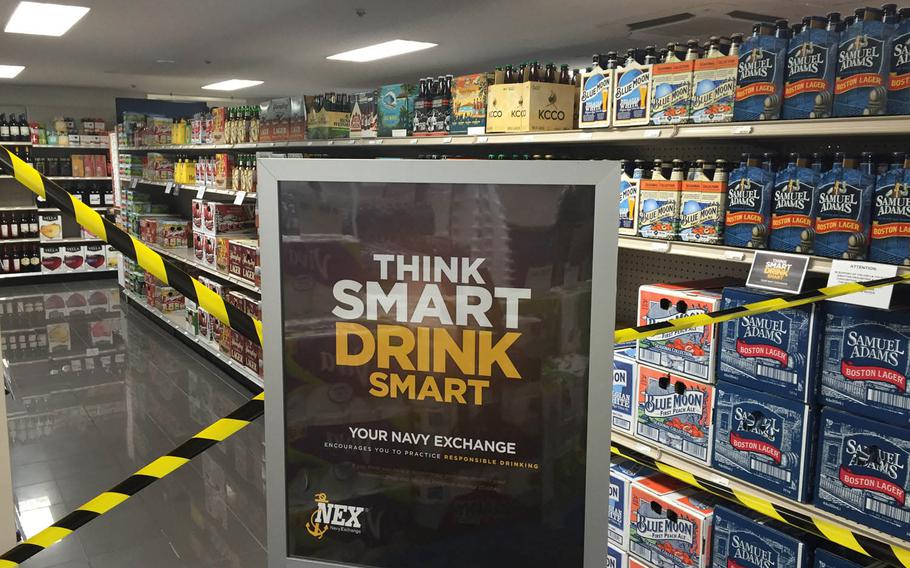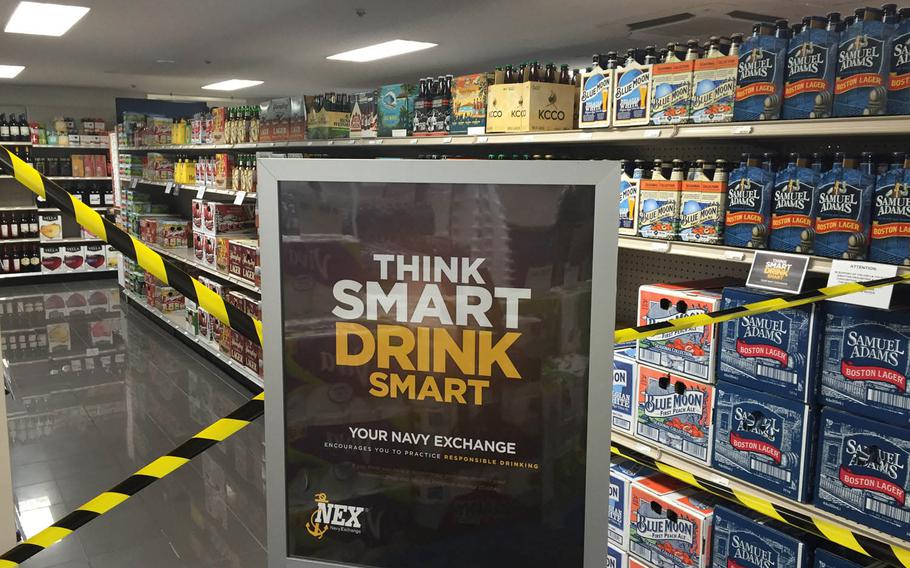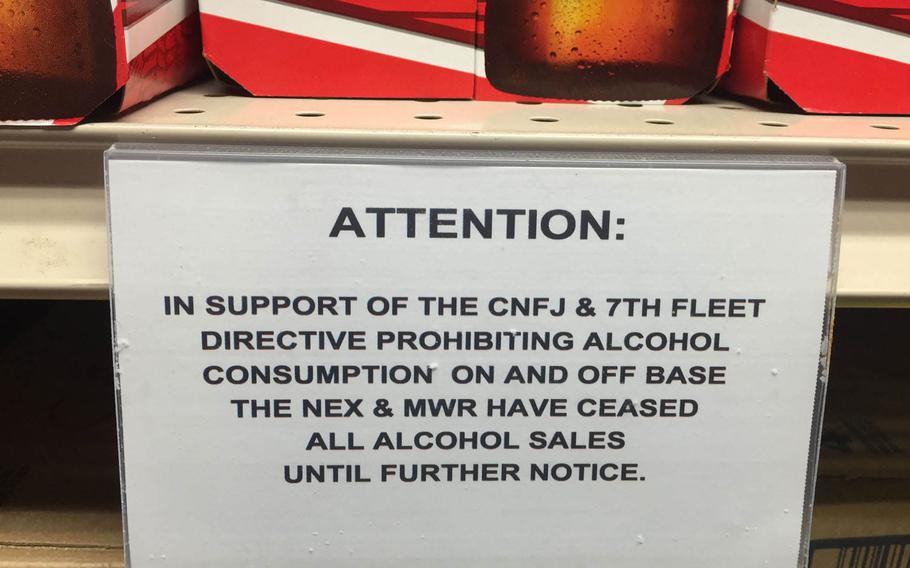 YOKOSUKA NAVAL BASE, Japan — Sailors in Japan are barred until further notice from non-essential, off-base activities and banned from drinking alcohol, Navy officials announced Monday following a recent spate of high-profile arrests of servicemembers and civilians.
The order covers all ranks and bans both on- and off-base alcohol consumption, according to a joint announcement from 7th Fleet and Commander Naval Forces Japan.
"These measures are not taken lightly," said Rear Adm. Matthew Carter, CNFJ. "For decades, we have enjoyed a strong relationship with the people of Japan. It is imperative that each sailor understand how our actions affect that relationship, and the U.S.-Japan alliance as a whole."
Sailors living off-base can commute to work and engage in "essential activities," such as grocery shopping, gym use, child care and gasoline pickup, according to a Navy statement.
Sailors must clear other off-base activities through their chain of command, officials said Monday.
In Washington, Pentagon spokesman Peter Cook said the restrictions were ordered "to send a message to forces in Okinawa - and send the most appropriate message not only to those forces, but also to the Japanese people, and the Japanese government -- about the seriousness with which we take this."
The order is the most wide-ranging restriction in several years for sailors in Japan, where the Navy has periodically ordered alcohol bans and curfews for all ranks, but particularly for younger, enlisted sailors.
Military officials said privately Monday that misconduct is taking up considerable time among senior leaders, stealing focus from the region's myriad security challenges.
The restrictions covering off-base liberty will remain active until unit commanders, executive officers and enlisted leaders conduct face-to-face training with all personnel.
The alcohol ban will remain until the Navy is "comfortable that all personnel understand the impact" of irresponsible behavior "on the U.S.-Japan alliance and the United States' ability to provide security and stability in the Indo-Asia-Pacific," according to a Navy statement. The Navy Exchange at Yokosuka has stopped selling alcoholic beverages in support of the order, according to signs posted at base stores.
The order includes sailors stationed in Japan and those arriving on temporary duty.
"The overwhelming majority of our sailors are doing an outstanding job every single day," said Vice Adm. Joseph Aucoin, 7th Fleet commander, according to a statement released Monday. "But that same majority — at every pay grade — is also responsible for providing leadership on all levels.
"We will not condone misconduct that impacts our ability to conduct our mission or which jeopardizes our critical alliance with Japan."
The order does not apply to civilians, contractors, family members and personnel from other services stationed at Navy bases; however, Navy officials have requested that they take the order into account.
"The behavior of all Americans is under the microscope right now," CNFJ spokesman Cmdr. Ron Flanders said.
Sailors already receive information on proper conduct at orientation briefings when they first arrive in Japan. The additional training will reinforce that, but will include a frank assessment of conduct over the past month and how it is affects U.S. security plans in the region, Navy officials said.
The military on Okinawa declared a period of mourning last month after police there found the body of Rina Shimabukuro, 20, in a forest.
Kenneth Franklin Gadson, a civilian base contractor and former U.S. Marine who goes by his wife's last name of Shinzato, is suspected by police of dumping the body and is soon expected to face other formal charges.
The incident increased longstanding protests over the U.S. military's presence in Okinawa, where about half of all servicemembers in Japan are based.
Last month, President Barack Obama set aside economic issues on the sidelines of the G7 summit in Japan to discuss Shinzato's arrest and express his regret to Prime Minister Shinzo Abe, who called on the U.S. to do more to prevent such incidents.
On Saturday night, Petty Officer 2nd Class Aimee Mejia, 21, was arrested after driving the wrong way down an Okinawa highway and crashing into two other vehicles, according to police.
A Breathalyzer test revealed a blood-alcohol level of 0.18, six times the legal limit in Japan, despite a week-old ban on off-base drinking, police said.
On Monday, Okinawa police recommended a charge of "dangerous driving resulting in injuries" to prosecutors. If charged, Mejia would face a maximum sentence of 15 years in prison under Japanese law.
The new restrictions on sailors are not a response to any one particular incident, but to a negative trend of behavior in the force, officials said Monday.
Besides the incident involving Mejia, sailors reported "belligerent behavior" off-base involving other sailors under the influence of alcohol in Yokosuka during the past weekend, Navy officials added.
Correspondent Tara Copp contributed to this report at the Pentagon.
slavin.erik@stripes.com Twitter: @eslavin_stripes