Sailor kills two civilian workers, himself in shooting at Pearl Harbor, Navy officials say
by
Wyatt Olson Caitlin Doornbos
December 5, 2019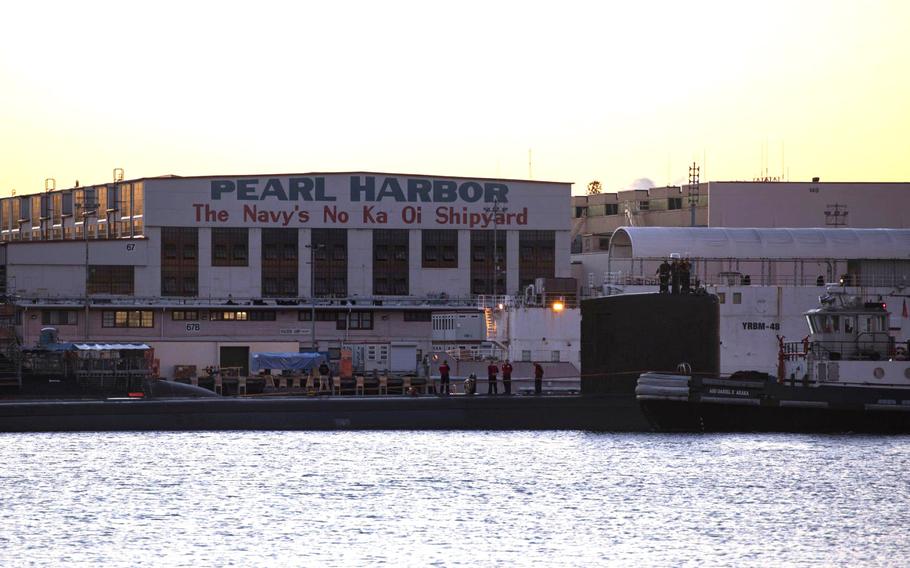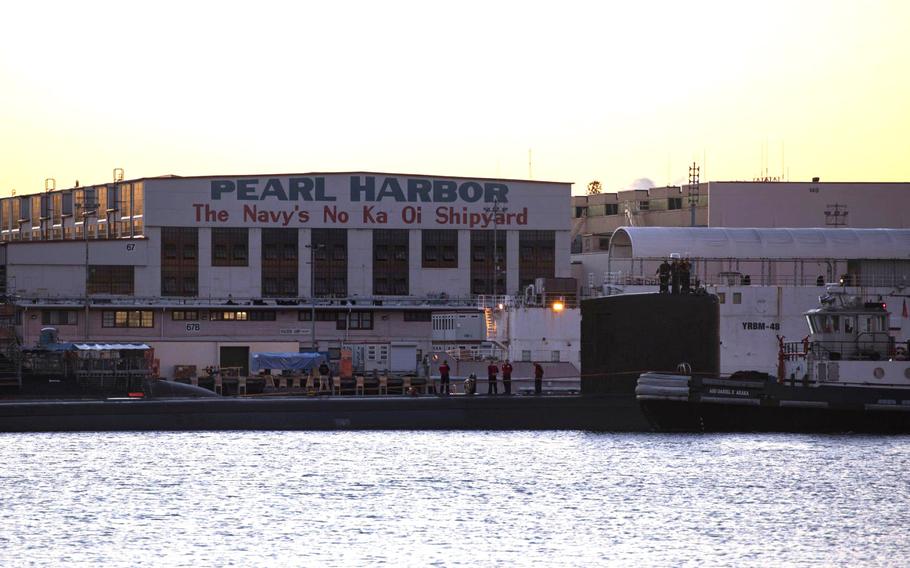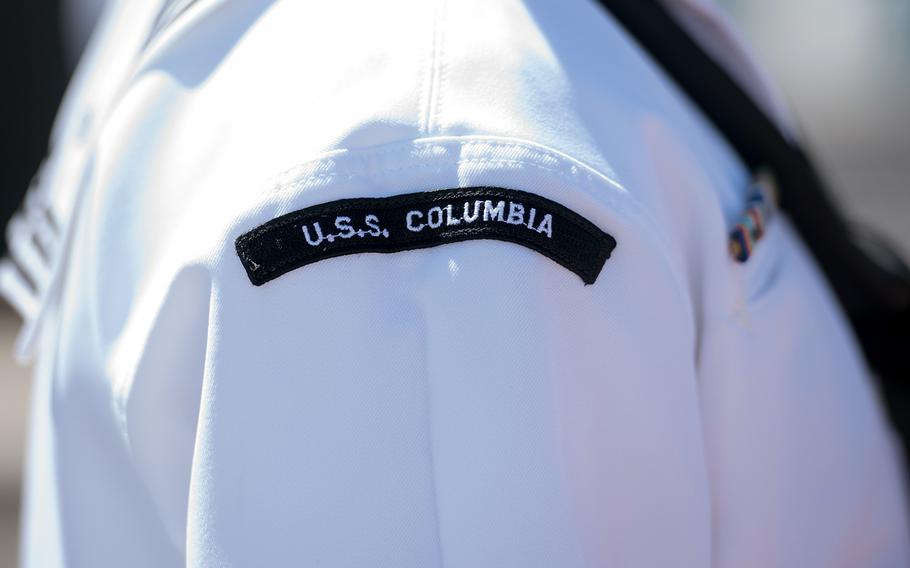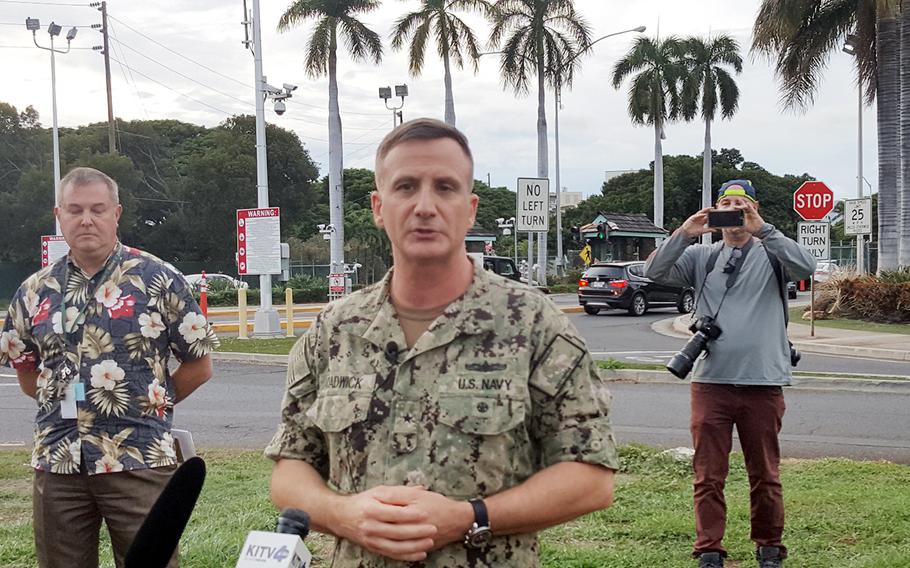 JOINT BASE PEARL HARBOR-HICKAM, Hawaii — A sailor killed two civilian workers and injured another Wednesday before killing himself at Pearl Harbor Shipyard, the military said.
The shootings happened at Pearl Harbor Naval Shipyard's dry dock 2, and the victims were Defense Department employees, said Rear Adm. Robert Chadwick II, Navy Region Hawaii commander.
Chadwick said the sailor was assigned to the submarine USS Columbia, which is undergoing repairs in dry dock. Victims' names will be released after families are notified. The surviving victim is at a hospital in stable condition, Chadwick told reporters.
The shooter was identified Thursday as 22-year-old G. Romero, according to the Associated Press, citing a military official who spoke on condition of anonymity to provide details that had not been made public. He used his service rifle to shoot the victims, then killed himself with his service pistol, the official said.
Tara Kapoi told The Associated Press that her 30-year-old husband, Vincent Kapoi Jr., was one of those killed. She said he worked at the shipyard and grew up in Waianae, a town on the west side of Oahu.
"We don't know what happened," she said Thursday, asking for privacy.
Chadwick, who said the motive is unknown, declined to say whether the sailor was on duty at the time of the shootings. It is unclear whether the sailor knew the victims or if they were randomly targeted.
Personal firearms are not allowed on base, he said.
Chadwick said officials will look at "every aspect of it — what lessons we can learn, what additional security procedures would be needed."
"But again, we're still very early in this investigation," he added.
Base security and Navy investigative services are investigating the incident and interviewing witnesses, he said.
The base went into a lockdown for nearly two hours after the 2:30 p.m. shooting. About 4:10 p.m., base officials tweeted that "gates and base access are now open."
By 5 p.m., traffic into the base was backed up for a mile and the entrance to Pearl Harbor-Hickam from the H-1 freeway remained blocked. Dozens of journalists gathered on the lawn across from the main gate for Chadwick's press conference.
With a workforce of about 5,800 civilians and 540 Navy personnel, the shipyard is the single largest industrial employer in Hawaii.
Chadwick said the shooting was "certainly a tragedy for everyone."
"The ohana is everyone who works on Pearl Harbor," he said. "Generations of locals have worked in that shipyard."
Ohana is the Hawaiian word for family.
Officials have opened the Emergency Family Assistance Center until further notice in the Personnel Support Detachment building for those affected, according to a base statement. Chaplain and counseling services are being provided there, as well as in room 130 of building 2.
Pearl Harbor is home to the U.S. Pacific Fleet along with 10 destroyers and 15 submarines.
The 148-acre shipyard is across the harbor from the Pearl Harbor National Memorial, which on Saturday will mark the 78th anniversary of the attack by Japan that propelled the United States into World War II.
"The role that the shipyard played was pretty important in World War II," Chadwick said, referencing the attack and subsequent work there to repair and return ships to the fight.
U.S. Army Garrison Hawaii tweeted that its "thoughts go out to those affected by today's events."
"Residents may continue to see increased military police as a precaution at Army installations," it added.
The White House has offered assistance from federal agencies and the state is "standing by to assist where necessary," Hawaii Gov. David Ige said in a statement.
Wyatt Olson reported from Oahu. Caitlin Doornbos reported from U.S. Naval Forces Japan headquarters at Yokosuka.
doornbos.caitlin@stripes.com Twitter: @CaitlinDoornbos
olson.wyatt@stripes.com Twitter: @WyattWOlson