S. Korean military grounds helicopters after crash kills 5 marines
by
Yoo Kyong Chang Kim Gamel
July 18, 2018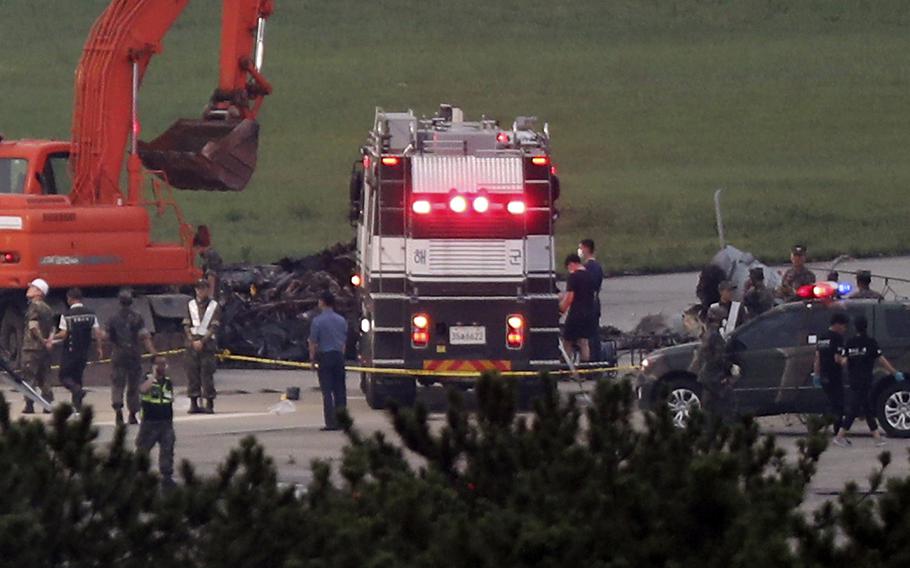 SEOUL, South Korea – The South Korean military grounded dozens of new helicopters after five marines were killed in a crash during a test-flight, officials said Wednesday.
The amphibious MUH-1 helicopter was being test-flown after repairs when it plunged to the landing strip from about 33 feet in the air, then caught fire on Tuesday at a marine base in the southeastern city of Pohang, according to a statement.
The marines banned flights for the three choppers in the fleet pending the results of an investigation into the cause of the crash.
South Korea's army also grounded more than 90 KUH-1 Surion helicopters, which was the original model used for the marine variant, amid safety concerns.
Closed-circuit TV footage of the crash released by the marines shows the helicopter's rotor blades being separated from the fuselage shortly after takeoff, the Yonhap News Agency reported.
The five killed were identified Wednesday as a 46-year-old lieutenant colonel who was the pilot; a 37-year-old major who was the co-pilot; a 27-year-old gunnery sergeant who was a technician; and two stewards, including a 22-year-old staff sergeant and a 21-year-old corporal.
A 43-year-old master sergeant was hospitalized with injuries.
The deceased were posthumously promoted by one rank.
The helicopters, which can be used to transport personnel and equipment, were produced by local defense firm Korea Aerospace Industries and delivered in the first half of this year, according to Yonhap.
KAI was quoted as saying it's willing to cooperate with the investigation if asked and expressed condolences for those killed.
The military said a joint investigation team has been formed with 23 members from the marine corps, navy, air force, army and the defense agency for technology and quality.
It was the second fatal crash involving South Korean military aircraft in more than three months. An F-15K Slam Eagle crashed into a mountain on April 5, killing the two pilots.
gamel.kim@stripes.com Twitter: @kimgamelchang.kyong@stripes.com