Restrictions are back across South Korea as coronavirus cases rise
by
Kim Gamel
August 16, 2020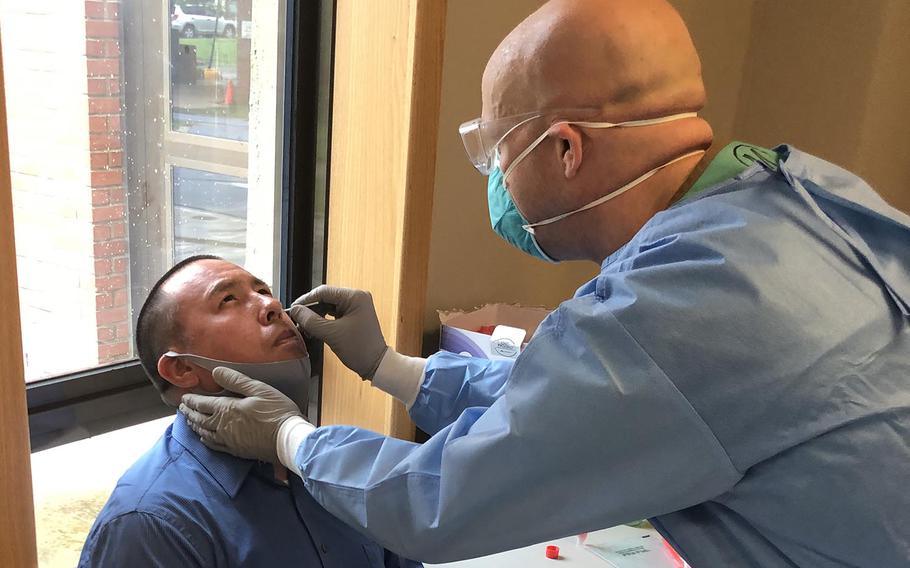 Stars and Stripes is making stories on the coronavirus pandemic available free of charge. See other free reports here. Sign up for our daily coronavirus newsletter here. Please support our journalism with a subscription.
SEOUL, South Korea — As coronavirus cases spiked in South Korea, the U.S. military said it would reimpose restrictions nationwide effective Monday, including health checks at access gates, limited access to base stores and minimum essential staffing at work.
The reversal came Sunday as South Korea's number of confirmed cases reached triple digits for the third day in a row.
U.S. Forces Korea, which includes some 28,500 troops, announced Saturday that it was raising the health protection level to "Charlie" for Seoul and surrounding areas.
The commander of Camp Humphreys, the main Army garrison, said Sunday that was being extended for all bases on the divided peninsula, beginning at 5 a.m. Monday.
HPCON Charlie indicates an area is experiencing sustained community transmission, according to the Defense Department.
"We're absolutely going to minimum essential manning only," Col. Michael Tremblay said in a brief Facebook live appearance. "We're really hunkering down. We're minimizing our footprint based on the numbers that are going on in Seoul."
USFK has well-practiced measures to prevent the spread of the virus that were first imposed in late February as South Korea was an early epicenter of the pandemic.
The military only recently eased restrictions when the daily count declined to 50 or less for a protracted period as the South was lauded for its strict testing and tracing procedures.
On Monday, soldiers will return to access gates to check temperatures and survey people on their health and risk level, Tremblay said.
He also said the number of people allowed into the commissary and PX at a single time would be limited.
"We want to protect our bubble," he said, promising more details in coming hours. "We're going back into a defensive position."
Masks already were required in public facilities and whenever it was impossible to maintain a safe distance on base.
Bars, clubs and other adults-only establishments also have remained off-limits in all areas.
No changes were immediately announced for Defense Department schools, which are due to reopen on Aug. 24 in South Korea.
South Korea's Centers for Disease Control and Prevention reported 279 new coronavirus cases on Sunday, the highest daily increase since early March.
It was the third consecutive day that the numbers reached triple digits, with 166 on Saturday and 103 on Friday, raising fears of another massive outbreak.
Most of the infections were linked to churches, a popular street market and other communal areas in Seoul and surrounding areas, but health authorities said it was becoming harder to control the virus.
Concern also was high that more people may have contracted the virus during a rally that drew thousands of anti-government protesters in Seoul who ignored official pleas to stay home.
USFK has reported that 153 affiliated personnel, including 105 service members, have tested positive for the virus - most as part of a mandatory testing and quarantine process for travelers arriving in the country. Only 24 of those, including two soldiers, contracted the virus on the peninsula, with the most recent in mid-April.
USFK put Seoul and surrounding areas back off-limits on Saturday, less than a week after the health alert level for the area dubbed "Area II+" had been lowered.
Many people already had traveled to the capital for the first time in months to enjoy the weekend, only to have to return home.
"This means all USFK-affiliated individuals can only travel to Area II+ for official and necessary duties. All other travel requires an exception to policy memo," signed by a colonel or equivalent civilian supervisor, USFK spokesman Col. Lee Peters said Friday in a video announcement.
He urged people to adhere to measures aimed at preventing the spread of the virus, including wearing masks when it's not possible to maintain a safe distance and washing hands frequently.
The Army's Yongsan Garrison in Seoul also restored protective measures that had been lifted, including closing all but two entry gates and resuming health checks before entry.
While the overall number of cases in South Korea, a nation of more than 51 million people, remained low compared to other countries, health authorities have consistently warned that cluster infections and imported cases threaten to reverse the progress.
South Korea has reported 15,318 cases since Jan. 20, with 305 deaths and 13,901 patients fully recovered.gamel.kim@stripes.com Twitter: @kimgamel